Kashmir: Where mothers wait outside security camps
At least 25 children across my block are still detained, says panchayat leader Iqbal Ahmed Wani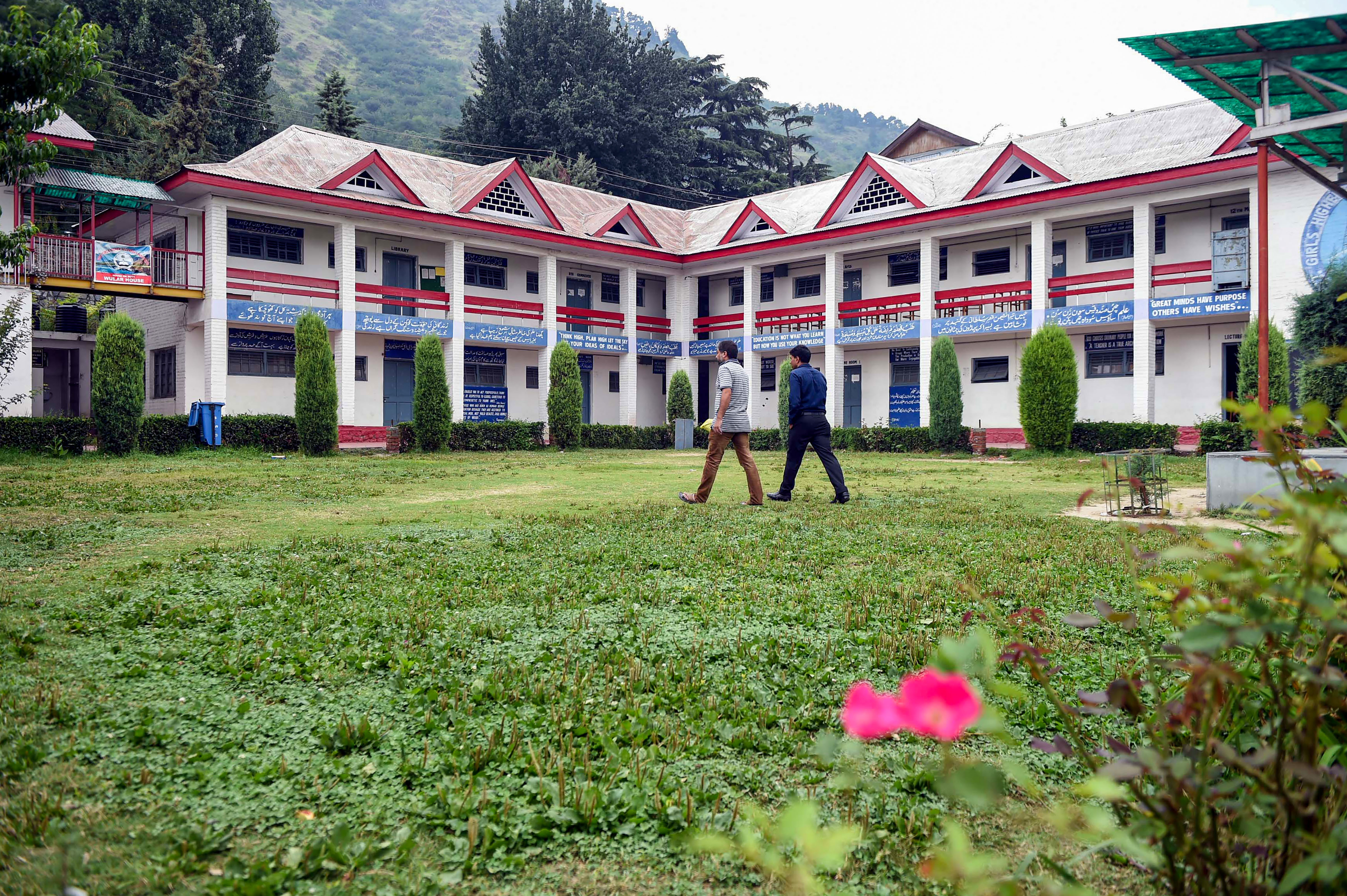 A deserted government high school building in Srinagar on August 28. Attempts by authorities to open high schools in Kashmir failed as parents did not send children to schools.
PTI
---
New Delhi
|
Published 28.08.19, 03:36 PM
|
---
Outside police stations and army camps, mothers wait to get their children released, said Iqbal Ahmed Wani, one of three panchayat leaders who is visiting New Delhi and has spoken to journalists about his state where an information blackout and a partial lockdown is on for the 23rd day now. 
"At least 25 children across my block are still detained at the Achabal police station. There could be more," Iqbal, an Independent panch from Trahpoo halqa (cluster of villages) in Achabal block, said. Achabal is one of the 16 blocks in Kashmir's Anantnag district.

While there have been some rerts from Srinagar about how people are coping with the restrictions, clamped by the central government that scrapped Jammu and Kashmir's special status, the condition in rural Kashmir is largely unknown. 
Iqbal left Kashmir on August 21. Asked about the state of things back home, he mentiond the missing and the struggle for basic necessities.
He said women, not men, go to the police and security forces looking for relatives because there is a far that the men will be detained. 
"I went around in 21 halqa of the 33 in the block on foot and found serious issues of ration shortage. Schools remain empty and health centres are devoid of doctors," he said. His statement is a contradiction to governor Satya Pal Malik's version that classes are being attended by students, even if in small numbers in some places, and health facilities have largely worked fine. 
Iqbal pointed out that PDS rations used to reach residents between the 5th and 10th of each month, but the lockdown started on August 5 and made it impossible for rations to reach residents. 
He added that although chemist shops are open, as the government has claimed, supply of medicines has dried up.
On Tuesday, in a press conference in Srinagar, the director of education of Jammu and Kashmir Younis Malik claimed that primary and middle schools have been open and from Wednesday restrictions on high schools will be lifted.
"Yes, they had claimed that about 196 primary schools were opened, but ask them how many kids are coming to school," Iqbal said. 
He said that the presence of forces, as a medium between the government and public, makes people look at them as "Amit Shah's farmaan (Amit Shah's message)".
With the communication lines still silent, rumours are rife in the Valley. Some are fuelled by media reports, some seem to trickle in from the other side of the border. Iqbal said the rumour about a war between India and Pakistan remains strong in his block. "Initially, it was rumoured in the village that there would be RSS ke gunday in Kashmir, not the thousands of security forces that reached here. Yeh kaha gaya ki woh talwarein aur naslkashi ka samaan saath laye hain (It was said that they have come with swords and other tools of genocide)," he said.
He said that they heard about the firing on protesters in Soura on BBC radio. 
Iqbal told this website that the rumours spread despite Delhi news channels still being somewhat accessible, at least in homes that have a DTH connection.
Iqbal said panchayat leaders like him were made poster boys of Indian democracy in Kashmir because they contested elections braving militant threats. "We were the face of it. Now they'll say, 'yehi hain jo Hindustan nahi chhodna chahte the, yehi hain jo 370 nahi chahte the (they are the ones who wanted to be with India, they wanted to remove 370)," Iqbal said.
Before the elections, he said, posters were put up outside his house which said anybody contesting should also buy their kafan (shroud). "Bahot beizzat kiya Government of India ne. We've been made irrelevant. In one stroke they brought Geelani, Farooq sahab and people like me on the same page."
Wani said he received a call from his wife on Monday who told him not to return to Kashmir. She fears he'll be either arrested or targeted by the "newly radicalised" residents.