People need a breather: Omar
J&K: Omar seeks reinstatement of statehood followed by Assembly elections
The National Conference said it would not 'fool' people with assurances of a return of the undiluted Article 370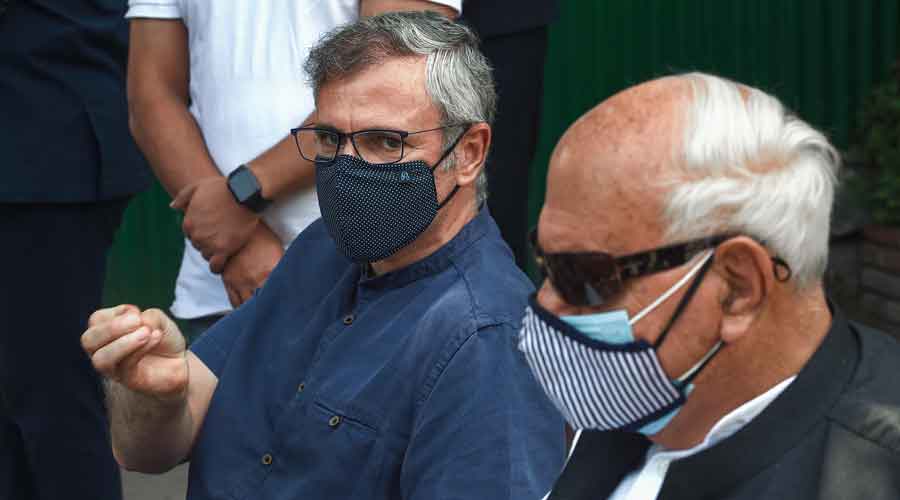 ---
Srinagar
|
Published 26.06.21, 10:45 PM
|
---
The National Conference, a key partner of the alliance fighting for the restoration of Jammu and Kashmir's special status, on Saturday favoured reinstatement of statehood to be followed by Assembly elections and said it would not "fool" people with assurances of a return of the undiluted Article 370.
The comments of NC vice-president Omar Abdullah suggest the party is warming up for business with the Centre that is firmly against any rethink on Article 370.
Restoration of statehood is the cornerstone of the agenda of the five-party People's Alliance for Gupkar Declaration, of which the NC's Farooq Abdullah is the head. PDP leader Mehbooba Mufti, another partner of the alliance, has made it clear in the aftermath of Prime Minister Narendra Modi's reach-out meeting with Valley politicians on Thursday that there would be no compromise on this primary demand and that she would not participate in any election until special status was restored.
Appearing to justify his stand, NC vice-president and former chief minister Omar said people across the region badly needed a "breather" and that his party wanted to pull them out of trouble.
Omar and his father Farooq addressed the media in Srinagar on Saturday after returning from the all-party meeting with Modi in New Delhi.
"Azad sahab (Congress leader Ghulam Nabi Azad) spoke on behalf of us (before the Prime Minister) and said the (Centre's) timeline of delimitation-election-statehood was not acceptable to us and that it should be delimitation-statehood-election. If elections are to be held, restore statehood first and then only we will talk about elections," Omar said.
"Azad sahab put forth this view on our behalf at the meeting. Whenever we get an opportunity, we will keep stressing on it," he added.
The Prime Minister is reported to have sought the Jammu and Kashmir leadership's support in completing the delimitation and suggested that statehood could be restored after Assembly elections.
Omar said on Saturday that his party would not fool people by saying it expected the current regime to restore the special status but that the Valley leadership would continue to strive for it legally, politically, constitutionally and peacefully.
"It took the BJP 70 years to fulfil its political agenda on (Article) 370. Our struggle has just started. We don't want to fool people by telling them we will get 370 back in these talks," Omar said. "They snatched it from us. We can't fool people (by saying) they will return it."
Farooq, the NC president, did not object to Omar's views. When the Gupkar alliance was floated in August 2019, it had stated without any ambiguity that restoration of the undiluted Article 370 was its utmost priority.
"We want to assure the people that all our political activities will be subservient to the sacred goal of reverting to the status of J&K as it existed on 4th August, 2019," the second declaration of the alliance had said in August last year. The declaration was issued after the Valley's key leaders were released from jail.
In July last year, weeks after his release, Omar had kicked up a political storm by favouring the restoration of statehood as a condition for participation in elections. NC chief spokesman Ruhullah Medhi had resigned in protest. Omar backed off after an outcry and allegations of sell-out, claiming he "never placed statehood above the restoration of Article 370".
On Saturday, Omar took care to point out that he would not personally contest elections "at the moment" but they could not wait for the Supreme Court's decision on Article 370 endlessly.
"We have challenged everything (the August 5, 2019, decision to scrap special status) but that does not mean we will stop. Let us talk to people here. If the people of Jammu and Kashmir tell us that until we have the Supreme Court decision, it makes no difference to us that hospitals are not functioning; some DCs (deputy commissioners) arrest a common Kashmiri only for saying that he can talk to a local officer but outsiders do not understand him; if people are suffering and getting arrested time and again; there is a bureaucratic unchecked administration — if people of Jammu and Kashmir like it… we will raise our hands (and give up)," Omar said.
"But people want a breather here. If people want there should be officers who listen to them, understand them, are concerned about their children's education and health, then the vehicle can move on both tracks. We will not leave that fight (for Article 370) but wherever we can take people out of tribulations, that should be done," he added.