National Conference leader switches to 'BJP's B team' after winning DDC elections
Omar Abdullah alleges police and the administration are facilitating horse trading & defections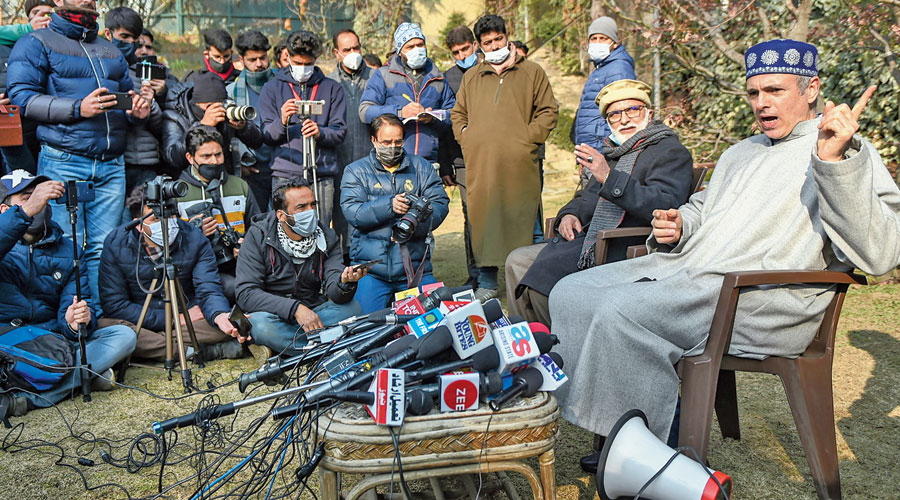 ---
Srinagar
|
Published 27.12.20, 01:32 AM
|
---
A National Conference leader has switched to a party close to the BJP soon after winning the District Development Council election, prompting former chief minister Omar Abdullah to allege that money, muscle, threats and coercion were being used to facilitate horse-trading and defections.
Omar's National Conference is part of the seven-party People's Alliance for Gupkar Declaration, which has won the highest number of seats in the DDC elections — 110 out of 280. The alliance is in a position to take control of 13 of the 20 districts of Jammu and Kashmir, at some places with Congress help. Rival BJP, which has bagged 75 seats, can take control of six districts while Independents hold sway in Srinagar district.
Omar on Friday tweeted pictures of Altaf Bukhari, the president of the Apni Party, seen as the "BJP's B team", welcoming NC winner from Shopian Yasmeen Jan into the party fold. 
Yasmeen had polled 193 votes in a low-turnout election in Shopian's Imam Sahib area, defeating her rival Independent candidate by 128 votes.
Omar said the government had put NC leaders from Shopian under "preventive arrest" and the defection explains why it was done.
"J&K police & the administration are facilitating horse trading & defections. The woman shown here joining the BJP's B-team contested & won elections on a NC mandate," he tweeted.
"Shame on this administration for playing partisan politics to curry favour with the ruling party & their stooges. These parties couldn't win seats so now they are using money/muscle/threats & government coercion to make up the numbers. So much for 'democracy has won'!" Omar added.
On Saturday, Omar claimed two of his leaders, Shabir Kullay and Showkat Ganai, have been put under preventive detention in Shopian, allegedly to facilitate horse-trading and ensure that the BJP and the Apni Party take control of district councils.
Instances of horse-trading, which have become common in several parts of India and often the BJP has been accused of indulging in it, are rare in Jammu and Kashmir.
The Gupkar Alliance, which is fighting for the restoration of Article 370 provisions, has put up an impressive show in the elections despite considerable odds.
Its candidates were "locked up" on the ruse of their security and some of its leaders were named in alleged scams in the midst of the elections, arrested or put under house arrest on one pretext or the other.
The allegation of horse-trading has added another dimension to one of the most controversial elections in Jammu and Kashmir's history.
On Wednesday, former chief minister Mehbooba Mufti had tweeted a post of Choudhary Abdul Aziz, the son of victorious Independent candidate from Shopian Abdul Hamied Sheikh, alleging that Sheikh had been abducted by "goons of Zaffar Iqbal Manhas", a member of the Apni Party.
"BJP & its proxies are sore losers & have resorted to abducting Independents who won DDC elections. They are shamelessly using all means to increase their tally. This isn't dance but death of democracy in J&K," Mehbooba had tweeted.
Aziz, however, later deleted the post and has switched off his phone. Manhas had denied the allegations.
Apni Party leader Abdul Rahim Rather said their rivals were levelling baseless allegations against them.
"Earlier, they accused us of being the B team of the BJP, but people have now realised that it is not true. If somebody on his or her own comes to join us, we cannot stop them," Rather said.
The Apni Party was floated last year following the abrogation of Jammu and Kashmir's special status. The party is believed to have the Centre's blessings and aims to be an alternative to traditional parties.
The Centre is seen as having engineered a split in Mehbooba's People's Democratic Party to create the Apni Party, which has a few leaders from other parties as well.
The Apni Party, however, has failed to live up to the expectations of the Centre, winning only 12 of the 280 seats in the DDC elections.