Kashmir: Decoding silence of the hawks
Separatists, too, have begun to wonder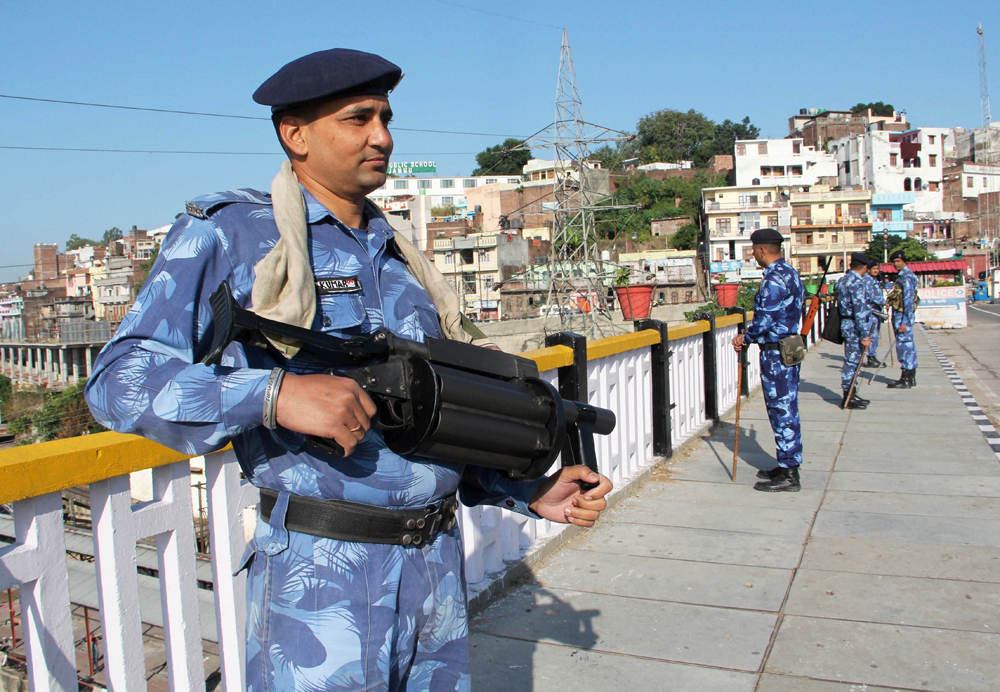 ---
|
Srinagar
|
Published 11.11.19, 08:52 PM
---
Many Kashmiris are intrigued at the silence of Hurriyat hawk Syed Ali Shah Geelani and the moderate Mirwaiz Umar Farooq on the revocation of Jammu and Kashmir's special status and the clampdown that is nearing 100 days.
Mohammad Ashraf Sehrai, one of the frontrunners to succeed Geelani, confessed himself surprised on Monday while admitting he had himself not made much noise, either.
At an interaction with journalists at his home, he asked them to talk to the two separatist leaders "if you have questions about it, like I do, on why there's been so much silence from them".
"You should know there was no consultation with us (over the silence)," Sehrai, chief of the Tehreek-e-Hurriyat, a constituent of Geelani's hard-line faction, said. He added that Geelani and the Mirwaiz, both under house arrest, were unable to meet people.
While Geelani has been under house arrest intermittently over several years, the Mirwaiz came under the restrictions on August 4, the day before key provisions of Article 370 were scrapped.
Geelani, the Mirwaiz and J&K Liberation Front chairman Yasin Malik have been leading the pro-independence movement since 2016. Malik is languishing in Tihar jail.
Geelani has, in particular, shut Kashmir down on hundreds of occasions on various issues but has not voiced a murmur of protest this time.
The popular perception is that he and the Mirwaiz have avoided protests as the price could be high this time. The National Investigation Agency has launched a crackdown on separatist leaders as part of a terror-funding probe, and summoned the sons of Geelani and the Mirwaiz for questioning sometime before the August 5 clampdown.
Journalists are barred from entering the two leaders' homes. However, a policeman posted outside Geelani's house said his children, who live elsewhere, have free access to his home and so have his domestic hands.
"No one else can go in," the policeman said. Sources, however, said some people had managed to enter, disguised as his relatives.
A person who did so in September said he had found Geelani in "apparent good health".
"He was sitting in a chair. I shook hands with him," he said. A separatist leader, however, said Geelani was not keeping well.
The Mirwaiz has issued two statements since August 5, both times denying reports that he had signed a bond pledging to remain quiet to avoid detention in jail. Neither statement had a word on Article 370 or the clampdown.
On one occasion, some journalists had received an email --- which they accessed at the government media centre --- from the Hurriyat inviting them to a news conference at Geelani's home but the forces prevented their entry. Barring a few exceptions, the Internet is suspended in the Valley, and it's not clear whether Geelani was behind the invitation.
Sehrai, whose son Junaid, an MBA graduate, joined the militants last year, said he too had been under house arrest since August 5.
He said a policeman was posted at his house during daytime but left by evening. The Telegraph found no cops at the house and no obstructions to meeting Sehrai. A neighbour said the restrictions on Sehrai had been lifted recently.
Sehrai admitted that he too had not issued a single statement after August 5, reasoning the media might not publish any. The local newspapers have been carrying only the government version of events, apparently out of fear.
Pressed on why he had chosen silence, Sehrai said the initiative should have come from Geelani or the Mirwaiz as they had been issuing "protest calendars" all these years. He said he had had no contact with either and that when he had reached out to men close to them, there was "no response".
He praised the people for carrying on with the protests in the absence of their leaders.
Hundreds of mainstream politicians, including former chief ministers Omar Abdullah and Mehbooba Mufti, too are in jail while a third, Farooq Abdullah, is confined at home under a law that allows long periods of detention without trial.
Sehri initially appeared indifferent to the scrapping of the special status but later claimed it was a "brazen onslaught" that violated India's Constitution. "But you don't ask us about the parts (Articles 370 or 35A). We believe in the full thing --- which is that Kashmir's accession is not final."
The separatists seem to be making a quiet effort to justify their silence on the ground that the provisions revoked were part of the Indian Constitution and, therefore, concerned only the pro-India camp. But all these separatists had earlier warned of serious repercussions if these provisions were touched.
Sehrai was surprised at the visit by journalists after "more than three months" and asked whether they had come at somebody's behest, an allusion to government agencies.