Kashmir agog on speech eve
The Valley remained shut on the 53rd consecutive day in protest against the revocation of the special status for Jammu and Kashmir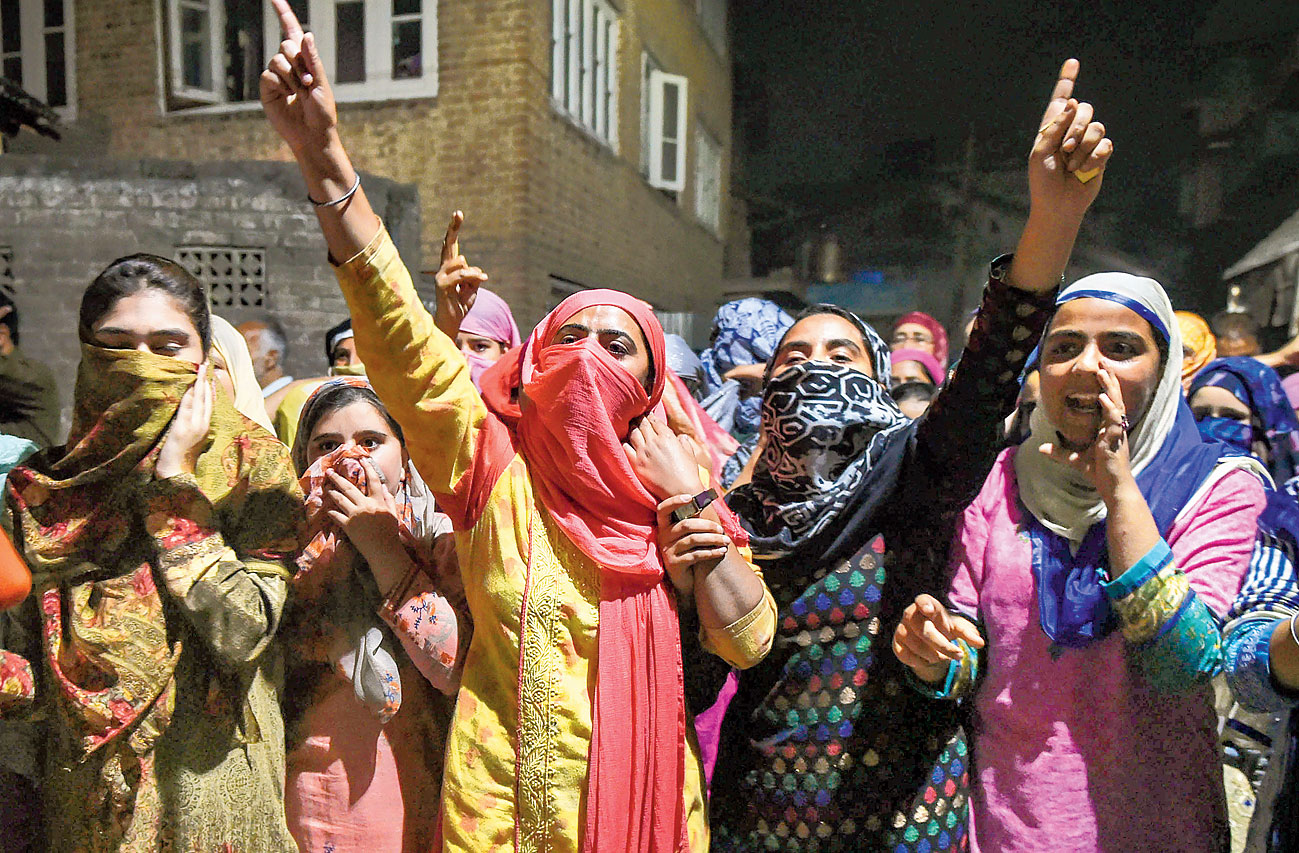 Women take part in a torch-protest march in Srinagar on Thursday.
(PTI)
---
Srinagar
|
Published 26.09.19, 08:37 PM
|
---
Kashmiris were waiting with bated breath on Thursday for Friday's UN General Assembly session where the Indian and Pakistani Prime Ministers would be speaking, prompting the administration to further tighten security measures to prevent any flare-up.
Evening protests broke out in Anchar and Batamaloo localities of Srinagar, with dozens of people hitting streets to raise pro-freedom slogans. The protesters were waving the flag of Pakistan-occupied Kashmir.
At Anchar, women and boys joined hundreds of men to participate in a torch procession.
The Valley remained shut on the 53rd consecutive day in protest against the revocation of the special status for Jammu and Kashmir.
The administration has been on toes ahead of the UN speeches with national security adviser Ajit Doval camping in the Valley to review the situation and apparently providing inputs for Prime Minister Narendra Modi's speech.
The Valley appeared engrossed in discussions about the UN speeches.
The street expectations are such that many believe something big might come out of the addresses, although some think it could turn out to be "much ado about nothing".
Much of the expectations were raised by Pakistan Prime Minister Imran Khan during his Muzaffarabad rally on September 13 when he said that at the UN, he will not disappoint Kashmiris.
Violence broke out in Baramulla where a mob attacked and torched a BSF vehicle after it hit a vehicle and injured five passengers. The BSF vehicle was torched by a mob in Tapper village of Baramulla.
A police officer said a BSF vehicle hit a car driven by a police sub-inspector Shameem Ahmad, who was in plainclothes and was travelling with his family. Ahmad, along with two women, were injured. The mob apparently had no clue that the person was a policeman.
Officials said Doval discussed the prospects of easing the restrictions on the ground. It was his second visit to the Valley in two months.
"The focus of the deliberations was how to bring students to educational institutions, end shopkeepers' shutdown and get public transport back on roads. The phased restoration of mobile telephony was also discussed."