BJP witnesses firefighting over Nalin Kumar Kateel's audio clip
The latest thorn in the side of the ruling party has the state party president claiming that chief minister B.S. Yediyurappa and two senior ministers would be dropped soon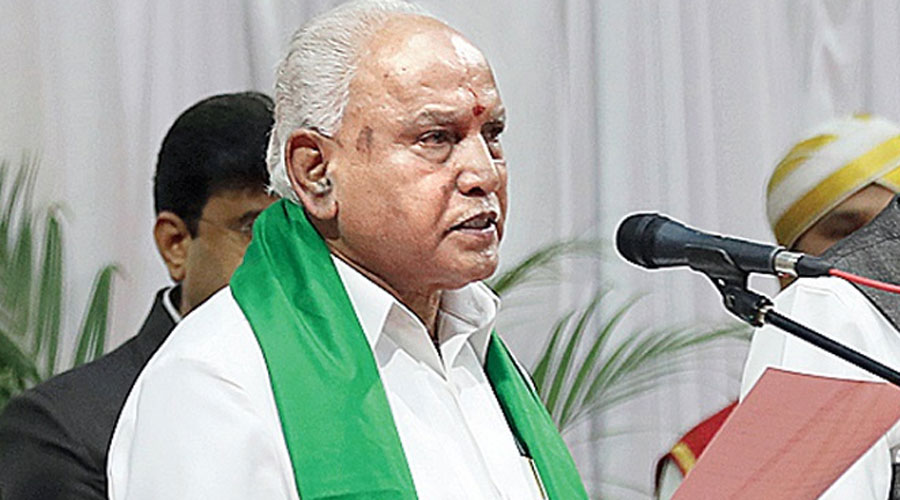 B.S. Yediyurappa
File picture
---
Bangalore
|
Published 20.07.21, 12:56 AM
|
---
The BJP swung into intense fire-fighting after an audio clip purportedly that of state party president Nalin Kumar Kateel claimed that chief minister B.S. Yediyurappa and two senior ministers would be dropped soon.
Already hassled over mon­ths of rebellion against Yediyurappa, the audio clip has come as the latest thorn in the side of the ruling party struggling to handle disgruntled elements.
"Don't tell anyone. Eshwarappa and Shettar will be dropped (and) a new team will be in place. I have three names in my hands (but) it will be decided only from Delhi," the voice closely resembling that of Kateel is heard saying in Tulu, a language spoken mostly in coastal Karnataka and north of Kerala.
K.S. Eshwarappa is the panchayat raj minister while Jagadish Shettar is the minister for large and medium-scale industries and a former chief minister. The "three names" were apparently alternatives to Yedi­yurappa, the Lingayat strongman who has held sway in the party for over two decades.
While Kateel denied he had anything to do with the audio clip that was circulated widely on social media, the party threw its weight behind him with ministers and senior leaders coming out to douse the fire.
"I have nothing to do with that audio clip. I am writing to the chief minister (clarifying this)," a visibly shaken Kateel told reporters on Monday.
He even denied media reports that the BJP was working on replacing Yediyurappa who had on Saturday met Prime Minister Narendra Modi, triggering speculation about him offering to quit in view of the rebellion.
"There is no discussion on leadership change. So this issue is irrelevant," Kateel said alluding to the rumours that Yediyurappa would be replaced in the coming days.
In a clear attempt to placate the senior leaders, Kateel said: "Yediyurappa is the soul of the party while Eshwarappa and Shettar are the two eyes…there has been no discussion in our party about changing them."
On the origin of the audio clip, Kateel said he would respond only after a probe without specifying if he was lodging a police complaint.
But a senior BJP functionary told The Telegraph that the voice sounded "very much" like Kateel. "It sounds very mu­ch like Kateel. Perhaps someone standing near him (Kateel) recorded it during some conversation," said the leader who declined to be named.
He, however, echoed the party's view that there was no plan to remove Yediyurappa. "These are all speculation since we have repeatedly said Yediyurappa will continue till the 2023 election," he added.
There has been tremendous pressure from a younger bunch of leaders on 78-year-old Yediyurappa to step down. But the party has been careful not to antagonise his influential Lingayat community by forcing him out of office.
While a slew of ministers defended Kateel and insisted there was no leadership change in the offing, a terse warning came from the seer of a powerful Lingayat mutt.
"Dissidence is normal. But the BJP will have to face a severe blow if the chief minister is changed," seer of Rambhapuri Mutt, Prasanna Veerasomeshwara Shivacharya Swami, told reporters on how the community would turn its back on the party if its favourite leader is replaced.
While Yediyurappa and Shettar remained silent on the audio clip, Eshwarappa could not hide his angst. "I am 72 years old. I will go by what the party says. But don't make Kateel a sacrificial lamb," said the minister who had in April complained to Modi, the state governor and party bosses about Yediyurappa's interference in his department.
He said it didn't matter being a minister. "I am not in politics for this (ministership). I will do whatever my leaders and organisation ask me to," he added.