Indian company chosen freely, says Dassault
The claim came as the Opposition in India seized on the revelations by Mediapart, the Paris-based portal, as further evidence of wrongdoing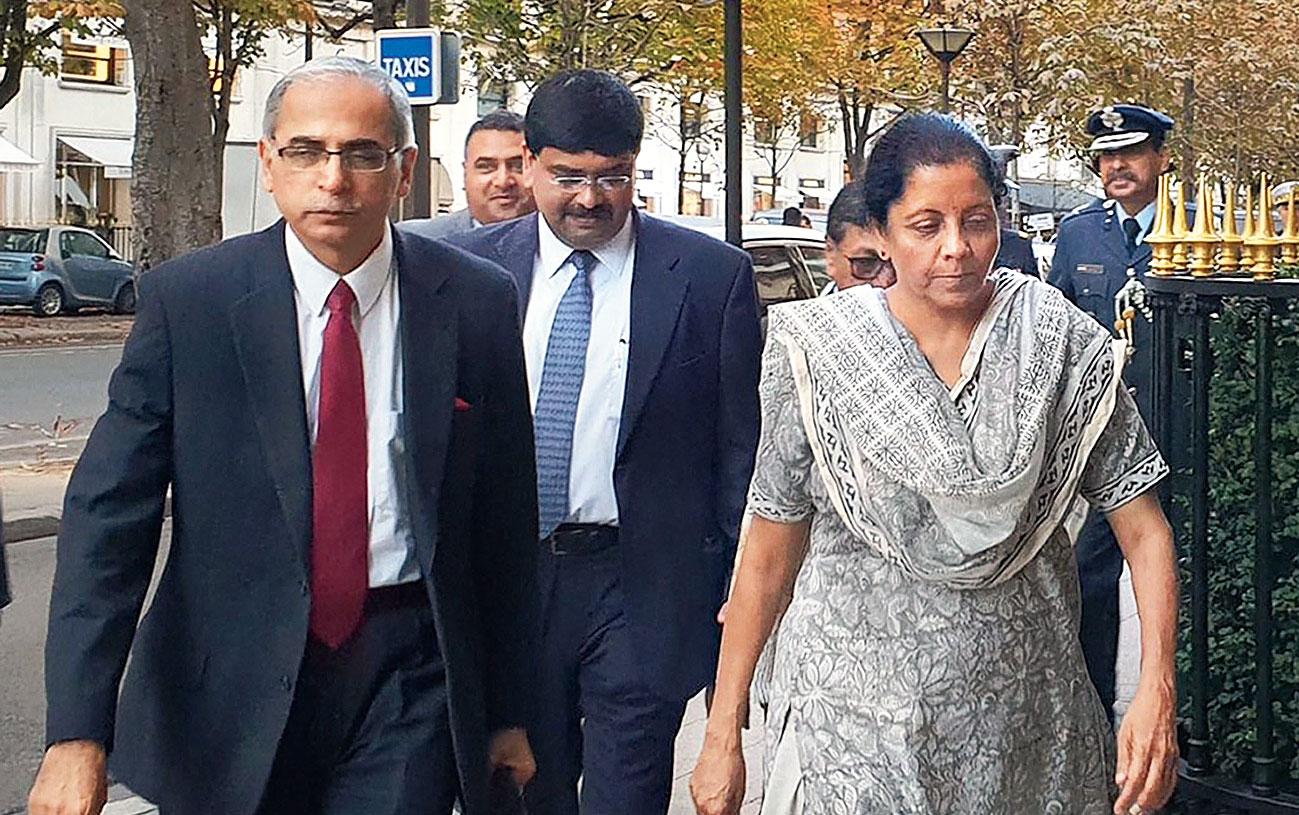 Defence minister Nirmala Sitharaman in Paris on Thursday. Congress president Rahul Gandhi alleged that she was on a "cover-up mission". "I heard the defence minister has gone to France and will visit the Dassault factory," Rahul told a news conference in New Delhi.
(PTI picture)
---
New Delhi
|
Published 11.10.18, 10:46 PM
|
---
Dassault Aviation said it picked Reliance Defence as a partner for the Rafale deal on its own, countering a French online media report that said the Indian government insisted on the firm as a condition of the contract.
The claim came as the Opposition in India seized on the revelations by Mediapart, the Paris-based portal, as further evidence of wrongdoing.
Asked about the French company's statement, Congress leader Rahul Gandhi told a news conference in New Delhi: "Dassault is sitting on a huge contract. It is going to say what the Indian government wants. The internal document has spoken the truth."
The French news outlet said it had obtained a Dassault company document in which a senior executive is quoted as saying the group agreed to work with Reliance as an "imperative and obligatory" condition for securing the fighter contract.
Under India's defence procurement rules, any company selling equipment must invest at least 30 per cent of the contract in India as part of an "offset" clause to help build a domestic manufacturing base and reduce the country's dependence on imports.
Mediapart's report appeared to corroborate former French President Francois Hollande's comments last month that New Delhi had put pressure on Dassault to choose Reliance as the offset partner in a deal worth millions of dollars to Indian company.
But Dassault in a statement late on Wednesday denied Delhi had a role in the choice of the partner.
It said it had committed to investing 50 per cent of the contract value to benefit the local economy and for that purpose had entered into a joint venture with the private Indian firm.
"Dassault Aviation has freely chosen to make a partnership with India's Reliance Group," it said. The plan is to produce parts for Dassault's Falcon 2000 business jets and, in a second step, components for the Rafale combat aircraft that the Indian military is buying to upgrade.