India silent on Imran retaliation remark
Neither the foreign ministry nor Arun Jaitley referred to the threat while giving detailed responses to Imran's speech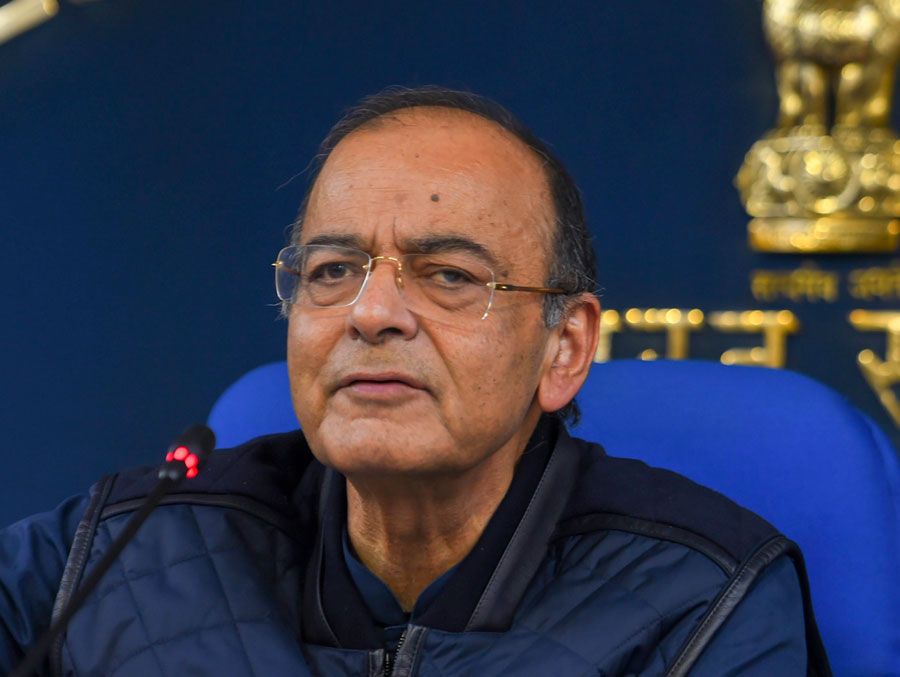 Finance minister Arun Jaitley addresses a press conference after a cabinet meeting in New Delhi on Tuesday.
(PTI)
---
New Delhi
|
Published 19.02.19, 09:43 PM
|
---
The Indian diplomatic and political reactions to Pakistan Prime Minister Imran Khan's address to his country were silent on his threat of retaliation in the event of an attack.
Neither the foreign ministry nor finance minister Arun Jaitley referred to the threat while giving fairly detailed responses to Khan's speech.
India underscored that not only had Khan failed to acknowledge the Pulwama attack "as an act of terrorism" but he had also not condemned it nor offered condolences to the bereaved families.
Jaitley, who briefing the media after a cabinet meeting, termed Khan's statements "diversionary" and said his demand for "actionable intelligence" in the Pulwama terror attack was "very shallow logic".
Barring Khan's remark about retaliation, India's official reaction addressed all the assertions he made, including the insinuation that the Indian response to the Pulwama attack was determined by the upcoming general election.
"India's democracy is a model for the world which Pakistan would never understand. We demand Pakistan stop misleading the international community and take credible and visible action against the perpetrators of (the) Pulwama terrorist attack and other terrorists and terror groups operating from areas under their control," New Delhi said.
Khan had said India had blamed Pakistan without evidence, asking why Islamabad would do something like this ahead of a crucial visit — that of Saudi Crown Prince Mohammed bin Salman, who arrived in Delhi late on Tuesday night for a state visit.
The Indian response took a while coming. For over five hours after Khan's televised address, neither the government nor anyone from the ruling party commented.
Later, reacting to Khan's address, the foreign office said: "Disclaiming any link between the terrorist attack and Pakistan is an oft-repeated excuse by Pakistan."
India pointed out that the Jaish-e-Mohammad, which has its base in Pakistan, had claimed responsibility for the attack and that itself should have been sufficient proof for Islamabad to take action if it was committed to weeding out terrorism.
As for the offer to investigate the matter if India provides proof, the foreign office said: "This is a lame excuse. In the horrific attack in Mumbai on 26/11, proof was provided to Pakistan. Despite this, the case has not progressed for the last more than 10 years…. Promises of 'guaranteed action' ring hollow given the track record of Pakistan."
India also dismissed Khan's assertion that this was a "Naya Pakistan" with a new thinking and pointed out that some of his own ministers have publicly shared platforms with proscribed terrorists like Hafiz Saeed.
On Khan's offer to discuss terrorism, India iterated its position that it was ready to engage in a comprehensive bilateral dialogue in an atmosphere free from terror and violence. Terrorism has in any case been part of the composite dialogue format that has been stalled for years now.
Jaitley said in response to questions: "There is not even a pretext of an outright condemnation. Second, let alone sympathy for the bereaved families, not even a lip sympathy."