'Reasonable' Imran plays global pressure card
Will retaliate if India attacks, says Pakistan's Prime Minister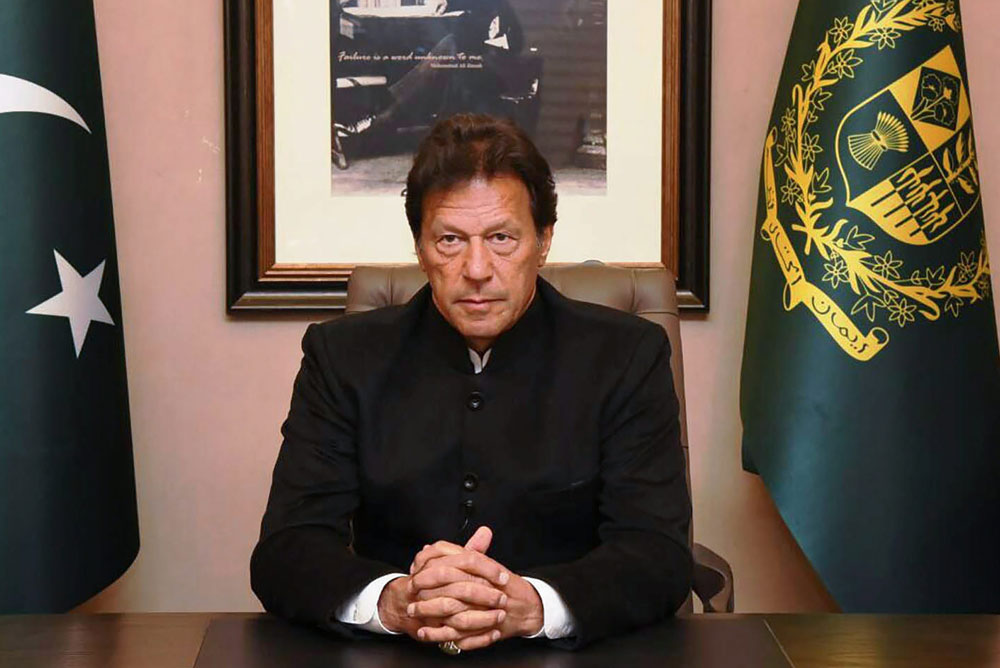 Pakistan's Prime Minister Imran Khan delivers his policy statement on the Pulwama terror attack in Islamabad on Tuesday.
(PTI)
---
Islamabad
|
Published 19.02.19, 09:41 PM
|
---
Prime Minister Imran Khan on Tuesday warned of retaliation if India attacked Pakistan, delivering an address to the nation aimed far beyond the domestic audience and possibly seeking to bring international pressure to bear on India to avert a military response to the Pulwama massacre.
"If India thinks they will attack Pakistan... Pakistan will not just think about retaliating, it will retaliate. There will be no other option left than to retaliate," Khan said in his first public comments on the Pulwama attack that killed 40 jawans last week.
In his short address in which many heard the voice of the Pakistan Army, Khan appeared keen to project himself before the world as a reasonable leader — however unconvincing the performance was for New Delhi.
Beneath the offer to discuss terrorism and pursue the Pulwama perpetrators if Delhi furnished "actionable intelligence", the stress appeared to be on the need to avert a military response, draw attention to the electoral compulsions in India and remind New Delhi to set its house in order.
India rejected his offer as a "lame excuse" but was silent on the retaliation remark. India was particularly cut up with his failure to condole the death of the jawans.
Khan sought to make the world sit up. "And after that (an attack and retaliation), where does the matter go? ...Starting a war may be in our hands, ending it won't be. Where it will go, God knows. That's why I hope that better sense will prevail," Khan said.
Before Khan's address, Pakistan had written to the UN secretary-general to step in to defuse tensions between the nuclear-armed neighbours.
Another flank aimed at the US was opened with Pakistan's ambassador to Afghanistan, Zahid Nasrullah, saying in Kabul that peace talks between America and Afghan Taliban militants would be affected if India resorted to violence against Pakistan.
In his address, Khan — who likes to describe his term as the harbinger of "Naya Pakistan", not unlike Prime Minister Narendra Modi's "New India" — said: "You are facing an election year. And we believe that during the election, you think you will get a big boost if you 'teach Pakistan a lesson'."
Possibly eager to address domestic concerns, Khan said: "In India, there needs to be a new way of thinking, some introspection: what is the reason these Kashmiri youths have gotten to the point where they have no fear of death any more? There must be some reason."
"Do you think that this one-dimensional oppression, cruelty, using military to cause issues — if they haven't been successful till today, do you think they will be successful in the future?" the Pakistan Prime Minister asked.