India's blood is boiling, says Modi
PM says he has given 'complete freedom' to the security forces to act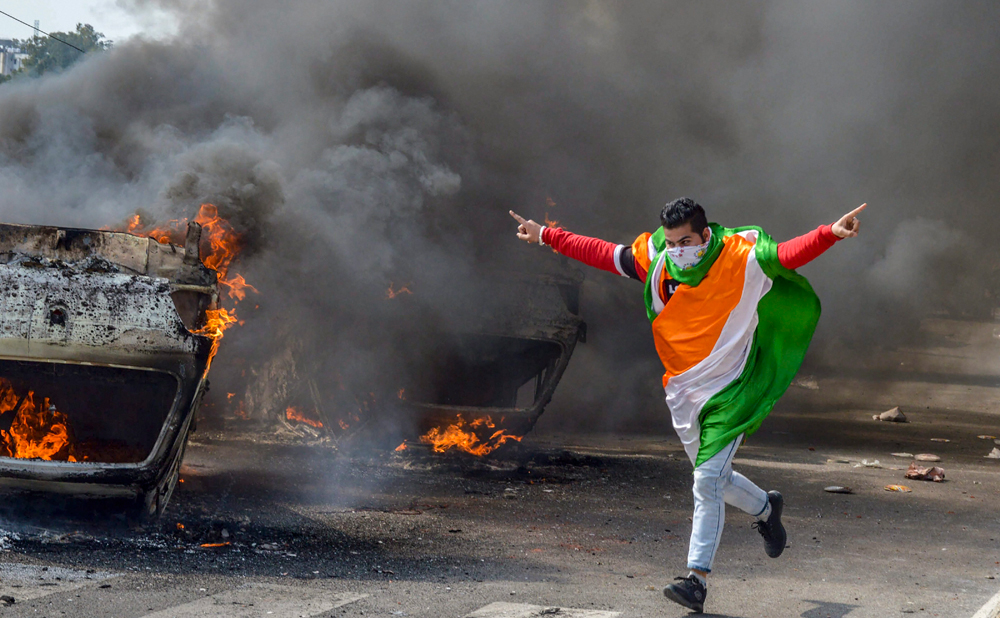 A protester draped in the Tricolour runs past burning vehicles that were set on fire during a protest against Thursday's Pulwama terror attack, in Jammu, on Friday, February 15, 2019.
PTI
---
New Delhi
|
Published 15.02.19, 10:13 PM
|
---
Prime Minister Narendra Modi has said he very well understands "people's blood is boiling" and promised retribution, stressing that the perpetrators and patrons of the Pulwama terror attack would have to pay a "heavy price".
He told a government programme in Jhansi that the security forces had been "given permission to choose the timing, place and nature of their response" to the massacre of 40 CRPF personnel.
Modi referred to Pakistan as "our neighbour" and warned that it cannot weaken India by conspiring and orchestrating terror attacks. He assured the "130 crore people" of India that the culprits would certainly be punished.
"The amount of anger that is there in the country, people's blood is boiling. I can very well understand this," the Prime Minister said while addressing a programme in the capital to flag off the Vande Bharat Express. The event was held before Modi's programme in Jhansi.
"I want to tell the terror outfits and their patrons that they have committed a big mistake. They have to pay a heavy price for this," Modi said, evoking applause. The Prime Minister said he had given "complete freedom" to the security forces to act and underscored that he had "full faith" in the bravery of the soldiers.
Union home minister Rajnath Singh flew to Srinagar and joined others in carrying the coffin of one of the deceased CRPF soldiers.
Modi appealed to critics not to politicise the carnage and said the country was facing the challenge unitedly, which was needed to win the battle before the world community. He said Pakistan, whose economy was in tatters, was trying to weaken India but would not succeed.
"Our neighbouring country is passing through a financial crisis. The other countries of the world have distanced themselves from them. It doesn't have money to continue its day-to-day activities. They are going all over with a begging bowl but no country is ready to support them," the Prime Minister said in Jhansi.
"Those guilty of the Pulwama attack and the conspirators must be punished," the Prime Minister said. "India's 130 crore people will give them a reply…. Give them a befitting reply," Modi added.
Modi had cancelled his political events in the wake of the terror attack but went ahead with government programmes.
Jammu curfew
The army was called in and an indefinite curfew was clamped in parts of Jammu after mobs attacked members of a community and torched vehicles to protest the Pulwama terror attack.
Officials said more than a dozen people were injured and several vehicles set ablaze at multiple places in Jammu amid a shutdown against the militant attack.