In epic fight, Rabri Devi bats for Priyanka
Rabri said that instead of comparing Modi to Duryodhan, he should be called an "executioner"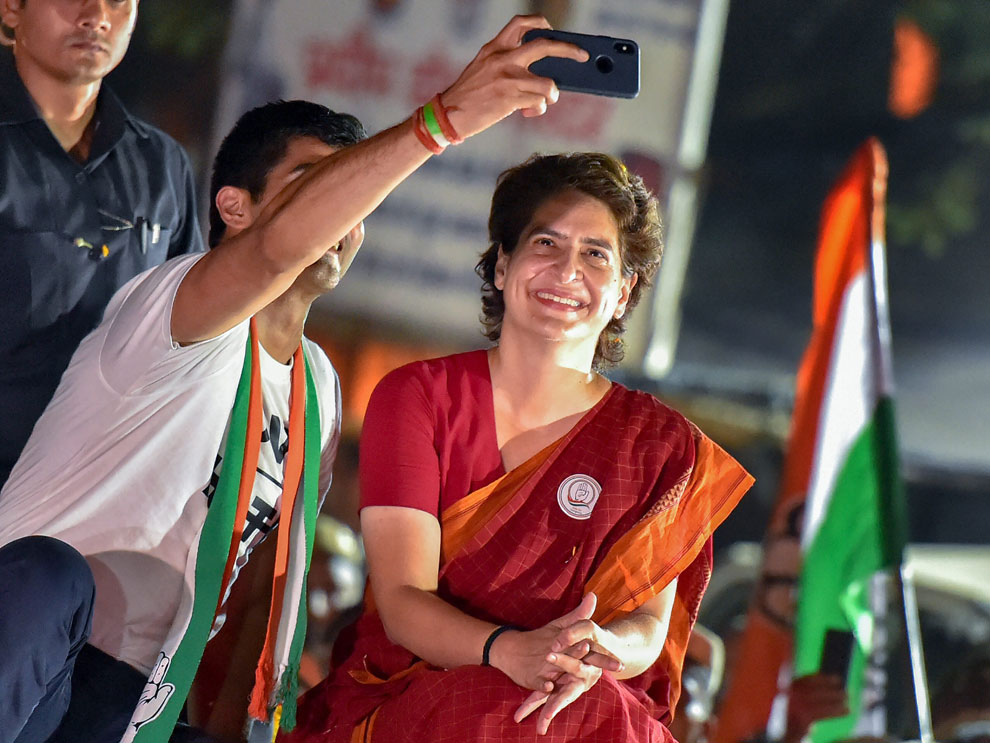 Congress leader Priyanka Gandhi Vadra poses for a selfie with party's South Delhi candidate boxer Vijender Singh at the end of an election campaign roadshow for the Lok Sabha polls, in New Delhi, Wednesday, May 8, 2019.
(PTI)
---
Patna
|
Published 09.05.19, 01:44 AM
|
---
Congress general secretary Priyanka Gandhi, who had equated Prime Minister Narendra Modi with Duryodhan, on Wednesday got support from RJD leader Rabri Devi.
Rabri said that instead of comparing Modi with the villain from the Mahabharat, he should have been called an "executioner". Lalu Prasad's better half also called BJP and JDU leaders "gutter worms".
Rabri was going to canvass for her eldest daughter Misa Bharti, who is contesting from the Patliputra constituency, when media persons asked Rabri whether it was correct for Priyanka to liken Modi with Duryodhan, a remark that has drawn the ire of BJP leaders, including party president Amit Shah.
"She (Priyanka) made a mistake by calling Modi Duryodhan. Such people need to be addressed in another language. They are executioners. They are responsible for getting judges and journalists abducted and killed. Imagine how feral would be the mind and thoughts of such people," Rabri said.
Priyanka, speaking at an election rally in Ambala on Tuesday, had said in Hindi that Modi "insults martyred members of my family, but never talks about your needs. This country has never forgiven arrogance and hubris. Even Duryodhan had such arrogance".
Her remarks came after Modi attacked late Prime Minister Rajiv Gandhi and called him "corrupt number one".
"The Gujarati duo has become rattled after realising that they will lose," Rabri said. "Modi's language is not even worthy of any reaction. These people have poison in their minds. These executioners are coming to Bihar to deliver speeches. The kind of language the Prime Minister uses shows that the BJP and JDU leaders are gutter worms. They came chanting development in 2014 and are going after wreaking destruction."
Rabri had on Tuesday called BJP president Amit Shah "a cannibal".
Bihar NDA leaders were quick to take on Rabri.
"RJD has become completely frustrated over the prospects of defeat, hence its leaders, including Rabri Devi, are making such obnoxious statements," said Bihar BJP president Nityanand Rai. "Such words have no place in democratic politics."
K.C. Tyagi, secretary-general of Bihar chief minister Nitish Kumar's JDU, expressed surprise at Rabri's remarks.
"I will not say much because Rabri Devi is a woman and unfortunately a former CM. She is also the wife of Lalu Prasad, who used to be our senior colleague," Tyagi said. "Such statements were among the reasons for Bihar's infamy in the country and the world. I don't have appropriate words to reply to her remarks."