Priyanka says Duryodhan, stung Amit Shah reacts
This country has never forgiven ahankar aur ghamand, says Congress leader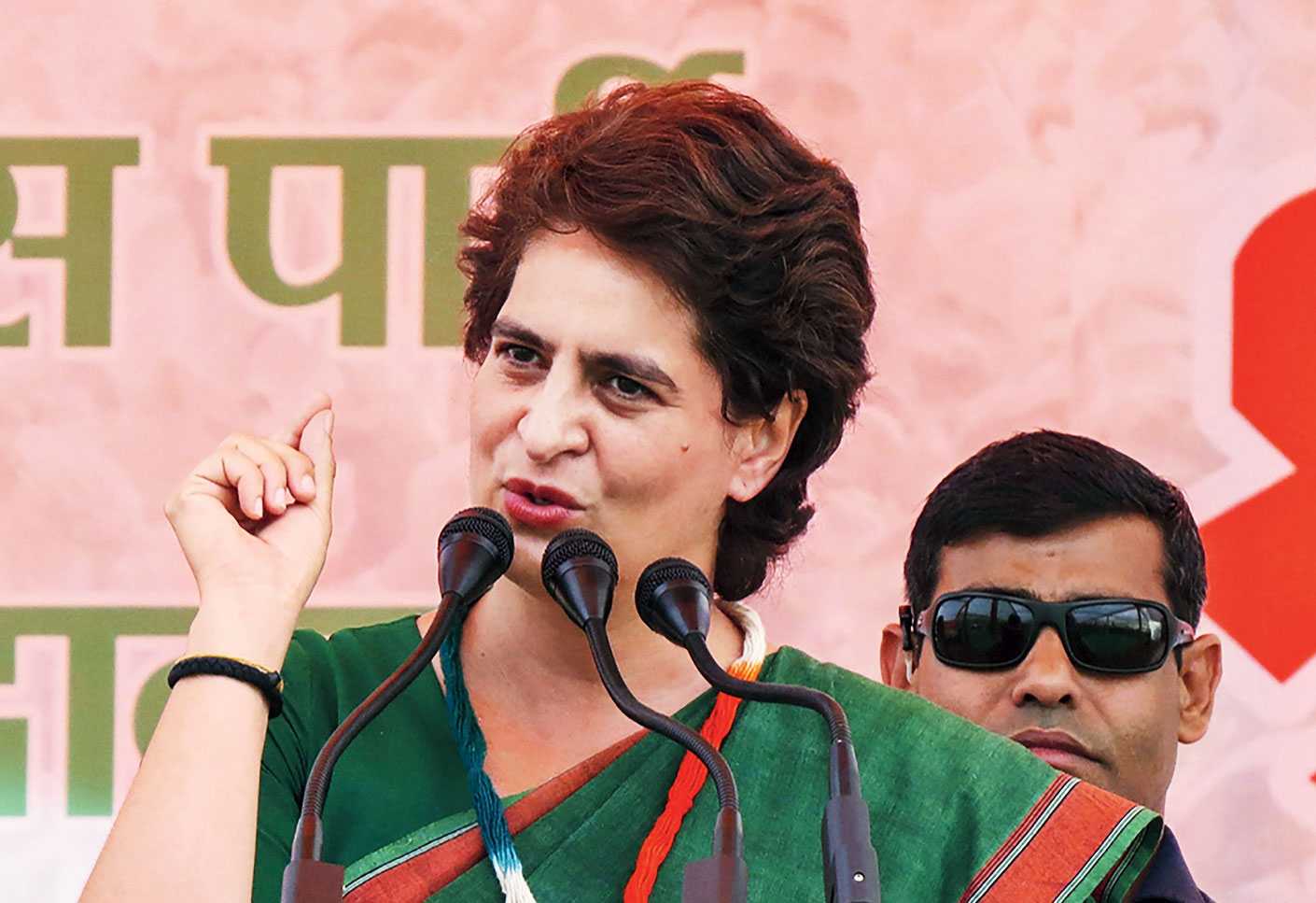 Priyanka Gandhi Vadra at an election rally in Hisar on Tuesday
Picture by PTI
---
New Delhi
|
Published 08.05.19, 12:04 AM
|
---
Duryodhan was proof that India does not forgive arrogance and conceit, Priyanka Gandhi Vadra said on Tuesday, speaking not far from Kurukshetra — the battleground of Mahabharat.
"This country has never forgiven ahankar aur ghamand. History is witness to that, Mahabharat is witness to that. Duryodhan had such arrogance. When Lord Krishna went to him to tell him the truth, to explain to him, Duryodhan tried to take him hostage," Priyanka told an election rally in Ambala, Haryana.
The Congress general secretary in charge of eastern Uttar Pradesh then quoted national poet Ramdhari Singh Dinkar: "Jab naash manuj par chhata hai/pehle vivek mar jata hai (When destruction looms, good judgment is the first to die)."
Priyanka did not name Narendra Modi, but a stung BJP president Amit Shah responded angrily at a rally in Bengal hours later: "Rahul Baba says his father has been insulted…. When the incumbent Prime Minister is insulted, it doesn't become an issue. Just now, Priyanka called Modiji Duryodhan. On May 23, the people of India will decide who is Arjun and who is Duryodhan."
In saying so, Shah appeared to unwittingly concede that criticism that Modi had insulted an assassinated former Prime Minister had hit home. The BJP has defended Modi's speech in which he told Congress president Rahul Gandhi that his father, Rajiv Gandhi, had been described as "Mr Clean" but that "his life had ended as bhashtachari No. 1 (corrupt No. 1)". Rajiv was assassinated by LTTE terrorists in 1991.
Priyanka told voters that BJP leaders in their campaign speeches do not raise "your problems" and never explain why promises made had remained unfulfilled. "Sometimes they will say the elephant was sleeping for 70 years, sometimes they will ask for votes in the name of martyrs, sometimes, they will insult martyrs from my family. But they don't talk about your concerns," she said.
Priyanka continued: "It is unfortunate. This election is not about one family. This election is about the crores of families whose hopes, whose aspirations have been demolished by this government, this Prime Minister. This election is about the BJP government's achievements. They raise all kinds of issues to hide their failures."
Then she spoke of how arrogance was never forgiven in India and cited the example of Duryodhan, who epitomises evil.
"The people of our country have great wisdom. This wisdom is not new. This is ancient wisdom, which is reflected in Mahabharat…. You cannot mislead these people. The people of this country force accountability on every leader, you too will be held accountable," she said.
The Congress is fighting this election on people's concerns, she said. "We are fighting this election on the basis of the reality that the BJP government did nothing for the people in the last five years. I appeal to you to force leaders to fight elections on your issues, make them conscious of your needs, make them accountable. I dare the Prime Minister to fight the election on jobs, women's safety, vision for the future. People know history, they are fighting for the future. You are the Prime Minister, you are a big leader of the BJP, you should realise this or the people will teach you this lesson."