How a mother coped with PM visit to Varanasi
Jeera Devi went against her belief to marry off her 16-year old daughter to protect her from stares of strangers in a state with a chilling record in gender crimes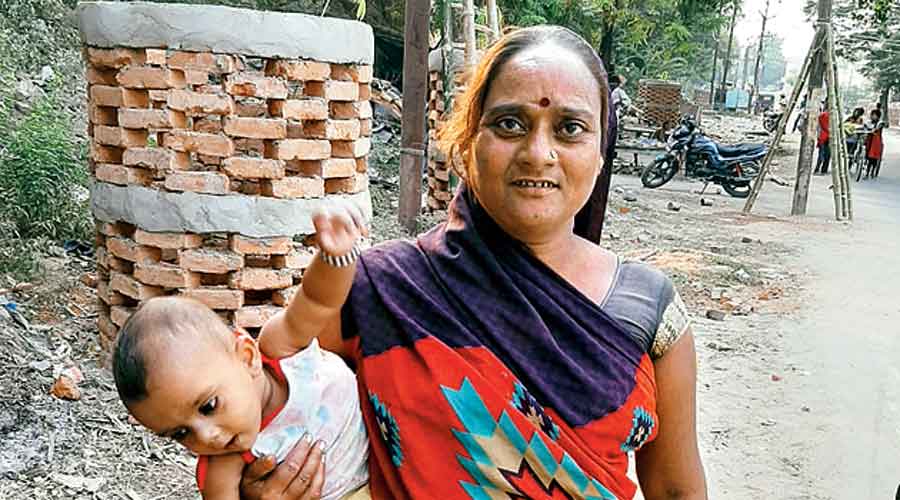 ---
Lucknow
|
Published 30.11.20, 01:32 AM
|
---
When police demolished a Varanasi slum on February 12 ahead of a visit by Prime Minister Narendra Modi, it wasn't the looming hardship of a life on the streets that most worried the suddenly homeless Jeera Devi.
Nor was it the fear of hunger, although the forced eviction meant a loss of livelihood for the 70-odd families that lived in the Sujabad slum and wove bamboo baskets, mats and hand fans.
What bothered Jeera Devi most was the safety of her 16-year-old daughter, forced to live in the open with her parents, exposed to the stares of strangers in a state with a chilling record in gender crimes.
"We were living in a neighbourhood alley, without a roof over our head, along with many of the other evicted families. Passers-by stared at my daughter. Local louts leered at her and the other young women, and misbehaved with them," Jeera Devi, 50, said.
The Varanasi administration demolished her bamboo-and-plastic shanty with the rest of the slum again last Tuesday — barely a month after the 200-odd slum dwellers had returned —ahead of another Modi visit, scheduled on November 30.
But thrown on the streets again, Jeera Devi this time has one problem fewer to worry about. She had married off her daughter the last time to protect her from harm, although she believes that underage marriage is "galat" (wrong).
"It was the only option I had — to find a groom for my daughter. We found the groom in Chiraiyakot, Mau district, gave Rs 2,500 as dowry and married her off on September 25. Now she is safe," Jeera Devi told The Telegraph.
"I knew that marriage at such a young age is wrong, but what else could I have done?"
Over the past few years, Uttar Pradesh has witnessed horrific allegations of rape and brutality — from the 2017 Unnao atrocity that has landed a BJP lawmaker in jail to the September 2020 Hathras gang-rape-and-murder.
The state tops the National Crime Record Bureau's report for 2019, accounting for 15.3 per cent of the country's crimes against women. Chief minister Yogi Adityanath has, however, claimed that crimes against women have fallen by 27.32 per cent compared with 2016, when Akhilesh Yadav was chief minister.
Jeera Devi's husband Raja Ram said their elder daughters, aged 22 and 20, were married and so was their eldest son Deepak, 30. Younger sons Abhishek, 19, and Golu, 14, live with their parents.
Sujabad is split into two parts: a village with brick houses and well-off people and the site where the slum had stood for decades with its 200-odd Dalit residents from the Dharkar and Bansfor castes.
"A group of businessmen in Sujabad wanted us to vacate the area so they could store sand, stones and iron bars at the site," Jeera Devi said.
Her eldest son Deepak said the henchmen of these "sand and stone sellers" had helped the police demolish the slum both times, while misbehaving with the younger women and "using foul language".
Raja Ram said that after the February 12 eviction, the family had survived on food provided by an NGO. The slum dwellers had returned at the end of October, after social activists persuaded the authorities to let them, only to be thrown out again last Tuesday.
Modi, the Varanasi MP, had come the last time to unveil a statue of BJP icon Deendayal Upadhyaya in the Padav locality, barely 500 metres from Sujabad, on February 16.
This time, after his chopper touches down at a temporary helipad in nearby Dumri on November 30, his motorcade will travel through Sujabad to reach Mirzamurad, 1km away.
Modi will also watch celebrations of Dev Deepavali in Varanasi and a light-and-sound show in Sarnath, 15km away.
"The land where these people live belongs to the government. We wanted them to vacate the area because it's close to the road along which the Prime Minister will pass," a Varanasi Nagar Nigam official said on the condition of anonymity.
"There's a proposal to shift all the slum dwellers of the city to another government plot on the Varanasi-Chandauli Road, but the final decision is yet to be taken."