Shanties make way for Modi in Varanasi
Police arrive to demolish shelters of 200-odd residents of the city's Sujabad slum ahead of PM's visit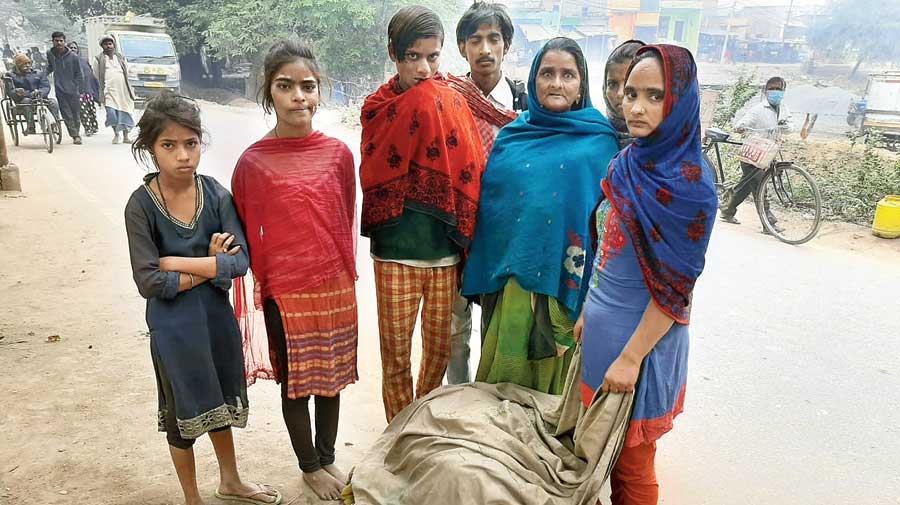 Children from Sujabad slum after being displaced.
Saurabh Singh
---
Lucknow
|
Published 29.11.20, 01:33 AM
|
---
When the police arrived on Tuesday to demolish their shanties, the 200-odd residents of Varanasi's Sujabad slum knew that Prime Minister Narendra Modi would be visiting the neighbourhood again.
The homes of these 70 families had been demolished also on February 12, four days before Modi's previous trip to his constituency.
Modi will now reach Varanasi on November 30.
The Prime Minister is scheduled to watch a festive Kartik Purnima spectacle on the Ganga's ghats and a light-and-sound show in nearby Sarnath.
"Last time, bulldozers razed our huts of mud, plastic sheets and hay because Modiji was to unveil a statue of Deendayal Upadhyaya in the nearby Padav locality. Sujabad lay on his route," Ram Das, 70, told The Telegraph over the phone on Friday.
"We are getting used to such things. There is no denying that we are a blemish on the face of the constituency of PM Sir," Das said.
Jeera Devi, 50, said: "I wonder if PM Sir would ask his officers to provide an annual schedule of his programmes so that we could ourselves demolish our homes and shift four days before his visits and return after a few weeks."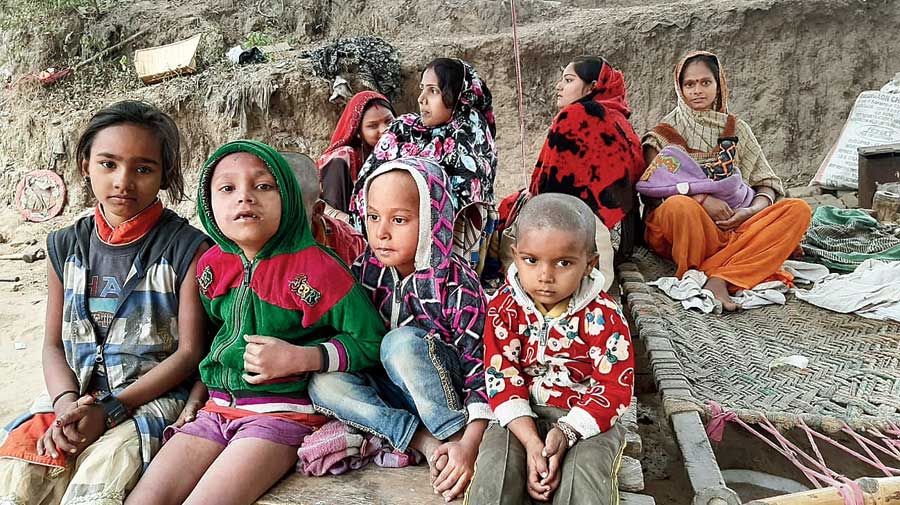 After the February expulsion, "some of us went outside the city for a few months while others shifted to the lanes and alleyways near Sujabad along the Ganga", Das said.
The families — Dalits from the Dharkar or Bansfor caste who have lived in Sujabad for decades, making and selling bamboo products like baskets, mats and hand fans — survived somehow with help from local NGOs.
"We gradually began returning at the end of October after some social workers got the authorities to give the go-ahead. Now, a month on, the ordeal has begun again," Das said.
He said the slum dwellers had this time built makeshift shanties of bamboo and plastic alone, and the police and civic workers were able to demolish them using their bare hands and sticks.
Varanasi sub-divisional magistrate Pramod Kumar Pandey said: "Certain steps are taken for the security of the Prime Minister. However, we will look into the problems of these people."
State law and justice minister Neelkanth Tiwari, who is managing Modi's programme in Varanasi, didn't answer calls.
This time the displaced families haven't left the area. They have been living in the open on the lanes, making sure they cannot be seen from Modi's route. However, officials have asked them to leave.
Modi's helicopter is to land in the afternoon in the Dumri locality, barely 150 metres from Sujabad. The Prime Minister will address a meeting of about 5,000 invitees in adjoining Mirzamurad, then catch a boat from nearby Rajghat to Dashaswamedh Ghat.
There he will watch the celebration of Dev Deepavali, a local festival held every Kartik Purnima that marks the killing of demons by the gods.
All the 80 ghats of the Ganga in Varanasi are decorated with earthen lamps on the occasion. Cultural programmes are held at the Dashaswamedh and Rajendra Prasad ghats.
Later in the evening, the Prime Minister will visit Sarnath, 15km from Varanasi city, to watch a newly started light-and-sound show on the life of the Buddha.
Saurabh Singh and Athira Murli, two social workers who have been helping the Sujabad slum dwellers, have handed the local administration a memorandum asking them to make alternative arrangements for these families before displacing them.
Athira, who has been working with the United Nations secretary-general's panel on digital cooperation to achieve universal connectivity by 2030, contrasted the bustle of the beautification drive on Modi's route with the despondency of the displaced slum dwellers.
"...500 municipality staff are working their way through Sujabad/ Padav this morning. There are over 200 cleaning workers (sweepers) tidying the road from Padav to Sujabad/ Dumri helipad," he wrote in an email on Friday.
He said a 1.5km stretch was "clouded" with the dust raised by JCB machines, amid "beaconing lights emerging from official vehicles pacing frantically to and fro".
"In between Padav and Dumri helipad road, along the inlet side, over 200 people — infants, children, disabled elders, women, and men — can be seen sitting with distress and disappointment evident across their faces," Athira said, referring to the displaced families.
Saurabh, who runs the Inner-voice Foundation, said he and his colleagues were trying to ensure rehabilitation for these families.
"We are working on multiple efforts to get the government's attention. Unfortunately, we've only had disappointments so far," he said.
Saurabh underlined that one of the displaced families' biggest worries was the safety of their women, especially in a state that has reported a series of atrocities on young women in recent years.
"With the increasing crimes against women, the mothers have the added worry of the safety of their adolescent daughters as well as other women," he said.
"Jeera (Devi) married her daughter off hurriedly in September as she had no other option to ensure her safety."
Saurabh added: "The administration has issued voter identity cards to these families against their Sujabad address. Also, the higher courts have said that any displacement should be preceded by a rehabilitation plan, but it's never followed here."
Banarsi Lal, village panchayat chief of Sujabad where the slum is located, said: "These families had been living here for decades, but the administration refuses to recognise them as humans."
A local BJP politician, seeking anonymity, said: "We have been requesting senior government officials for a long time to make some arrangements for these people on a vacant plot of government land along the Varanasi-Chandauli road so that they are not displaced repeatedly."
He did not explain how, if the ruling party indeed wanted such a step, government officials could keep stalling it.
"This time, we will take it up with the office of the Prime Minister that was opened in Varanasi in 2014 to solve the problems of the local people," he said.
The office, popularly called "mini-PMO", witnesses regular visits by central ministers.