Hemant Soren to visit Bura Pahar
First CM to go to former Maoist bastion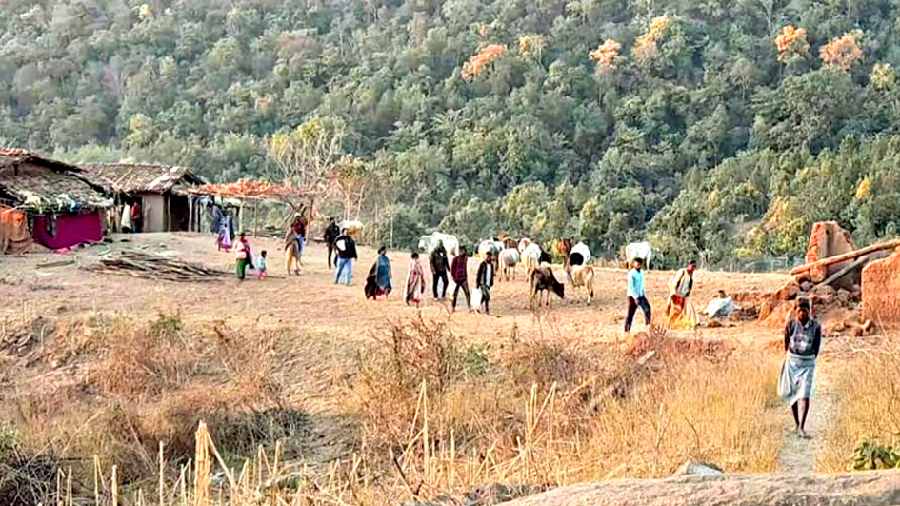 Villagers at Buda Pahar in Garhwa.
Bhola Prasad
---
Jamshedpur
|
Published 26.01.23, 02:42 AM
|
---
Hemant Soren will visit Bura Pahar, a Maoist bastion and training centre on the border of Chhattisgarh and Jharkhand on Friday, becoming the first chief minister of the state to do so. 
Bura Pahar is located along Latehar and Garhwa districts in Jharkhand and adjacent to Balrampur district in Chhattisgarh.  
"The once red bastion has become free of rebels after 28 years because of the constant efforts of the security agencies and the government's attractive surrender policies for Maoists. It was a safe haven for Maoists since 1994 due to its difficult topography and inaccessible terrain. However, for the first time after freeing the area of rebels, the CRPF and Jharkhand police jointly hoisted the Tricolour on October 23 last year,"  a bureaucrat posted in the chief minister's secretariat in Ranchi said.
"Since then the district administration on the instruction of the chief minister's office has been actively engaged in linking local villagers with government schemes. Hemant Soren will be the first chief minister since the creation of Jharkhand (in 2000) to visit the area on January 27," the bureaucrat added. 
Garhwa deputy commissioner Ramesh Gholap confirmed Hemant's visit. "The chief minister will be arriving in Garhwa on January 27 and proceed to the hilltop where the CRPF camp has been set up on a helicopter. Details of the programme are being finalised," said Gholap.
Garhwa district public relations officer Saket Kumar Pandey said Hemant would inaugurate several rural development schemes besides interacting with villagers. 
District police sources said the first rebel attack in Bura Pahar took place in 1995 under Bhandaria police station when a trader was taken out of his house and shot dead. Members of the People's War Group had also torched several houses.
In October 2001, Garhwa deputy superintendent of police Amlesh Kumar was killed along with three constables in a landmine blast by Maoists.  Following the merger of the Maoist Communist Centre and the People's War Group in 2004, rebel activities increased in the area, especially in Bhandariya and Bargarh.
The hilly terrains that remained out of bounds for the police became safe haven for the rebels. In 2012, a landmine blast triggered by the Maoists blew up 12 jawans, including then station in charge of Bhandariya police station Rajbali Chaudhary.
In 2010, ballot boxes of panchayat elections were looted from the booths of Madgadi under Bhandariya police station. Five trucks engaged in election work were also torched.
In 2017, two police personnel and a sniffer dog were killed by the rebels in a bomb blast. In 2018, then Garhwa SP Shivani Tiwari, who was leading the anti-Naxalite campaign, narrowly survived an attack even as six cops were killed in an IED blast. In view of the problems being faced in the campaign against rebels, the police shifted 48 families from Brijia and Jhadubeda Tola of Bura Pahar to Madgadi village in Bargarh block in 2017.
They included 39 families from Jharkhand and nine families from Chhattisgarh. Binko Toppo, head of Tehri panchayat in Bhandariya block, said efforts were being made to solve the problems of the people of the village.
"In the absence of a road, I myself reached Bura Pahar for the first time by walking for two hours. Efforts are being made to include people in the mainstream by speeding up the development work through coordination with the block and district administration," said Toppo.
Block development officer Bipin Kumar Bharti said they were trying to connect the villagers with employment and welfare schemes. 
CRPF SI hurt in IED blast
A CRPF sub-inspector was injured in an improvised explosive device (IED) blast set up by Maoists in a village of West Singhbhum district, around 170km from Jharkhand's capital Ranchi on Wednesday morning.
According to West Singhbhum superintendent of police (SP) Ashutosh Shekhar, the IED blast took place while the security forces were taking part in a combing operation at Anjanbeda village under Chaibasa mufassil police station area, nearly 30km from West Singhbhum district headquarters.
"The CRPF sub-inspectorInsar Ali, 56, has a soft tissue injury due to the IED blast and was airlifted from Chaibasa to a private hospital in Ranchi.He is stable, conscious and oriented," the SP informed.