'Happy' Rahul dares Modi to Rafale debate
Congress chief says 'some corruption' in the Rafale deal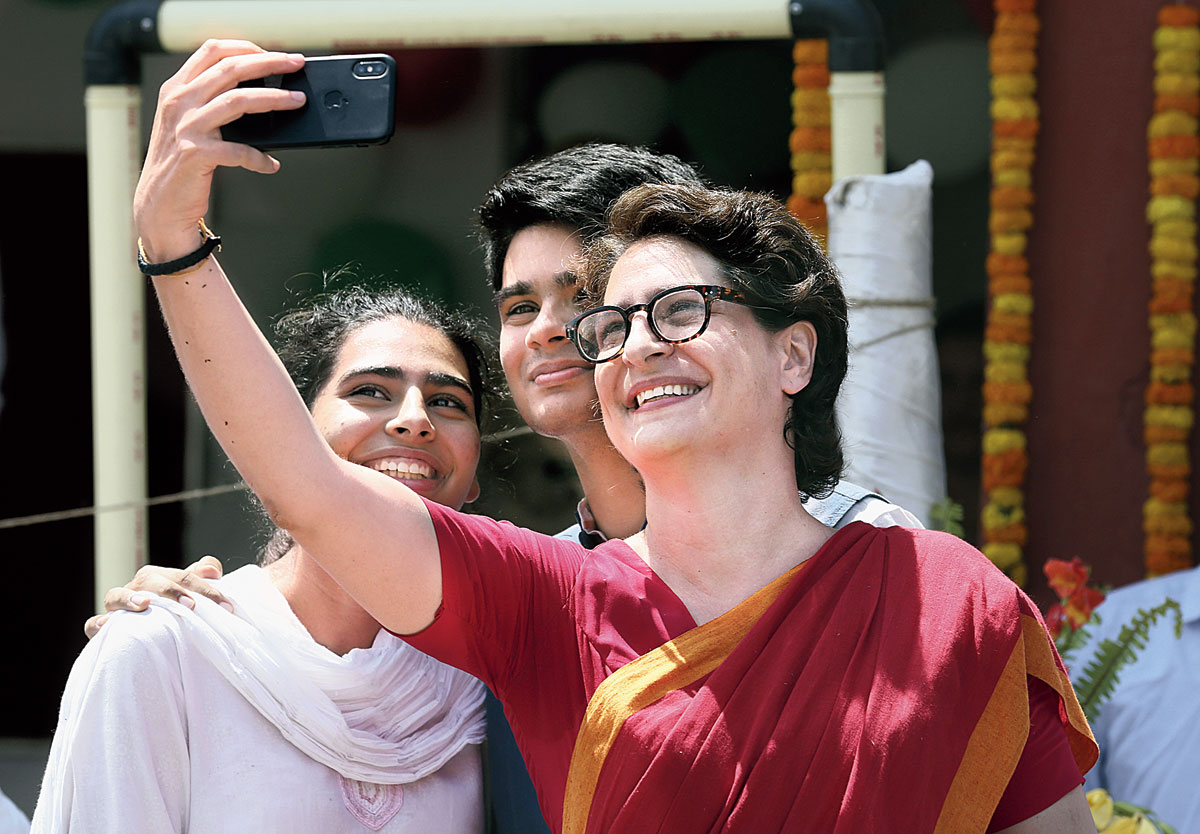 Priyanka Gandhi Vadra takes a selfie with her children Miraya and Raihan after Rahul Gandhi filed his nomination papers in Amethi on Wednesday
Picture by AP
---
Lucknow
|
Published 11.04.19, 01:04 AM
|
---
Rahul Gandhi claimed on Wednesday that the Supreme Court had made it clear that "chowkidarji" had committed theft and that there had been "some corruption" in the Rafale deal, challenging the Prime Minister to a debate after filing his nomination papers for the Amethi Lok Sabha seat in Uttar Pradesh.
Earlier in the day, the Supreme Court had allowed leaked documents to be relied upon by petitioners seeking review of its Rafale judgment and dismissed the government's preliminary objections claiming "privilege" over them.
Rahul, who was joined by mother Sonia Gandhi, sister Priyanka Gandhi Vadra, brother-in-law Robert Vadra and Robert and Priyanka's children Raihan and Miraya at the district collectorate where he submitted his nomination papers, said he was "happy today" after the apex court's observations.
The Congress president told reporters in Amethi, which he has been representing in Parliament for the past 15 years, that a thorough investigation should be done "because the first man involved in the scam is Anil Ambani and the second man is Narendra Modi".
"I am happy today that what I have been saying for the past many months has been proved right. I am again saying that the PM can call me to a debate on the Rafale deal, demonetisation, corruption and (BJP president) Amit Shah's son… anywhere and anytime. He wouldn't be able to face the country after debating with me," Rahul said.
Referring to the top court's observations, Rahul said: "Now the Supreme Court has made it clear that chowkidarji has committed a theft. (It has) accepted that there is some corruption in (the) Rafale (deal). He put poor people's money in Anil Ambani's pocket. The court has substantiated my claim."
Rahul, who was also accompanied by Congress general secretary Jyotiraditya Scindia, said Modi had claimed that the Supreme Court had given a clean chit. The government denies any wrongdoing in the Rafale deal.
"I want to thank the Supreme Court. It's a very happy day. The Supreme Court has talked about justice. Justice has prevailed," Rahul added.
Before filing his nomination papers, Rahul and Priyanka, the Congress general secretary in charge of eastern Uttar Pradesh, took out an impressive road show from Gauriganj market to the district collectorate in Amethi.
A large number of Congress supporters and common people lined both sides of the 3km stretch as Rahul, Priyanka and Robert passed in an open-top bus. They showered flower petals on the leaders.
Priyanka said Amethi was her father's "karmabhoomi" and its land was sacred for her family.
"Some relationships are from the heart. Today, the whole family was present for my brother's nomination. This was my father's karmabhoomi, it is sacred land for us," Priyanka tweeted.
Since morning, Congress supporters wearing Tricolour caps and scarves had been out on the streets holding placards and posters in preparation for Rahul's visit. They raised slogans and often broke into impromptu dance at the beat of drums. The streets were lined with Congress flags, and hoardings and posters with pictures of Rahul and Priyanka.
Enthusiastic youngsters on motorcycles moved around making videos of the event on their mobile phones.
UPA chairperson Sonia, who was not part of the road show, reached the collectorate when Rahul submitted the nomination papers. She will file her papers from the neighbouring Rae Bareli Lok Sabha constituency on Thursday.
Rahul is up against the BJP's Smriti Irani, who is likely to submit her nomination papers on Thursday.
According to his affidavit, Rahul has assets worth Rs 15.8 crore, up from Rs 9.4 crore in 2014. His movable assets are worth Rs 5.8 crore and immovable wealth Rs 10 crore.