Giriraj Singh's iftar wisdom comes after years of riling supporters of minorities
The tweet is said to have elicited a rebuke from BJP chief Amit Shah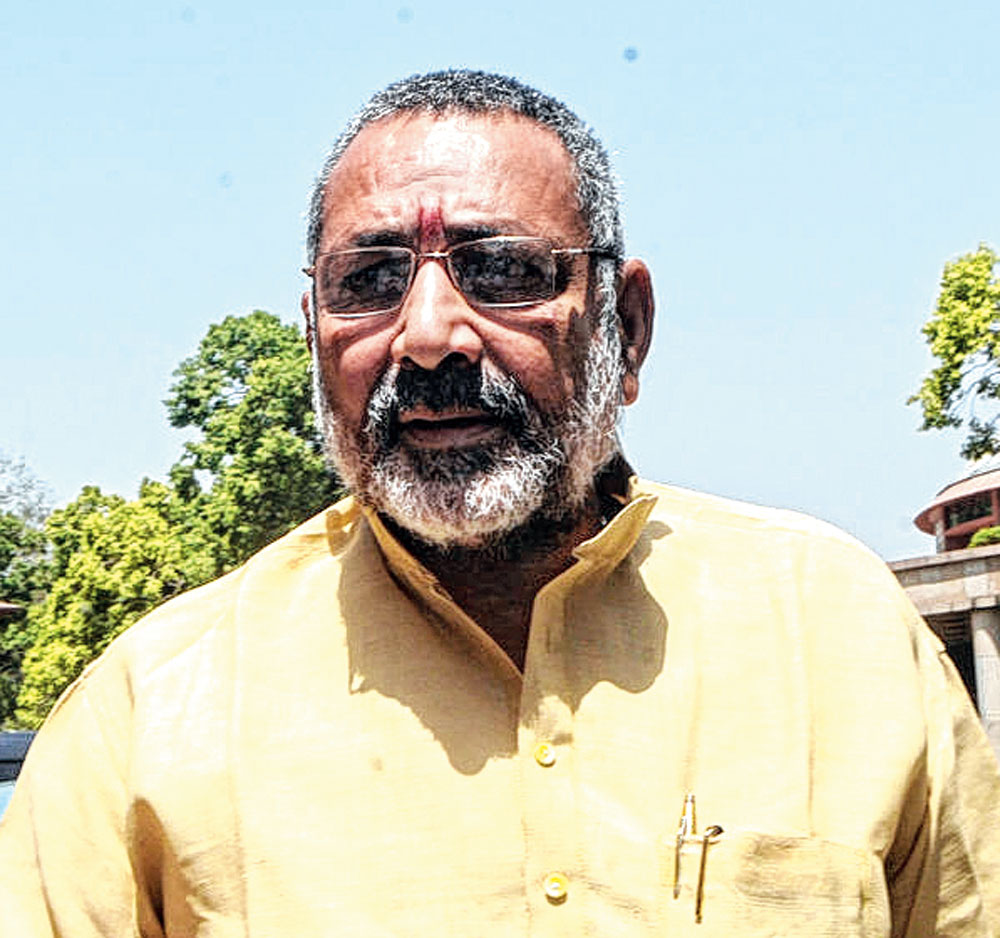 ---
---
Bihar BJP MP Giriraj Singh nettled his alliance partners on Monday when he took a dig at some of them attending an iftar wearing skull caps.

Singh, in a tweet, took pot-shots at Bihar chief minister and JD (U) leader Nitish Kumar, LJP chief Ram Vilas Paswan and former Bihar chief minister Jitan Ram Manjhi for attending an iftar party in skull caps.
"Why do we lag behind in following our own religion while leading the way only in show-off? How beautiful the picture would have been had they organized a feast of vegetarian fare on Navratri with the same fervor," Singh said in a tweet captioning the Iftar attending leaders' picture. It raised eyebrows, including that of the party's top brass.
The tweet is said to have elicited a rebuke from BJP chief Amit Shah, who is said to have phoned Singh and told him to refrain from commenting on alliance partners.
However, this tweet is not an aberration coming from Singh, who is known for making communal comments.
Population Control
Giriraj triggered a controversy in September last year, when he made a plea to save the Hindus, who, according to him, were soon going to lose their majority. "The Hindu population is witnessing a sharp decline. Neither social equitability nor any kind of development is possible if the population is brought under control," he told news agency ANI.
'Leave India'
In April, in the middle of election campaigns, he attracted a show cause notice from the Election Commission when he said that people who refuse to chant Vande Mataram should leave the country.
"Those who cannot say Vande Mataram or cannot respect the motherland, the nation will never forgive them…. My ancestors died at the Simaria ghat and no grave was built for them but you (Muslims) need three hand spans of space," he said during a rally.
He was released on bail after he surrendered before police.
Race claim
In 2015, Singh, then the Nawada MP, remarked that "… had Rajiv Gandhi married a Nigerian woman and had she not been of white skin, would the Congress party have accepted her as a leader?"
An agitated Congress disrupted Parliament.
"Go to Pakistan"
In 2014, Giriraj asked those who did not support Narendra Modi to "go to Pakistan". An FIR was filed against the BJP leader by Jharkhand police.
"I stand by my statement that those trying their best to stop Modi from coming to power have no place in India and should go to Pakistan, whose interests these Modi baiters have sought to espouse by opposing him in polls," he had then said.
कितनी खूबसूरत तस्वीर होती जब इतनी ही चाहत से नवरात्रि पे फलाहार का आयोजन करते और सुंदर सुदंर फ़ोटो आते??...अपने कर्म धर्म मे हम पिछड़ क्यों जाते और दिखावा में आगे रहते है??? pic.twitter.com/dy7s1UgBgy

— Shandilya Giriraj Singh (@girirajsinghbjp) June 4, 2019