Gandhi vs Gandhi vs Gandhi vs Gandhi in Wayanad
4 of 22 candidates share the name in the seat Rahul Gandhi is contesting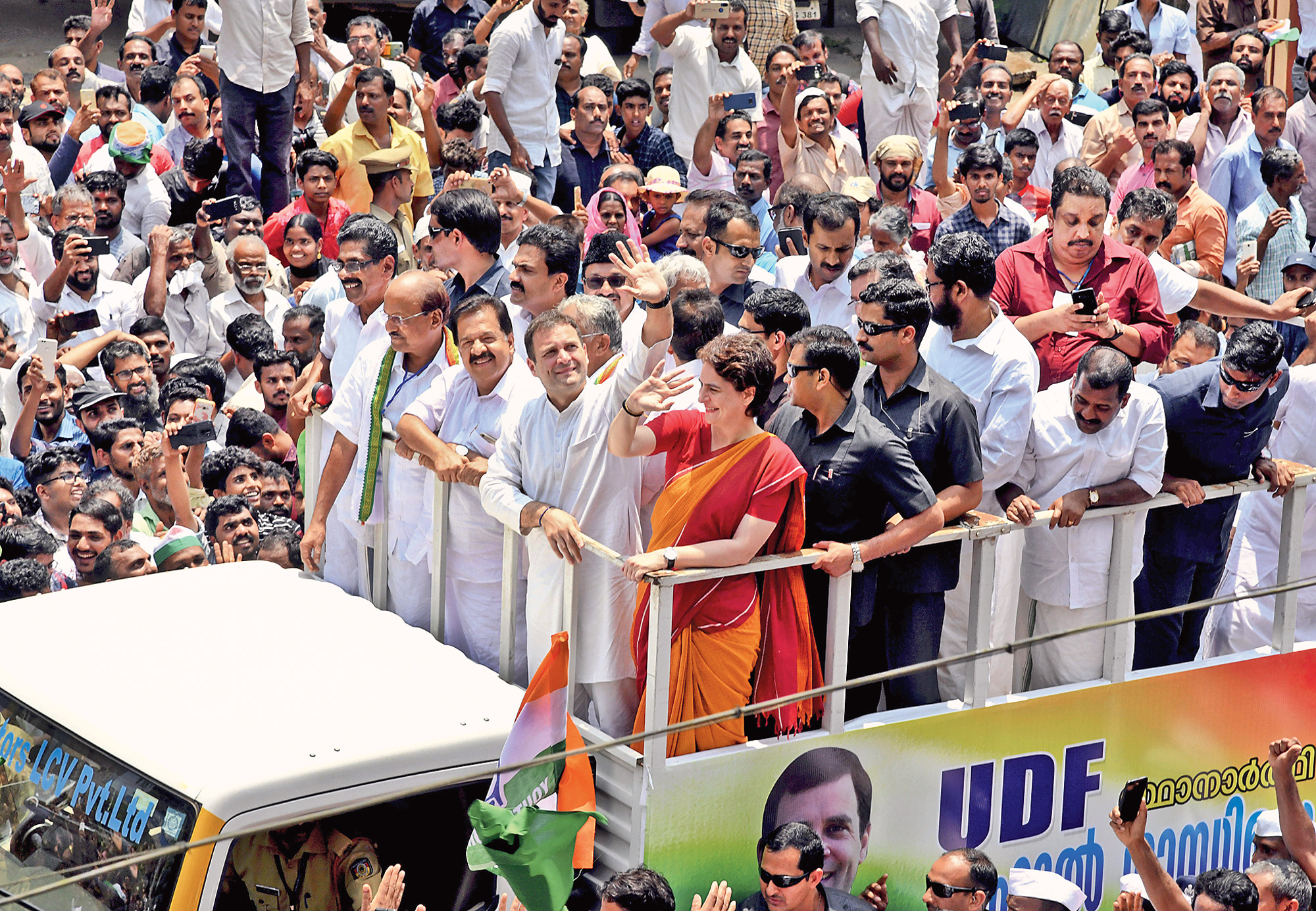 ---
---
Rahul Gandhi, K.E. Rahul Gandhi, K. Raghul Gandhi, K.M. Shivaprasad Gandhi…. It's raining Gandhis in the electoral battlefield of Wayanad, with 4 of the 22 candidates sharing the name.
Kottayam-based K.E. Rahul Gandhi, 33, is an Independent and so is Thrissur resident K.M. Shivaprasad Gandhi, 40. K. Raghul Gandhi, 33, is representing the little-known Tamil Nadu-based party, Agila India Makkal Kazhakam (All India People's Party).
According to their affidavits, Shivaprasad is a Sanskrit teacher, K.E. Rahul Gandhi is an MPhil in linguistics from Kerala University, and Raghul is a social worker from Coimbatore.
Congress sources said they were verifying whether the namesakes were dummy candidates fielded by rivals to confuse the voters.
Calls to the two Independents evoked no response but Raghul spoke readily to The Telegraph.
He said he had contested the 2016 Assembly polls in Tamil Nadu from Coimbatore and lost. He had filed his nomination from Coimbatore this time too but his papers were rejected. When he learnt that the Congress president would be contesting from Wayanad, he decided to join the fray as a namesake for a lark.
"I filed my nomination after Rahul Gandhi (on April 4). Then I stood in the massive crowds that had gathered to see him and Priyanka Gandhi," he said. "I was so thrilled to see him."
He insists that though his choice of Wayanad was a light-hearted one, "I'm not contesting for the sake of it or because of my surname; I'm a serious candidate."
He said his party contested polls on local issues — water and electricity supply, for instance.
Raghul said that like many other south Indians, his family does not use a surname. His father, a Congress member, "named my elder sister Indira Priyadarshini and me as Rahul Gandhi".
Since some Tamilians pronounce "Rahul" with the gutteral "gh", he began spelling his name as "Raghul".
He said he was depending on his Malayali friends from Coimbatore to help him garner votes in Wayanad. "They have promised help through their friends and relatives."
K.E. Rahul Gandhi, however, repeatedly disconnected calls from this newspaper while Shivaprasad's mobile phone was switched off. A call to Shivaprasad's landline number was answered by a woman who said she didn't know where the candidate was.
K.E. Rahul Gandhi and Shivaprasad filed their nominations between April 1 and 4 — after the March 31 announcement of the Congress president's candidature from Wayanad.
"We'll have to check if they have any links to our rivals," a district-level Congress official in Wayanad said, asking not to be named.
He ruled out the voters getting confused, saying "everyone knows" the party symbol and "who Rahul Gandhi is".