Funds flow to Kanhaiya and then get choked
Crowdfunding bid falters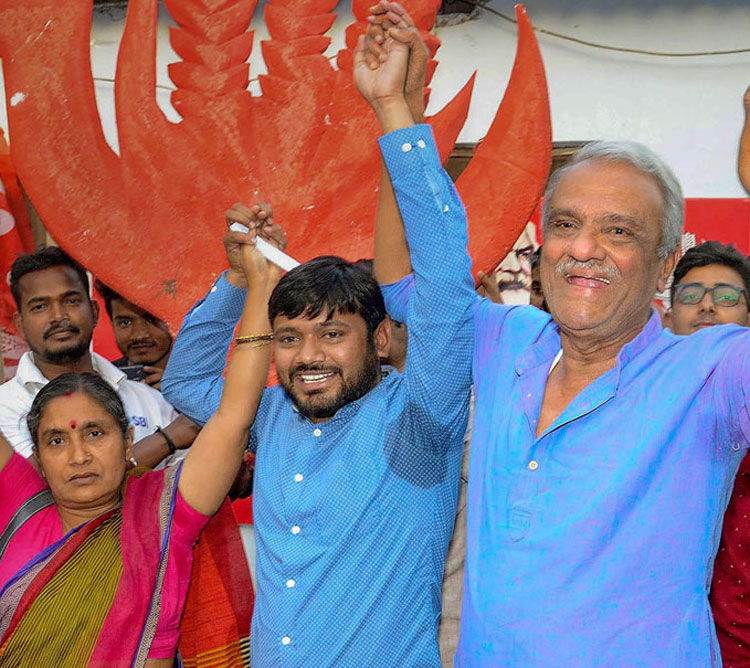 Kanhaiya Kumar with CPI leaders in Patna on Sunday
Picture by PTI
---
New Delhi
|
Published 28.03.19, 09:43 PM
|
---
When you represent the poorest national party and your opponent is from the richest, every drop counts.
For Kanhaiya Kumar, just when the trickle was gathering strength and beginning to swell into a flood, the website crowdfunding his candidature ran into a glitch that could be either because of heavy traffic or suspected cyber mischief.
Kanhaiya, the former JNU student leader who is contesting the Lok Sabha elections from the Begusarai constituency in Bihar, had been receiving overwhelming support to his online crowdfunding initiative. Crowdfunding is the practice of funding a project by raising money from a large number of people who each contribute a relatively small amount.
Within four hours of its launch on Tuesday, Kanhaiya's crowdfunding bid had fetched Rs 7 lakh in donations. By Wednesday afternoon, the amount had crossed Rs 31 lakh.
Then, a source close to Kanhaiya said the CPI candidate and many of his party colleagues had been "flooded with calls from people whose donations are not going through online".
Kanhaiya posted on Facebook: "On one hand we have got your support, on the other, as always, we are facing the conspiracies of those who do not want the voice of the exploited and the dispossessed to reach Parliament. For the last two days, we have faced repeated cyber attacks to shut down our donation website."
The site, ourdemocracy.in, has now been taken offline and engineers are probing whether the glitch was the result of a cyber attack.
Bilal Zaidi, co-founder of the website, said: "We are working to make it more safe and secure with a team of senior technical experts. Until then, the website is closed for contributions…. From the volume of traffic on the website, we estimate that had there not been problems with the website, he would have touched Rs 50 lakh to 60 lakh by now."
He said the website had witnessed "abnormal activity" since Kanhaiya's campaign was launched, which could be the result of a host of factors including high traffic and hacking.
Zaidi added that the money collected so far was "safe with the third-party payment gateway, as are the details of the donors".
But Kanhaiya and his supporters are continuing what communist parties have been doing for long. "After songs and skits, our cultural squads pass around a red cloth in which the people of Begusarai drop their donations," a source said.
Not that other politicians have not tried their hand at online crowdfunding. But Kanhaiya is probably the first communist in India to do so, although his fund-raising initiative does not mention the CPI.
For the CPI, no amount can be too small. The party reported Rs 1.55 crore in income in 2017-18, most of it earned from interest. The CPI does not accept corporate donations.
The BJP, whose Giriraj Singh is one of the main opponents of Kanhaiya, bagged Rs 1,027.34 crore in the same period, almost all of it from contributions. The limit of expenditure for each Lok Sabha candidate is Rs 70 lakh.
Kanhaiya told The Telegraph: "I have made a general appeal to the public, and not just to party members — who are already contributing their blood, sweat and resources — that this is a people's struggle that must be waged with people's money. I have never hidden the fact that I am a CPI candidate."
"The CPI will provide logistics, and will bear the costs of star campaigners from our party. For my expenses as a candidate, I will only rely on the crowd-generated funds, and not take from our party's limited funds," Kanhaiya, the son of an anganwadi worker, added.
CPI general secretary Suravaram Sudhakar Reddy told this newspaper: "Online crowdfunding is arranged for by individual candidates, who inform the party of how they are doing it and the source of the funds."
The website takes 5 per cent of the proceeds for operational costs. The crowdfunding campaign accepts contributions only from Indian citizens with bank accounts in the country.
Zaidi, the co-founder of the website, said: "The highest contributor has been (publisher) Maheshwar Peri, who has donated Rs 5 lakh. The majority of contributions are of Rs 100."
The crowdfunding initiative has been supported by Gujarat MLA Jignesh Mevani, comedian Kunal Kamra, YouTuber Dhruv Rathee and many others.
Many like Fatima Nafees, the mother of missing JNU student Najeeb Ahmed, blogger Wali Rahmani and student activists with JNU roots led by Left-wing economist Prasenjit Bose are expected to campaign for Kanhaiya from next month.
Left out of Bihar's Opposition Mahagathbandhan, the CPI is fighting alongside other Left parties. Kanhaiya faces an uphill battle in Begusarai, last won by the CPI in 1967. Bihar does not have a single CPI MLA.
Kanhaiya is receiving the backing of his friends from Delhi in addition to the 12,000 CPI cadres in Begusarai district.
Varunaditya Chouhan, one of several professionals who have quit their jobs to go to Begusarai, told this newspaper: "We've been forming groups of youths in villages who are not yet with the CPI. As a result of our Jan Samvads in villages, people are now convinced that the allegation that he (Kanhaiya) is an anti-national is false."
Chouhan added: "Even though we eat food cooked by his extended family and neighbours, and are using our own vehicles or those given to us by friends, it is expensive."
With loans from friends and family, a campaign office has been set up at Bihat town that functions from 6am to 2am, when it closes to a dafli played by Kanhaiya as campaigners relax beside a bonfire.