Giriraj sulks, Kanhaiya taunts
Taunts come against the backdrop of Giriraj fuming over his Nawada seat going to NDA ally Lok Janshakti Party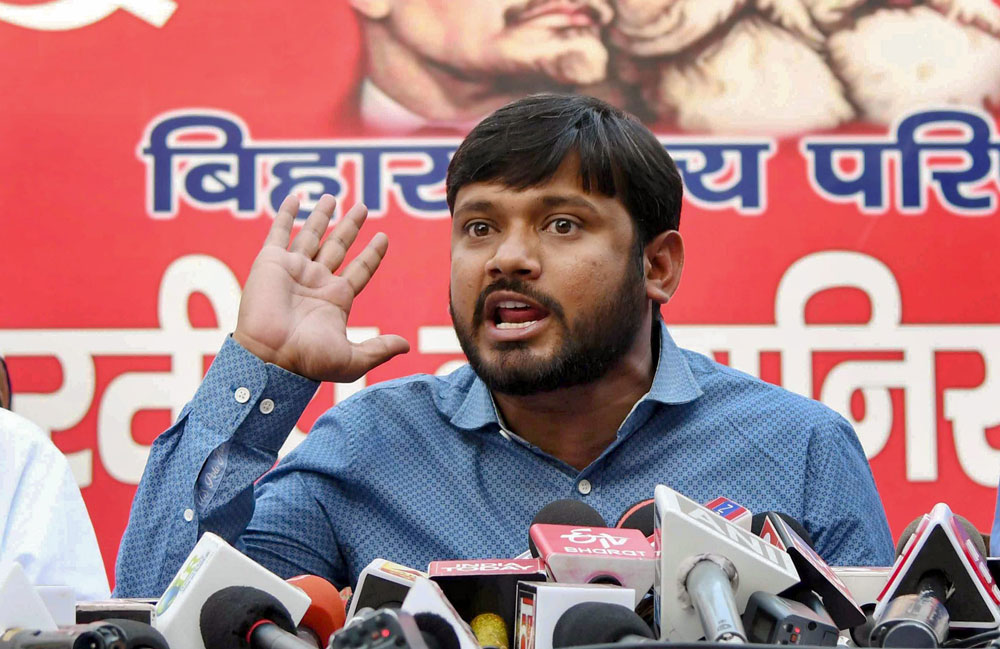 ---
|
Patna
|
Published 26.03.19, 09:09 PM
---
Union minister Giriraj Singh's "reluctance" to contest the Lok Sabha election from Bihar's Begusarai was comparable to a kid's refusal to attend school after failing to complete homework, CPI candidate and former JNU students' union president Kanhaiya Kumar said on Tuesday.
"Watched the news on TV and learnt that the BJP minister known for sending off people to Pakistan on free of cost tours is not ready to come to Begusarai for contesting the polls," Kanhaiya wrote on Facebook on Monday night.
"I have a nephew who, similarly, refuses to go to school whenever he fails to do his homework. But even he never thinks of sending the teacher to Pakistan. Neither does he hate anybody nor he wants to get anybody expelled from the school."
On Twitter too, Kanhaiya took a dig at Giriraj, who had declared before the 2014 elections that all those who oppose Narendra Modi should go to Pakistan.
"The visa minister of Pakistan tour and travels department, who used to send people to Pakistan forcefully, has been hurt for being sent to Begusarai to Nawada," Kanhaiya tweeted in Hindi.
The taunts came against the backdrop of Giriraj fuming over his Nawada seat going to NDA ally Lok Janshakti Party.
"Begusarai is my janmbhoomi (birthplace) and karmbhoomi (work field). I have nothing against Begusarai. It's a question of my self-respect which has been hurt," Singh said in Delhi.
"Let the state leadership come and tell me why I have been shifted. They didn't even bother to talk to me before taking the decision," Singh said. He termed the move an insult for a senior leader like him. "I can't compromise on my self-respect."
Senior Bihar BJP leader Prem Kumar, part of a three-member state committee that recommended candidates from the state, justified the decision. "Girirajji is a big face of the party and he can win elections from anywhere. Moreover, the selection of constituencies and candidates was done after due deliberations both at the state and central levels," Prem said.
RJD Rajya Sabha MP Manoj Jha rubbed it in, saying: "Giriraj has been made a victim of some understanding between chief minister Nitish Kumar and his deputy Sushil Kumar Modi and both these leaders cut him to size."
The Begusarai seat has been lying vacant since the death of sitting BJP MP Bhola Singh in October last year.