Former minister rebels against Nitish Kumar over RJD
Union minister Upendra Kushwaha asks CM to call a party meeting to make public the deal struck with their ally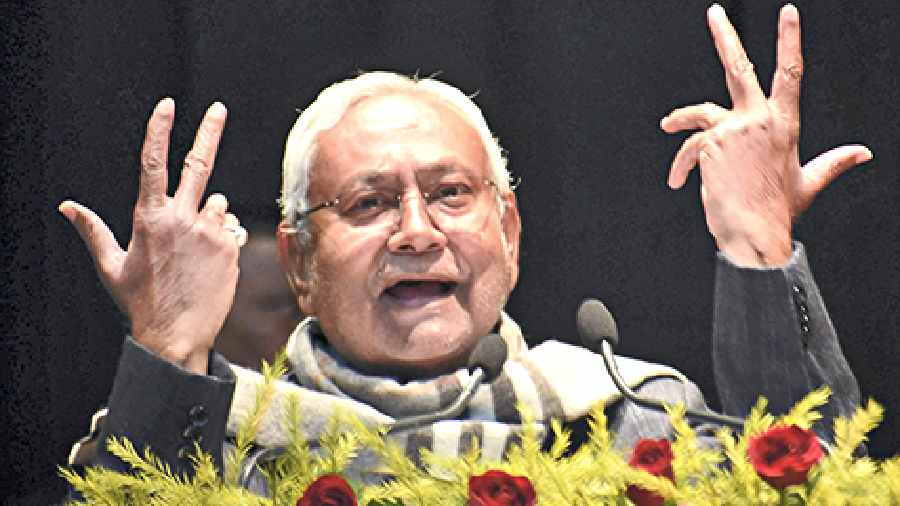 Nitish Kumar
File picture
---
Patna
|
Published 25.01.23, 03:05 AM
|
---
Turbulence hit the ruling Janata Dal United (JDU) in Bihar as its national parliamentary board chairman and former Union minister Upendra Kushwaha rebelled against chief minister Nitish Kumar on Tuesday, asking him to call a party meeting to make public the deal struck with ally Rashtriya Janata Dal (RJD).
Kushwaha also threatened that very difficult days might come for the party if the chief minister failed to do so.
The repercussions of the turmoil have the potential to destabilise the present Grand Alliance government in the state as Kushwaha has pivoted his rebellion on the RJD, which is the largest party with 79 seats in the coalition government. It is followed closely by the BJP, which is in the Opposition, with 77 seats in the 243-member legislative Assembly.  
"The RJD keeps talking about a deal struck by Nitish for the alliance and keeps talking about replacing him with its leader and deputy chief minister Tejashwi Prasad Yadav. We want to know what kind of deal was made," Kushwaha said.
"It is time for Nitish to intervene instead of just saying that he does not know anything. He must call a national executive meeting of the JDU and make it clear what deal has been struck with the RJD. Else very bad days will come for the party," he added.
He was speaking in front of reporters during the birth anniversary function of former Bihar chief minister Karpoori Thakur under the banner of Mahatma Phule Samta Parishad at his official residence in Patna.
Kushwaha's outburst came amid indications that he was gravitating towards the BJP. Three senior leaders of Bihar BJP had met him at the All India Institute of Medical Sciences (AIIMS) last week in Delhi, where he had gone for a medical checkup.  
However, Kushwaha also asserted that he had always stood with Nitish whenever he became weak and even merged his Rashtriya Lok Samta Party (RLSP) with the JDU to strengthen him, but at the same time pointed out that Nitish has become weak again recently and the RJD leaders were abusing him as "Shikhandi (a character in Mahabharat who was a transgender and used as a shield to attack Bhishma), shameless, and a beggar".
"Our party, the Dalits, extremely backward castes, backward castes and others are worried over this because if Nitish becomes weak, it will weaken them, the society, the state and the country," the JDU leader said.
Asked about Kushwaha's outburst, Nitish, while coming out of a JDU function in Patna to celebrate Karpoori Thakur's birth anniversary, expressed annoyance.
"Do not ask me about anything concerning him. Leave him. Let him speak whatever comes to his mind. He is free to speak anything. He is speaking something these days. I have nothing to do with it. Nobody from our party shall speak anything on his statements," Nitish told reporters.