Poll panel to scan BJP link in voter awareness campaign
Maharashtra's chief electoral officer listed as one of the clients of a firm linked to the IT and social media head of the BJP youth wing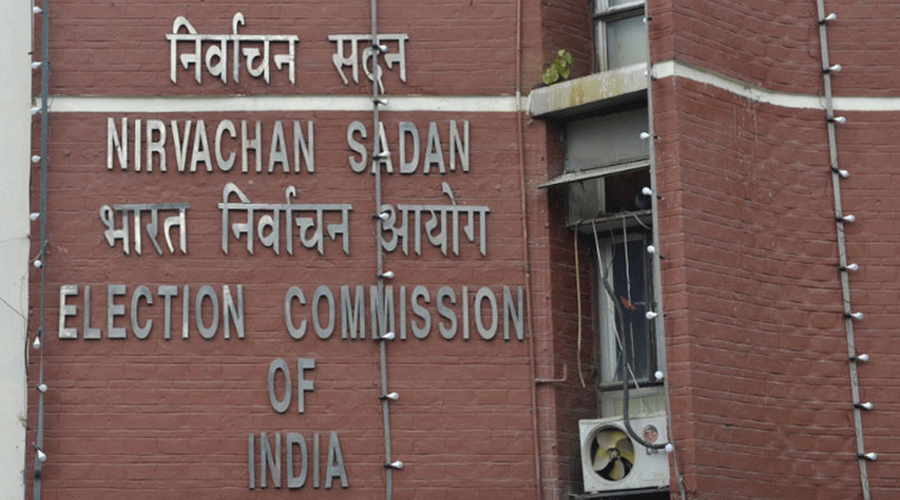 ---
---
The Election Commission on Thursday sought a report from Maharashtra's chief electoral officer after an activist tweeted that a firm linked to the IT and social media head of the BJP youth wing was hired to promote voter awareness ahead of last year's Assembly polls.
Mumbai-based Saket Gokhale tweeted images of Facebook ads encouraging people to vote, released by the chief electoral officer (CEO) last year, in which the advertiser's address is mentioned as "202 Pressman House" in Vile Parle East.
The registrar of companies lists Signpost India Private Limited at this address. Another firm, named Social Central Media Solutions LLP and based at 70A, 601 Pressman House, describes itself as "a Signpost India Company" on its website and lists the Maharashtra CEO among its clients.
Social Central's managing director is Devang Virendra Dave, also listed as "Incharge" of "National Social Media and IT" on the website of the Bharatiya Janata Yuva Morcha.
Social Central's website also carries a testimonial attributed to Shirish Mohod, deputy CEO during last year's Assembly polls, that says: "I want to appreciate Social Central Media Solutions to all your creative inputs and effective implementation of the digital campaign which has helped us in our endeavour of reaching out to non-registered voters of our state."
While Dave doesn't feature on the list of Signpost India directors, he has posted a tweet that links him to the CEO-sponsored campaign.
"We do not earn our bread and butter by doing any kind of 'Dalali' but by Hardwork. The work assigned by Election Commission to Signpost was after following due process. There is no illegality whatsoever. Is it also forbidden for political activists to make an honest living?" he posted.
"We all know the reputation of people who have tried to put allegations on me. This (sic) are same people who were against CAA. This are same people who are against Ram Mandir. This are same people who are against Idea Of Bharat! I thank each one of you who stand by me."Gokhale had tweeted: "Devang Dave is also the founder of websites and pages like 'The Fearless Indian', 'I Support Narendra Modi' etc. His agency lists the BJP (naturally) as a client along with other govt. entities. The above pages are full of h@teful political content of BJP IT Cell."
He had added: "It is beyond shocking that the Election Commission chose a BJP IT cell guy & his agency to handle their social media for Maharashtra elections. ECI is supposed to be monitoring social media of parties during election. Here, they *literally* worked with the ruling party."
On Thursday evening, Election Commission spokesperson Sheyphali Sharan tweeted: "Regarding tweet of Mr Gokhale @SaketGokhale, Commission has sought detailed factual report in this matter from CEO Maharashtra with respect to alleged locale of the incidence immediately."
Asked about the rules for hiring private firms, Sharan said the selection was done by the CEOs and that the Election Commission in Delhi was not involved.
Gokhale on Friday cited news reports that suggested that the transfer of previous CEO Ashwani Kumar, three months before the October 2019 Assembly polls, had come under pressure from then BJP chief minister Devendra Fadnavis.
Baldev Singh, the current CEO, replied to a WhatsApp message from this newspaper saying: "It is misleading and incorrect to suggest that the office of chief electoral officer has issued any advertisement through any agency on political considerations. As per standard practice, electoral awareness campaign is launched through the information and public relations department (DGIPR), Government of Maharashtra. They, in turn, follow a laid-down procedure for selecting an appropriate agency for public awareness and not by CEO Office."
Singh added: "For the specific imputation made in the tweet of Mr Saket Gokhale, an interim reply of facts has been sent to Election Commission of India. Meanwhile, some other representations on the matter have been received from some public representatives, which are also being addressed and a detailed response in this regard shall be sent to the commission soon."
Maharashtra Pradesh Congress Committee spokesperson Sachin Sawant has demanded a probe by the poll panel.
Mohod, now attached to the state home department, denied giving any testimonial to Social Central.
"How can I give statements to some company that we didn't engage?" he told this newspaper.
Ajay Ambekar, director (information) at the DGIPR, told this newspaper: "We have given our reply to the CEO. Any information on this now can only be obtained from the CEO."