Sangh boys will be Sangh boys
Several instances of discrimination against Muslims have been reported since the Tablighi Jamaat event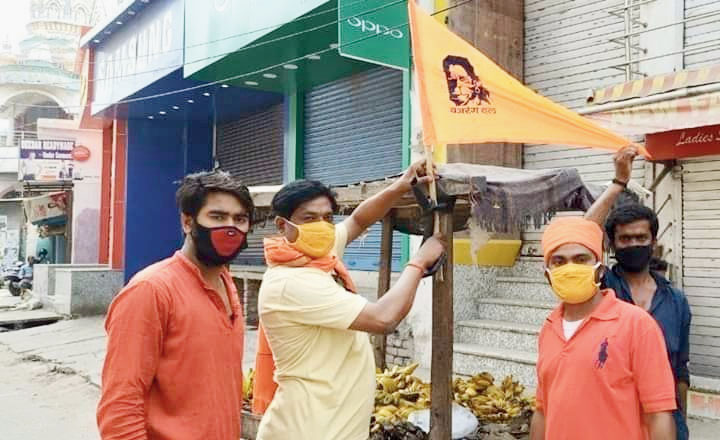 A saffron flag being tied to a shop in Nalanda.
Picture by Sanjay Choudhary
---
Patna
|
Published 26.04.20, 11:07 PM
|
---
Bajrang Dal activists marked out Hindu-owned shops and carts in a Bihar district by planting saffron flags and appealed to Hindus to make purchases only from such outlets, an official has said in a complaint to police.
The religion-based demarcation took place in Biharsharif block in Nalanda district, home to chief minister Nitish Kumar who runs the state in partnership with the BJP. The Bajrang Dal is the youth wing of the Vishva Hindu Parishad (VHP), part of the Sangh parivar.
Several instances of discrimination against Muslims have been reported since people associated with the central government, the ruling party at the Centre and a section of the media had sought to blame the entire community for the Tablighi Jamaat fiasco in Delhi.
"The Biharsharif sub-divisional officer (SDO) informed on April 18 afternoon that some persons belonging to the Bajrang Dal in Nalanda were putting up saffron flags at grocery, vegetable and fruit shops belonging to Hindus, and were requesting Hindus to buy necessary goods only from shops sporting those flags or shops belonging to the Hindus. We rushed there to verify it," block development officer (BDO) Rajeev Ranjan said in a complaint.
The police have filed the FIR on the basis of this complaint.
The BDO found that two purported Bajrang Dal members, Kundan Kumar and Dheeraj Kumar, along with five others, had put up the saffron flags at the shops at Baraopar Chowk under Laheri police station in Biharsharif block.
"There was a strong possibility of disruption of communal harmony. We discovered that persons affiliated to the Bajrang Dal were also tweeting photos of the shops from a particular handle and extending similar appeals," said Ranjan who submitted the complaint on April 20.
"Ours is a ganga-jamuni culture. We cannot allow such things to happen in the society and let them destroy communal harmony. If one side does so, another side will also do something. Hence we must stop such things," Ranjan told The Telegraph.
Asked about the two-day delay in lodging the complaint, the BDO said he had come in touch with a doctor who later tested positive for coronavirus. "I was quarantined for a day and my samples were sent for tests. Thankfully, the test results came negative," he said.
Laheri station house officer Birendra Yadav said: "The police are pursuing the case but we have not been able to arrest the accused so far. We raided the residences of two of the accused but they were not present at their homes."
Asked about the complaint, Bihar VHP chief R.N. Singh said: "I will not comment on this. Many people do many things to defame our organisation. If the FIR has been lodged by government officials, let the police investigate and let the law take its own course."