Notice on sexist jibe at Jamia student
Zargar was arrested earlier this month for her alleged involvement in anti-CAA protests in North East Delhi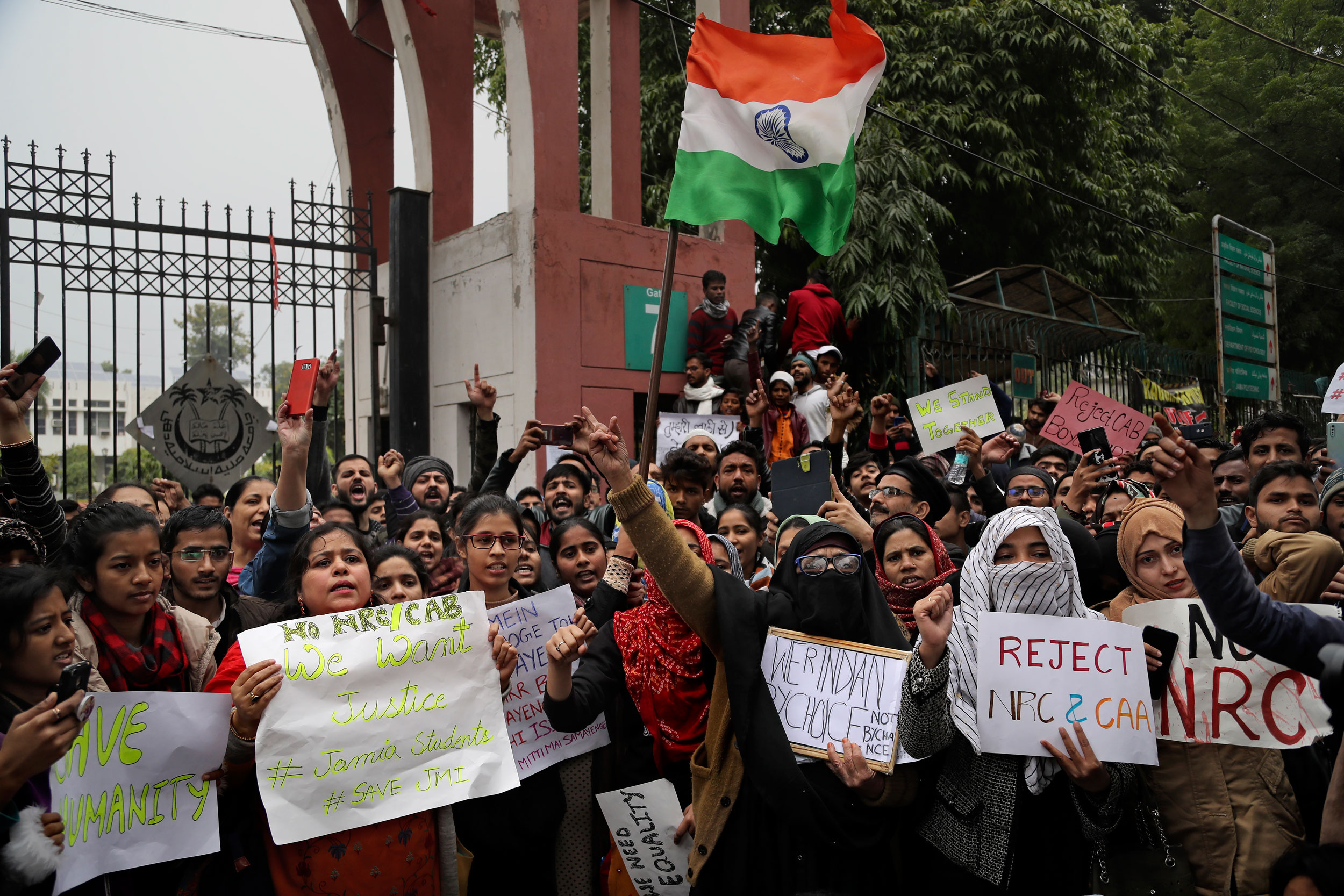 Jamia Millia Islamia students shout slogans during a protest in New Delhi.
(AP)
---
New Delhi
|
Published 07.05.20, 12:10 AM
|
---
The Delhi Commission for Women has sent a notice to police to file cases over the "vilification campaign" against a pregnant Jamia Millia Islamia student, arrested for alleged involvement in protests against the new citizenship law, and "her unborn child".
Wednesday's letter came after what the commission described as "misogynistic comments"following a Twitter campaign for Safoora Zargar's release from Tihar jail, where she has been held for nearly three weeks now.
"The Delhi Commission for Women is in receipt of multiple complaints regarding abuse and character assassination of arrested research scholar, Ms. Safoora Zargar. It is stated that a vilification campaign is being run against her and her unborn child on social media and misogynistic comments are being made. It is stated that several comments outraging her dignity and threatening her family have also been made," DCW chairperson Swati Maliwal said in the notice to the deputy commissioner of police, Cyber Prevention Awareness and Detection Centre.
The Jamia student was arrested earlier this month for her alleged involvement in anti-CAA protests in North East Delhi and has been charged under the Unlawful Activities Prevention Act, a law used to prosecute terrorists.
Zargar, who is doing her MPhil in sociology, had said she was not present at the scene of the protest mentioned and was 13 weeks pregnant but her request for bail was rejected.
Two others — student Meeran Haider and alumni association president Shafa-ur Rehman Khan — are also in custody, both charged under the UAP Act.
All of them have been accused of inciting protests against the amended citizenship law to trigger riots in the capital that left 53 people dead in February.
The DCW's letter came after Kapil Mishra, a former Aam Aadmi Party minister who has since joined the BJP, reacted with a jibe on May 3 at a Twitter campaign for Zargar's release.
A Congress activist, Salman Nizami, had tweeted: "Activist Safoora Zargar (pregnant) is in Jail during Ramadan, hatemongers like Kapil Mishra who incited riots are FREE. Crime of being a Muslim in Modi's INDIA. Have some SHAME! #ReleaseSafooraZargar."
Mishra had responded, saying: "Please don't connect her pregnancy with my speech. It doesn't work that way."
Mishra had issued an ultimatum to the anti-CAA protesters to vacate a road, after which the riots had begun.
The DCW gave the police four days to file an FIR, arrest the accused and remove social media posts "outraging her (Zargar's) modesty".
"Ms. Zargar is facing the court of law and is currently in jail. The case against her is sub judice and the law shall take its own course. However, the same does not give anyone the right to outrage her modesty and abuse her and her family," the commission said.
The DCW did not mention Mishra in its letter.
Earlier, on May 3, 1,100 activists had issued an appeal to the government to release Zargar, the Congress's Ishrat Jahan and women's activist Gulfisha — also in custody in connection with the anti-CAA protests.
Zargar's husband has reportedly been able to speak to her only once since her arrest on April 11.
Several protests have been held for Zargar and the others, including one on Wednesday by members of the Indian Union Muslim League's youth wing who sent emails to the home ministry and held protests with posters at their homes because gatherings are not allowed during the Covid-19 lockdown.
Such protests have been held nearly every day over the past few weeks by one group or the other, including student activists and intellectuals.