Miffed leader says his goal is to make a difference
Day after quitting abruptly, Sidhu questions appointment of Punjab DGP and advocate general
My fight is issue-based and I have stood by it for a long time, says Congress leader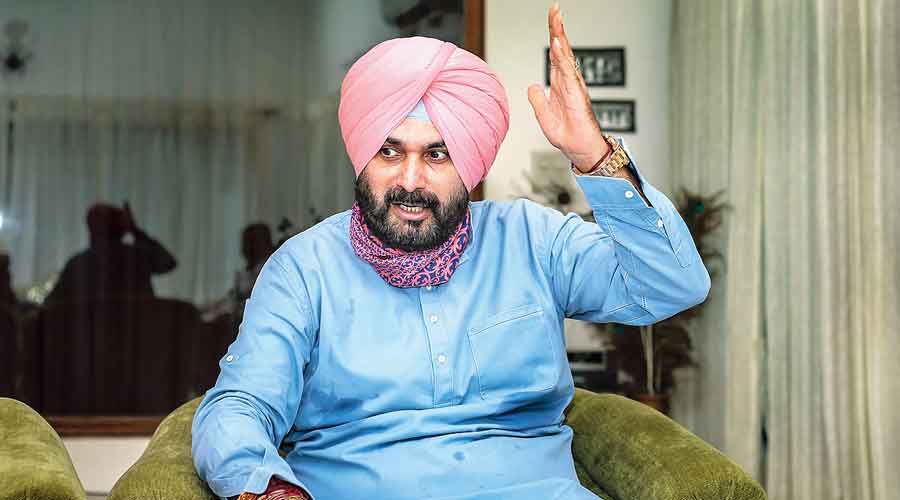 Navjot Singh Sidhu.
File picture
---
Chandigarh
|
Published 29.09.21, 12:22 PM
|
---
Breaking his silence a day after abruptly resigning as the Punjab Congress chief, Navot Singh Sidhu on Wednesday raised questions over the appointments of the director-general of police and the state's advocate general.
Plunging the Congress into a fresh crisis months ahead of the assembly elections in the state, Sidhu put in his papers on Tuesday shortly after the allocation of portfolios to the new ministers of the Charanjit Singh Channi cabinet.
Taking to Twitter a day later, Sidhu said his objective had always been to improve the lives of people and to make a difference.
"My fight is for the issues and an agenda of Punjab," he said in an over four-minute video clip shared on his Twitter handle.
Apparently referring to senior IPS officer Iqbal Preet Singh Sahota, who has been given the additional charge of the director general of Punjab Police, Sidhu said, "When I see those who gave clean chit to Badals six years back such persons have been given the responsibility for delivering justice."
Sahota was the head of a special investigation team formed in 2015 by the then Akali government to probe the sacrilege incidents.
Sidhu also apparently questioned the appointment of A P S Deol as the state's new advocate general.
"Those who secured blanket bails, they are advocate general," he said.
Deol is a senior advocate of the Punjab and Haryana High Court and has been a counsel for former Punjab DGP Sumedh Singh Saini. He had been representing the ex-top cop in various cases against him.
"My fight is issue-based and I have stood by it for a long time. There can't be any compromise on a pro-Punjab agenda. I can never misguide the high command nor allow it to be misguided," Sidhu further said in the video.
"I will make any sacrifice to stand by principles. I don't need to think much for it. I broke the system where tainted ministers and officers were accommodated. Now tainted ministers and officers can't be appointed again. I oppose such appointments," he added, before saying that he won't accept the induction of tainted ministers in the Punjab cabinet.
Sidhu's sudden decision to resign not only intensified the problems of the ruling Congress in poll-bound Punjab, it also caused deep embarrassment to Rahul Gandhi and Priyanka Gandhi Vadra as they had taken a huge risk by bulldozing all hurdles to project him as the supreme leader in the state.
The majority of senior leaders in the high command structure had not been in favour of promoting Sidhu but Rahul and Priyanka appeared to have been swayed by his popularity in their effort to retain Punjab in the next election.
Sidhu wrote in his resignation letter: "The collapse of a man's character stems from the compromise corner. I can never compromise on Punjab's future and the agenda for the welfare of Punjab. Therefore, I hereby resign as the president of the Punjab Pradesh Congress Committee. I will continue to serve the Congress."
Sources said that while Sidhu was upset because he wanted to become chief minister after Amarinder's exit, his anger boiled over when new chief minister Charanjit Singh Channi made appointments without his approval.
Sidhu's supporters said the cabinet too wasn't formed with his full consent and certain other appointments were seen by him as a compromise with corruption.
हक़-सच की लड़ाई आखिरी दम तक लड़ता रहूंगा … pic.twitter.com/LWnBF8JQxu

— Navjot Singh Sidhu (@sherryontopp) September 29, 2021