Crocodile fear hits cultivation work in coastal districts of Odisha
The reptiles from the Bhitarkanika National Park, spread over an area of 145sqkm, are entering the fields to prey upon fish and other aquatic animals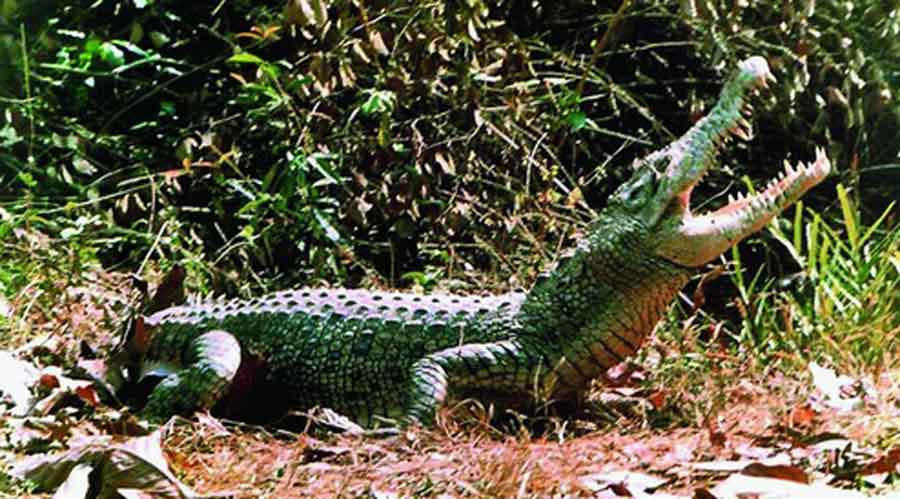 ---
Bhubaneswar
|
Published 25.07.21, 12:39 AM
|
---
Farmers in the coastal districts of Odisha, particularly Kendrapara, are having to contend with an unexpected guest this monsoon. Crocodiles from the Bhitarkanika National Park, spread over an area of 145sqkm, are entering their fields to prey upon fish and other aquatic animals, forcing peasants to avoid work affecting cultivation.
"The wildlife sanctuary is usually inundated by the two major rivers — Brahmani and Baitarani — which are now in spate. When these rivers swell following heavy rainfall, crocodiles from Bhitarkanika enter the surrounding villages via natural nullahs and creeks. They often venture into the paddy fields. People have spotted crocodiles in their fields and are now scared of going there for farm related work," Kendrapara district Congress president and former Rajanagar MLA Anshuman Mohanty told The Telegraph.
Farmer Rakhel Patra said: "Last week, people spotted a crocodile measuring around 15 feet in one of the villages of Rajanagar block. With the help of forest officials, they drove the crocodile back to the Bhitarkanika sanctuary."
Patra admitted the farmers were living in fear. "Such is the fear of crocodiles that many farmers in the waterlogged areas prefer not to venture to their fields and skip transplantation work in several areas of Rajanagar, Rajkanika and Mahakala blocks. There have been incidents where some have lost their lives in crocodile attacks. This is the right time for transplantation of paddy and missing this period will adversely affect agricultural activities," he said.
Another villager Sudarshan Rout said: "Earlier agricultural work was hit by a deficit in rainfall and the transplantation of paddy seedlings was delayed. Now when it is raining, we are facing this new problem. A crocodile had entered a pond in our area. The fear of crocodile intrusion will certainly hit kharif cultivation."
Farmers said as river embankments are low in many areas, when the water overflows, the crocodiles find it easy to enter the natural creeks and nullahs.
Rajanagar divisional forest officer, mangrove forest division (wildlife), J.D. Pati told this newspaper: "We have launched a massive awareness programme in the areas. We have constructed around 100 bathing zones for people. They have all been barricaded."
He added: "The department has identified the danger zones. Our forest officials have been deployed to drive away the crocodiles if they sneak into human habitation. Besides, the people of the area have grown up seeing crocodiles since their childhood. During the monsoon, human and animal (crocodile) conflict is being noticed in these areas. The people of this area know how to live without fear. There are nearly 1,768 crocodiles in the sanctuary and many of them are more than 15 feet in length."
"All steps are being taken to reduce the human-animal conflict and provide a conducive atmosphere to both," said a forest official.Odisha has three species of crocodiles — saltwater, gharial and mugger — inhabiting its river system. The Bhitarkanika wildlife sanctuary houses 70 per cent of India's estuarine or saltwater crocodiles. The conservation of this species that began in 1975 with just 96 has reached 1,768 crocodiles.
The wildlife sanctuary has emerged as a major tourist attraction and provides livelihood support to more than four lakh people. The area possesses a rich and diverse ecosystem with tidal waterbodies, estuaries and a bewildering variety of flora and fauna.