CPI's student, youth wings protest against NEP
March staged from Janpath to Jantar Mantar Road to demand a national employment guarantee act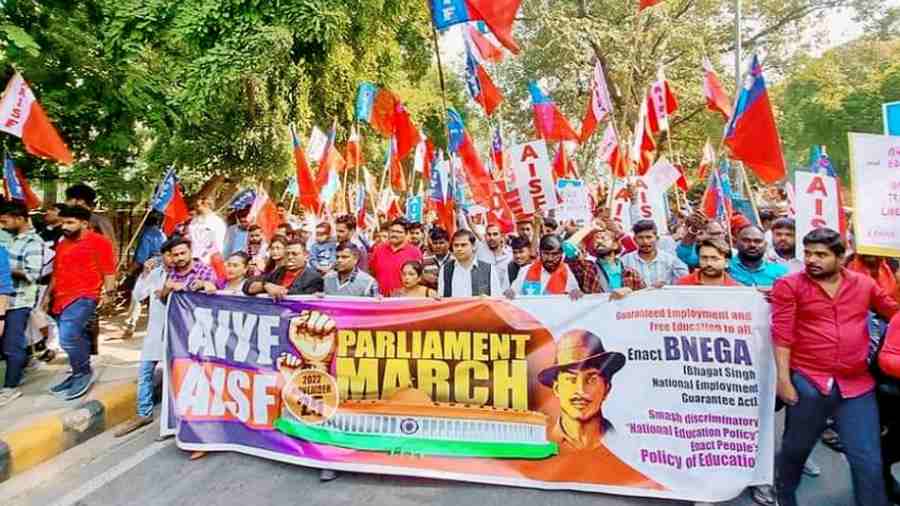 NEP a desperate attempt to communalise and centralise Indian education: D Raja
Pheroze L. Vincent
---
New Delhi
|
Published 26.11.22, 04:12 AM
|
---
CPI general secretary D. Raja and its Rajya Sabha MP from Kerala Binoy Viswam addressed the gathering of the All India Students' Federation and the All India Youth Federation
The student and youth fronts of the CPI staged a march from Janpath to Jantar Mantar Road in New Delhi on Friday to demand a national employment guarantee act and the rescinding of the National Education Policy (NEP).
CPI general secretary D. Raja and its Rajya Sabha MP from Kerala Binoy Viswam addressed the gathering of the All India Students' Federation and the All India Youth Federation. "There is unrest among youths across India because they face a gloomy and uncertain future. The Modi government has failed to solve the problem of unemployment and has made it worse with its disastrous policies. Students are also angry over the deterioration of the education system. The NEP is a desperate attempt to communalise and centralise Indian education," Raja told The Telegraph.
He added that the motive behind the NEP was reiterated in Union home minister Amit Shah's call on Thursday to rewrite history. "Fighting on the streets is one aspect. We are also mobilising the young generation to defeat the BJP in the ongoing elections," Raja said. 
Both the CPI fronts have also been pushing for all public sector vacancies to be filled and had conducted a bike rally from Kerala's Kollam to Andhra Pradesh's Vijayawada from March to October this year.