Covid: Over 2,250 railway employees test positive
A majority of them are drivers, guards, stationmasters and other frontline staff directly connected with the running of trains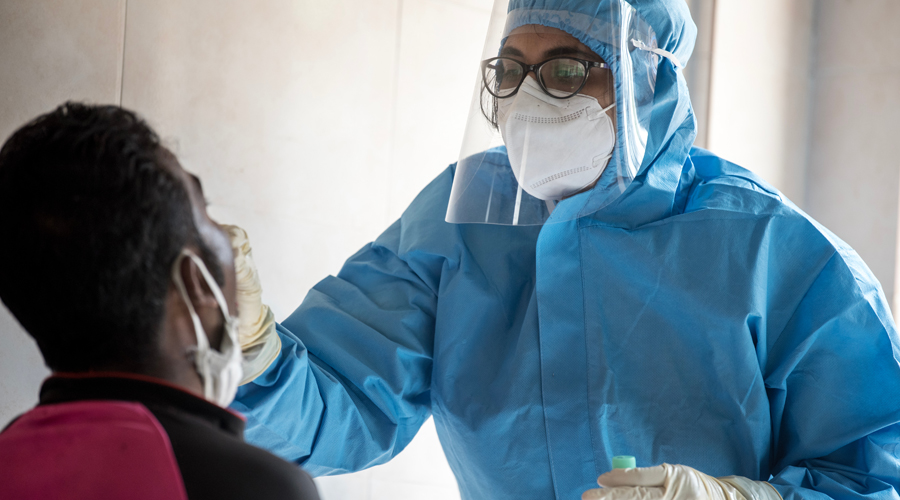 Parts of Bihar, Uttar Pradesh and Jharkhand come under the railway zone.
File picture
---
Patna
|
Published 23.04.21, 01:56 AM
|
---
Operations at the East Central Railway (ECR) may suffer as over 2,250 of its 80,000 employees have tested positive to Covid-19.
A majority of them are drivers, guards, stationmasters and other frontline staff directly connected with the running of trains.
Parts of Bihar, Uttar Pradesh and Jharkhand come under the railway zone.
The infected persons are spread across all the five divisions that comprise the ECR headquartered at Hajipur in Bihar, and their numbers are increasing every passing day.
The Deendayal Upadhyay division, mostly catering to eastern Uttar Pradesh, is the worst affected with 951 of its officers and employees turning positive, while the Dhanbad division is at the second place with around 450 staff catching the coronavirus. Sonepur, Samastipur and Hajipur divisions have lesser number of infected officials.
Going by the break-up of the infected officials and their positions connected directly with the running of trains the situation is worrisome because around 300 loco-pilots or train drivers, 140 stationmasters and 75 train guards have fallen ill due to the coronavirus.
"These loco-pilots, stationmasters and guards are necessary for our operations. Trains cannot run without them. Around 65 of our senior officials are admitted in the railway hospital at Danapur. Several are in other hospitals. Many of our people are in isolation at their residences or homes.
"We are taking all precautions to ensure that more of our staff do not get infected," ECR chief public relations officer (CPRO) Rajesh Kumar told The Telegraph.
Rajesh has also been infected by the coronavirus and is currently undergoing treatment under home isolation.
"We are more exposed to the virus and our field staff are also in high numbers so it is natural that the cases of Covid infections will be more. We have been keeping low about this information so that people do not panic about the running of trains in future," he added.
However, the CPRO assured that the ECR was gearing up to ensure that train operations are not hampered.
"We are not going to step back from running the trains and intend to meet the demand. We are suffering from a scarcity of railway guards so we are deploying assistant loco-pilots to take their place. Ours is an essential service and we cannot stop it. We are well prepared and taking all precautions to ensure that train operations do not get hampered," Rajesh said.
Senior ECR officials pointed out that this time the scenario is different in comparison to last year when the trains were at first stopped completely and then allowed to run in limited numbers. That saved many railway officials from falling prey to the pandemic.
"It is one reason that isolation coaches are not prepared this time in large numbers because the majority of our trains are running," an ECR official said.
The ECR has installed steam inhalers for its staff at their working stations so that they could use them.
They have been asked to maintain social distancing and instructed not to allow outside people in their offices, including the offices of the stationmasters.
Meanwhile, the ECR has appealed to its employees to contribute Rs 100 to Rs 1500 from their April salary to help their colleagues who have contracted Covid, and also in taking preventive measures to tackle the raging second wave of the pandemic.
The amount will depend on the seniority of the employees.