Covid-era dip in women's share in formal workforce: Survey
Workers' presence just 12 per cent in transport and 21 per cent in manufacturing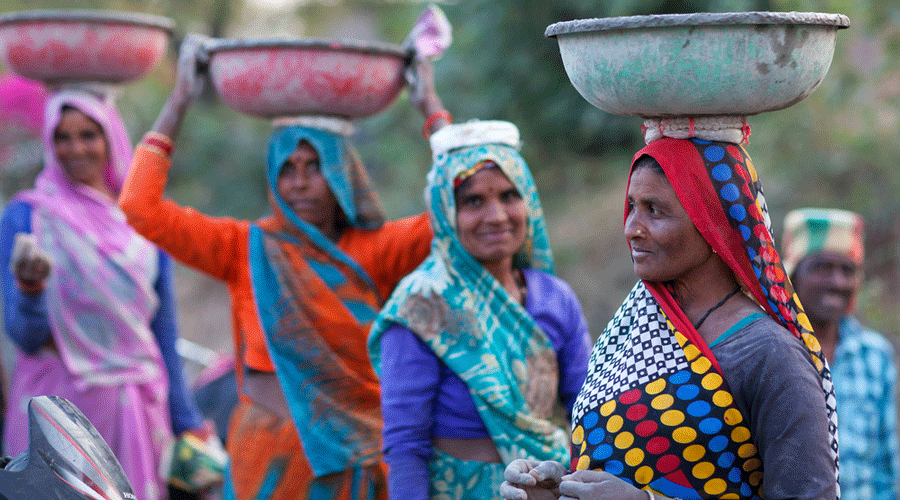 The QES covered 10,834 establishments employing more than 10 workers each.
File photo
---
New Delhi
|
Published 29.04.22, 02:35 AM
|
---
Women's share in the formal workforce fell in the third quarter of 2021-22 while that of contractual workers rose, an official quarterly sample survey of nine key sectors has found.
The Quarterly Employment Survey (QES) for October to December 2021 estimates the overall employment to have increased from 3.1 crore to 3.14 crore in manufacturing, construction, trade, transport, education, health, accommodation and restaurants, IT/BPO, and financial services.
However, the overall share of women workers stood at 31.6 per cent, down from 32.1 per cent during the second quarter (July-September), according to the survey, conducted by the labour bureau, a labour and employment ministry wing.
Women workers' presence was just 12 per cent in transport and 21 per cent in manufacturing.
The share of regular workers declined from 87 per cent in the second quarter to 85 in the third, while that of contractual employees rose from 8.3 per cent to 8.9 per cent.
The RSS-affiliated Bharatiya Mazdoor Sangh (BMS) and CPM labour arm Citu said women had been pushed into more "precarious" jobs (low-paid with poor working conditions) and blamed the government's privatisation policy for the increase in contractual labour.
BMS general secretary Vinay Sinha said the participation of female workers was already low and had suffered further after the Covid outbreak.
"Regular jobs are gradually being outsourced to contractors. People are being hired on contract without any social security or job security. This is not in the interest of the nation," he said.
Citu general secretary A.R. Sindhu said: "After the reverse migration, most women have returned to their workplaces. They are not idle, but they are doing very precarious jobs in farms and the rural labour market. This is not a good sign for the economy."
According to the annual Periodic Labour Force Survey, the workers' participation rate — the percentage of working-age people already employed — among women was 21.8 per cent in 2019-20. This means 80 per cent of women in the working age were unemployed.
The QES covered 10,834 establishments employing more than 10 workers each. These included 4,691 manufacturing establishments.
According to the survey's estimates, 5.31 lakh establishments (employing more than 10 workers in the nine sectors) operated in the country on October 1, 2021, including 1.78 lakh in education and 1.73 lakh in manufacturing.
The survey has estimated that the manufacturing sector employed 1.24 crore workers (39 per cent), followed by education with 69.26 lakh workers (22 per cent), IT/BPOs with 34.56 lakh (11 per cent) and health with 32.86 lakh (10.5 per cent).