Covid crisis: Cremations spiral in Kanpur
Data from Bhairoghat and Bhagwatghat shows 462 bodies were consigned to flames from April 19 to April 24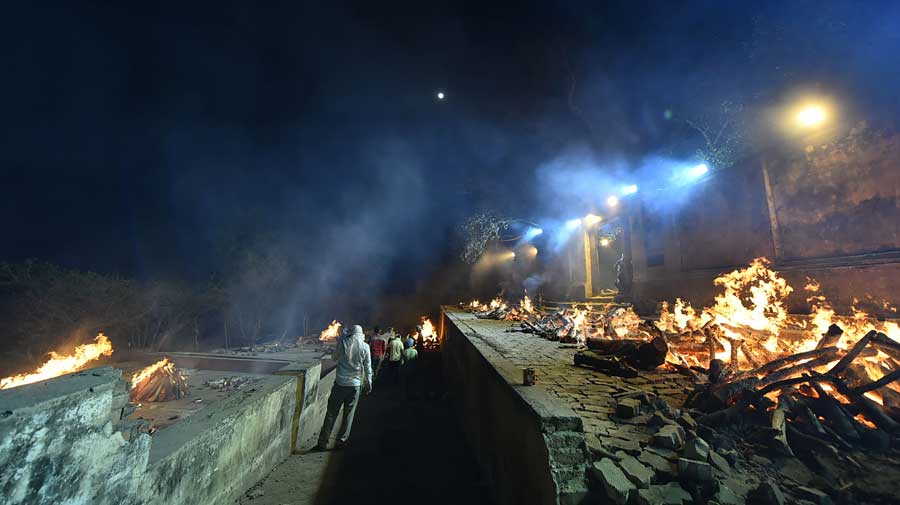 Denied oxygen, ambulances, pyres & dignity Covid-19 victims being cremated at Bhairav Ghat Hindu Crematory in Kanpur on Sunday.
PTI
---
Kanpur
|
Published 26.04.21, 01:33 AM
|
---
The number of cremations taking place at Kanpur's crematoriums has increased several-fold — far more than the 66 deaths officially attributed to the coronavirus in the entire district over the past six days. 
Data from Bhairoghat and Bhagwatghat crematoriums shows 462 bodies were consigned to flames from April 19 to April 24. 
People have to wait with the bodies for the last rites and the situation is no different at burial grounds.
In last six days, Kanpur Nagar district officially recorded 66 Covid-19 deaths, while 406 cremations took place at Bhairoghat and 56 in Bhagwatghat alone. 
"The number of cremations has risen several fold in the last week," said Qamruddin, a Kanpur municipal corporation employee at the Bhairoghat electric crematorium.