Tirupur garments hub making masks, medical kits
Goods stuck in international ports, rue exporters; companies stare at massive losses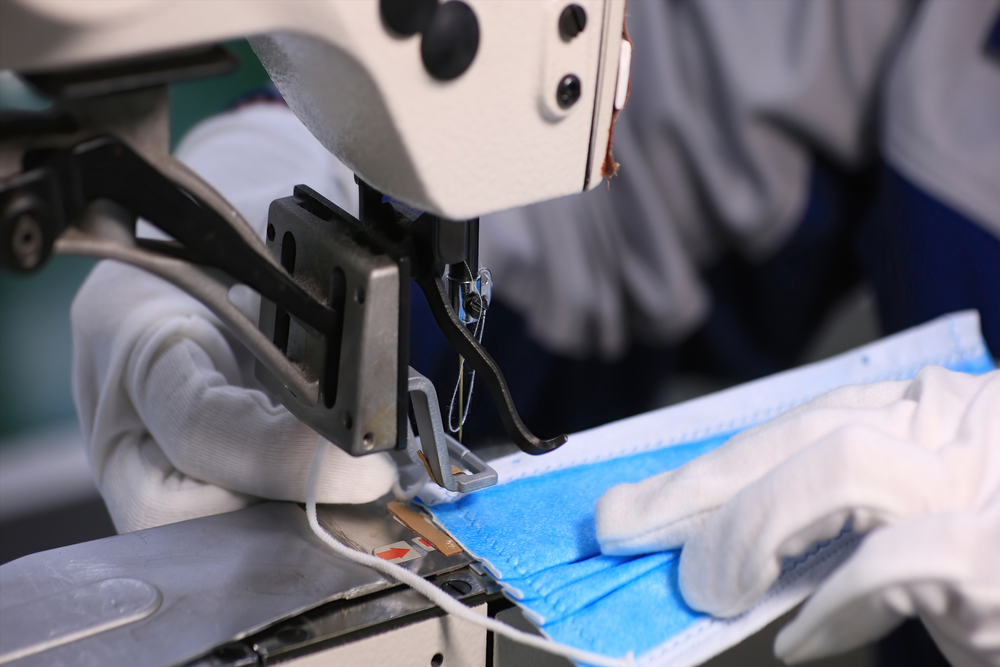 ---
---
The garment hub of Tirupur in western Tamil Nadu has come to the aid of the government with over a 100 companies now manufacturing masks and protective equipment instead of t-shirts and other knit garments for international brands.
According to president of the Tirupur Exporters Association Raja M. Shanmugam, over a million masks and several thousand personal protective equipment (PPE) kits have already been supplied for use by paramedics.
Companies are taking full precautions, ensuring that workers wear masks and use hand sanitisers while officials monitor their temperature regularly, in addition to sanitising the premises. "A distance of at least 6 feet between workstations is also being maintained," says Shanmugam.
Most workers in Tirupur are migrants who could not leave because the announcement of the shutdown was sudden. The workers stay in hostels provided by the garment companies. All companies producing PPE kits and masks have been given permission by the government to work. All other companies are shut.
"We have not had a problem with migrant labour but the local labour is not coming to work," says Shekar of Anitha Texcot that is producing 70,000 PPE kits daily.
Anitha Texcot has been supplying medical kits, including mattresses, towels and mosquito nets for newborn babies to several state governments for the last few years. Hence, it has some experience in the field.
In the past two weeks it has supplied 20 lakh PPE kits to the Tamil Nadu government and another 3 lakh to Maharashtra and over 2 lakh to Telengana. It has also received an order for 1 lakh PPE kits from HLL Lifecare – the government's nodal agency for procuring PPE – last week.
Shanmugam says most companies are working only on a cost-recovery basis. "This is a blessing in disguise for us as it is opening up the medi-tex field for us. Most companies will now gain experience in this field."
Members of the Tirupur Exporters Association are facing massive losses. Goods worth Rs 6,500 crore are lying unclaimed at various ports across Europe, US and Canada. "Even when buyers finally collect them we will be paid a discounted rate as items are seasonal," he rues adding that product made in March, worth Rs 2,500 crore, is lying in Tirupur itself.
In 2018-19, Tirupur exported garments worth Rs 26,000 crore and another Rs 24,000 crore was sold in domestic markets. In 2019-20, they expected an increase of 10 per cent in turnover.
But now they will face losses in 2020-21 too as companies have already started cancelling orders. There has been a fall of almost 30 per cent in domestic orders.
"I think it will take us a couple of years to recover from this. We might gain from the anti-China sentiment, but after a few months it will come down to the economics and if China continues to be cheaper, buyers will go there," he adds.