Sikkim CM house becomes corona unit
Move for Golay wife Covid treatment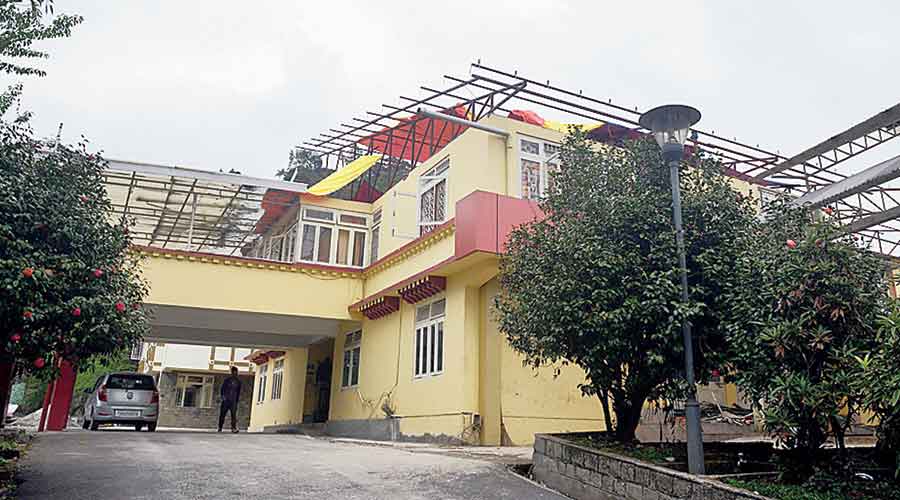 ---
|
Siliguri
|
Published 23.09.20, 01:25 AM
---
The Sikkim government has taken flak for converting Mintokgang, the official residence of the chief minister, into a corona care centre to treat chief minister P.S. Tamang (Golay)'s wife and some of her family members, all of whom tested positive for Covid-19 on Monday.
After Krishna Kumari Rai, the chief minister's wife, and some family members were detected with the pathogen, the government moved all of them to Mintokgang and the state health department set up a six-member team of doctors and nurses to monitor their health.
Mintokgang had been lying unused since former chief minister Pawan Chamling vacated it following his defeat in the last Assembly polls in April 2019. His successor Golay, however, refused to shift to the chief minister's official residence, which he had repeatedly promised to convert into a cancer hospital on coming to power.
M.K. Subba, the SDF spokesman, said Golay had made a populist promise to convert Mintokgang into a cancer hospital for the sole purpose of winning an election and it was but expected that he wouldn't be able to deliver on it. "He set up a technical committee (to carry out a feasibility study on cancer hospital), which was nothing but a hogwash."
The chief minister had also said it had been decided not to covert Mintokgang into cancer hospital because of the people living in its vicinity who feared the disease. 'Covid is more contagious than cancer. Don't the people know it?' asked Subba. "This is absurd. How can you convert Mintokgang into a Covid care centre? The public is highly disillusioned and very shocked to see this," he added.
The SDF spokesman said by virtue of being the chief minister's wife, Krishna Kumari Rai was entitled to better health facility anywhere else, but Mintokgang.
Passang Sherpa, the coordinator of IAM371F campaign, said meting out VIP treatment to the family members of the chief minister was most unfortunate, especially when hospitals were already in shortage of healthcare workers. "The poll promise of the SKM was to convert Mintokgang into a cancer hospital but, unfortunately, it has been turned into a Covid care centre for the family of the chief minister. It is a blatant misuse of power and encouragement of VIP culture in Sikkim, which the SKM had promised to end," he said.
Jacob Khaling, the political secretary to the chief minister and SKM spokesman, neither took calls nor responded to WhatsApp message.