Bangalore market sealed
Till Monday, the Bangalore Urban district had reported 1,398 positive cases, of which 919 are active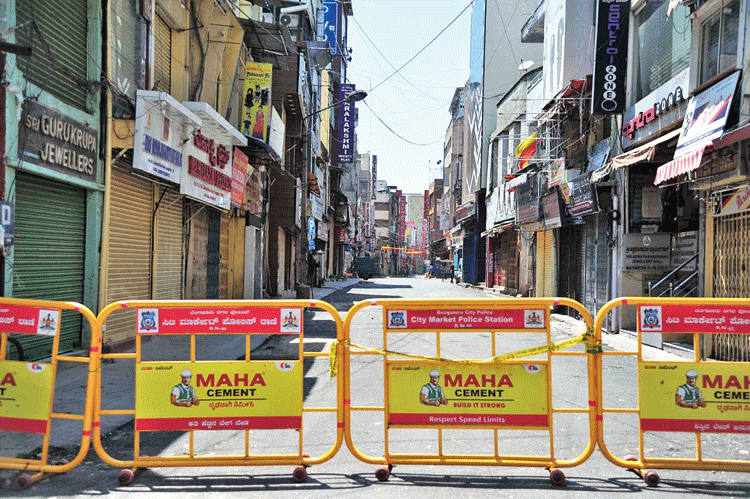 ---
---
The Karnataka government on Monday brought four densely populated areas in the capital under total containment for 15 days because of a spurt in coronavirus cases.
A meeting headed by chief minister B.S. Yediyurappa decided to seal the city's oldest and largest market area comprising KR Market, Kalasipalya, Chamarajpet and Chickpet.
"Strict lockdown restrictions will be followed in these areas," revenue minister R. Ashoka said afterwards. "No one will be allowed to go in or come out of these areas, where sufficient police forces will be deployed," he said.
"These areas have large markets where a large number of people visit. So, we are going for this kind of a containment to prevent any possibility of community spread in Bangalore," Ashoka added.
The decision came after a large number of coronavirus cases were reported in these areas since the initial nationwide lockdown restrictions were eased earlier this month. The adjoining areas are densely populated, with residents living cheek by jowl.
Till Monday, Bangalore Urban district had reported 1,398 positive cases, of which 919 are active. The district accounted for 126 of the 249 positive cases reported on Monday across Karnataka, which has recorded a total of 9,399 cases so far.
City police commissioner Bhaskar Rao said: "We will define boundaries and won't allow anyone to violate them."
A section of the traders in Chickpet had already started a seven-day shutdown on their own after the jump in cases.
Gautam Lunkad, secretary of the Chickpet Electrical Merchants Association, said: "We didn't force anyone to shut down, but more than 80 per cent the 50,000 retail and wholesale outlets in Chickpet were already closed before the government order."
Dungarmal Chopra, president of Karnataka Original Garment Merchants' Association, who was opposed to the traders' lockdown in Chickpet, said he would follow government orders.