Covid: Agra businessman blames 'mock drill' over spouse's death
Saurabh Agrawal, whose Covid-positive wife died on April 27, has submitted along with his complaint a copy of the WhatsApp conversation his wife had with her sister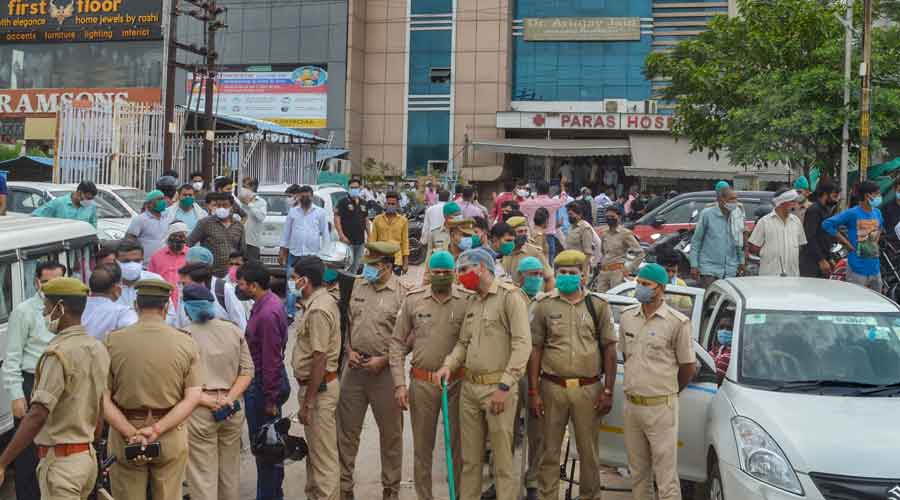 ---
Lucknow
|
Published 12.06.21, 01:29 AM
|
---
An Agra businessman has alleged in a police complaint that his Covid-positive wife died on April 27 when oxygen supply was disconnected at the hospital whose owner has admitted to conducting a "mock drill" on patients by cutting off the flow of the life-saving gas.
Saurabh Agrawal, an iron chain trader, has submitted along with his complaint at New Agra police station a copy of the WhatsApp conversation his wife Radhika, 36, had from her bed at Shri Paras Hospital with her sister hours before dying.
According to the chat records, Radhika had alleged that she had been "tortured" for oxygen through the April 26-27 night.
Radhika had written to her sister Monica early on April 27 morning: "1m (I am) dead…."
At one point, Radhika wrote: "Raat bhar oxygen ke liye torture kiya. Jaan nikal gai maare (They tortured me through the night for oxygen. I almost died)."
Radhika died a few hours later.
Agrawal has sent a copy of the police complaint to Uttar Pradesh chief minister Yogi Adityanath. 
A video had this week emerged on social media in which a male voice — purportedly that of Dr Arinjay Jain, the owner of Shri Paras Hospital — had claimed that he had conducted a "mock drill" for five minutes from 7am on April 26 by stopping oxygen supply to Covid patients.
The voice had said 22 patients had begun to gasp for breath and their bodies had turned blue, adding that they were thus "chhant gaye (segregated)".
Dr Jain has not contested the authenticity of the video but said he had conducted the drill to identify those patients who most needed oxygen amid a shortage. He had said nowhere had he said any patient had died because of the experiment.
The police have said four patients died at the hospital on April 26 and three on April 27, the day Radhika passed away, but in no case was lack of oxygen the cause. Dr Jain has been booked under the Pandemic Act and his hospital sealed.
Radhika's WhatsApp message to sister Monica suggests the exercise to cut off oxygen supply may have been conducted again after the morning of April 26.
Agrawal said he and Radhika had both tested positive for Covid-19.
"I was admitted to Sarvoday Hospital and Radhika to Shri Paras Hospital on April 13. A hospital employee called me up on April 27 morning and said Radhika had died," Agrawal said.
"When I confronted Dr Arinjay Jain over Radhika's WhatsApp conversation before her death, he threatened me with consequences if I raised the issue," Agrawal said.
P.N. Singh, the district magistrate of Agra, said: "We have received specific complaints and are probing every possible angle, including the video that has gone viral on social media sites. The doctor has already been booked and further action will be taken soon."