Covid: Agra hospital owner's video surfaces, asserts conducting 'mock drill' by stopping oxygen support
Twenty two patients died as a result of the incident which lasted for five minutes from 7am on April 26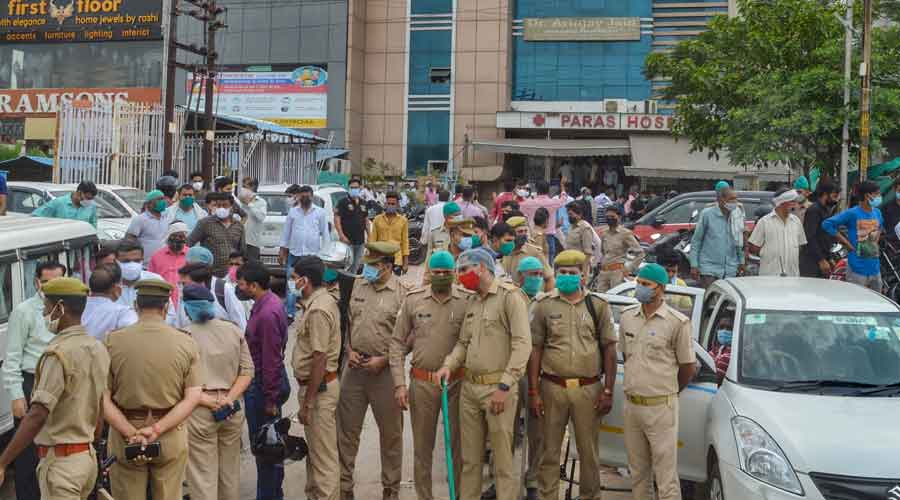 Police force deployed after many patients died during a mock drill at Paras hospital in Agra
PTI
---
Lucknow
|
Published 09.06.21, 01:51 AM
|
---
A police case has been registered against a hospital owner and doctor in Agra after he was purportedly heard in a video saying 22 patients were segregated (chhant gaye) when he conducted a "mock drill" by stopping oxygen support to test the chances of survival during the height of the Covid wave in April.
The voice, suspected to be that of Dr Arinjay Jain, the owner of Shri Paras Hospital, is heard telling another man that 22 patients began gasping for breath and their bodies turned blue. According to the male voice, the "mock drill" lasted for five minutes from 7am on April 26. The video, purportedly shot stealthily in May, has been shared widely on social media since Monday.
Jain was on Tuesday booked under the Pandemic Act on the basis of a complaint from the home ministry.
Jain told reporters on Monday evening that the voice in the video was his but asserted that he had conducted the "mock drill" only to identify those patients who needed oxygen the most because there was a severe shortage and never had he said during the conversation, which appeared to have been recorded stealthily, that anybody had "died". He said oxygen supply was stopped for two minutes, not five as claimed in the video.
P.N. Singh, the district magistrate of Agra, told reporters on Tuesday that no patient died due to oxygen shortage at the hospital.
He said four patients died on April 26 at the hospital while three succumbed to the infection on April 27.
"Shri Paras Hospital (a dedicated Covid-care facility) had enough oxygen and it is not true that 22 patients died there due to oxygen shortage. However, the video that is being circulated will be examined and required action will be taken," the DM said.
PM: "मैंने ऑक्सीजन की कमी नहीं होने दी"

CM: "ऑक्सीजन की कोई कमी नहीं। कमी की अफवाह फैलाने वालों की संपत्ति जब्त होगी।"

मंत्री: "मरीजों को जरूरत भर ऑक्सीजन दें। ज्यादा ऑक्सीजन न दें।"

आगरा अस्पताल: "ऑक्सीजन खत्म थी। 22 मरीजों की ऑक्सीजन बंद करके मॉकड्रिल की।"

ज़िम्मेदार कौन? pic.twitter.com/DbiqtILE27

— Priyanka Gandhi Vadra (@priyankagandhi) June 8, 2021
The male voice in the video is heard saying in Hindi: "I asked them to make people understand that there is no oxygen anywhere and start discharging patients. Even the chief minister was not being able to arrange for oxygen…. But some patients were not ready to leave. They hung on like a pendulum, saying they won't go.
"Then I said, okay, let's not wrack our brains too much. Let's conduct a mock drill. Aab woh chhanto jinki oxygen bandh ho sakti hai (segregate those whose oxygen supply can be stopped). We will then figure out who all will survive and who won't.
"We conducted the mock drill at 7am on April 26. Nobody knows this. The patients started gasping for breath and their bodies turned blue. Twenty-two patients were segregated."
When the man seen in the video asked how long the drill lasted, the voice said "five minutes".
The voice then said: "Bais mock drill mein chhant gaye (Twenty-two were segregated in the mock drill). I said, okay, 74 now remain (bach gaye). I said we would now get time. Then we told the 74 others to arrange for their own cylinders."
Confronted by reporters on Monday night, Jain said: "We did the mock drill for two minutes to see who needed oxygen because there was a shortage. I have not said anywhere in the video that 22 people died. I have said they needed oxygen more than the others."