6.35 million of more than 9.6 million inoculated
Covid-19: 35% health staff miss first vaccine deadline
Twelve states, including Bihar, Gujarat, MP, Rajasthan and UP have provided the first doses to more than 75% of their healthcare workers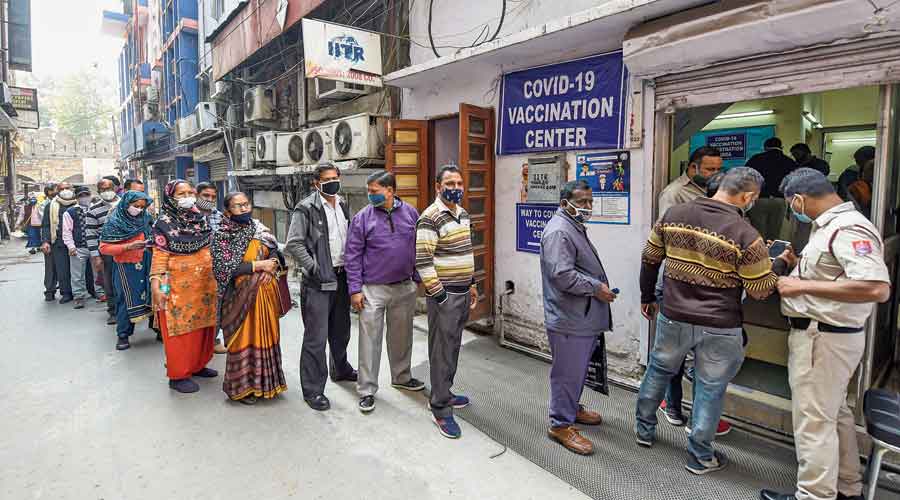 Frontline workers queue up to receive their first dose of Covid-19 vaccine at a hospital in New Delhi on Saturday
PTI
---
New Delhi
|
Published 21.02.21, 01:31 AM
|
---
About 35 per cent of healthcare workers across India have either declined, failed to turn up or not received Covid-19 vaccines although the Union health ministry had set Saturday as a target for their first jabs.
The nationwide vaccination campaign had until 6pm Saturday inoculated 6.35 million (66 per cent) of more than 9.6 million eligible healthcare workers with their first doses of Covid-19 vaccines, according to health ministry figures.
Twelve states, including Bihar, Gujarat, Madhya Pradesh, Rajasthan and Uttar Pradesh, have provided the first doses to more than 75 per cent of their healthcare workers.
But seven states — Delhi, Tamil Nadu, and Punjab, among them — have inoculated less than half of their healthcare workers.
The health ministry had earlier this month asked states to speed up the campaign and provide the first doses to all healthcare workers by February 20 and conduct "mop-up" rounds to complete those left out by February 24.
Health officials have said healthcare workers who haven't received the first dose by February 24 would become eligible to receive the vaccines under the government's campaign under the age-appropriate category.
The campaign earlier this month began vaccinating frontline workers — such as police personnel and municipal staff — and more than 3.6 million of an estimated 27 million frontline workers across the country have already received vaccines.
The health ministry has indicated the campaign will start vaccinating all people aged above 50 years and those below 50 with chronic health disorders sometime in March but has not specified a date yet.
The nationwide vaccination campaign, which began on January 16, has since its early days encountered hesitancy with sections of doctors expressing concern that both vaccines were approved on the basis of limited clinical trials.
Some medical experts believe the health ministry itself has likely contributed to the vaccine hesitancy through opaque decisions and poor communication about the logic and necessity of the vaccination campaign.
"The intentions may be good, but intentions must also be seen to be good — this is critical in public health," said Thekekkara Jacob John, former head of clinical virology at the Christian Medical College in Vellore.
"But we've seen a style of administration bound to vitiate good intentions," he said.
John and others say patchy information and poor defence of the decisions taken on the vaccines had mired the vaccine rollout in an avoidable muddle, causing many doctors to question elements of the campaign and decline the jabs.
But other experts believe some level of hesitancy is unavoidable.
"These are personal decisions taken by individuals — the vaccination process is voluntary. People need to realise on their own the need for the vaccines," a senior health research official said.
During the H1N1 influenza pandemic in 2009, India had imported 1.5 million vaccine doses and distributed it to various states. But the acceptance and utilisation of those vaccines were "disappointing", two medical experts pointed out in a 2018 commentary in the Indian Journal of Medical Research.