Uttar Pradesh officer kicks migrant
One of the workers had allegedly strayed from the line and was not maintaining social-distancing protocol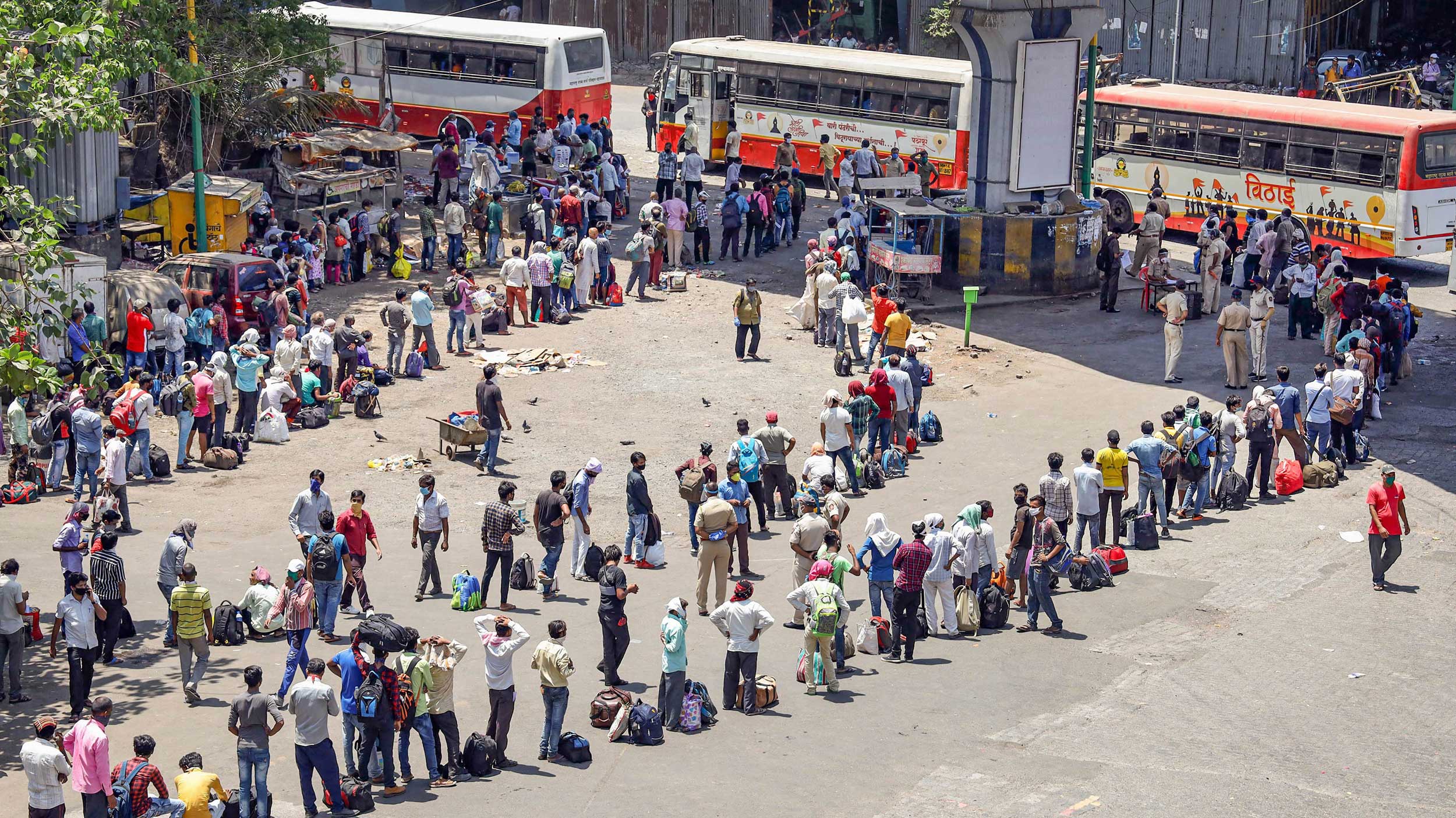 Migrants wait in long queues to board special buses amid the nationwide lockdown in Thane on Tuesday.
(PTI)
---
Lucknow
|
Published 12.05.20, 10:17 PM
|
---
An Uttar Pradesh government official has been caught on camera kicking a migrant labourer trying to get into a bus after returning from Mumbai.
Shri Ram Yadav, the chief revenue officer (CRO) of Pratapgarh, is seen in the video, which has been widely shared on social media, telling a migrant labourer who was part of a queue to board a bus to stop and then kicking him on the leg once when the worker appeared not to have heard him in the commotion. The migrant worker is seen looking back after being kicked and then proceeding without any word of protest.
Sources in Pratapgarh said around 1,200 labourers had reached the district from Mumbai in a Shramik Express on Saturday evening as part of the effort to ferry stranded migrants back home during the lockdown.
"There were state government buses outside the railway station to take the migrants to their homes in adjoining districts in east Uttar Pradesh after thermal screening. The CRO was monitoring the situation," an eyewitness said.
"While the migrants were trying to enter the bus one by one along with their belongings, the CRO kicked one of them. The labourer looked towards the official for a second and then silently boarded the bus," the witness added.
A source said: "A subordinate of the CRO was making a video of the migrant labourers for official use and we believe a part of it has gone viral on social media."
Yadav, the CRO, told local reporters that one of the labourers had strayed from the line and was not maintaining social-distancing protocol.
He refused comment when journalists pointed out that kicking was not the right way of enforcing discipline.
Rupesh Kumar, the district magistrate of Pratapgarh, said Yadav, a provincial services official, had been "issued a strict warning".
"We have warned the officers not to react in such a manner. All the officers are directed to behave respectfully with the labourers," the DM tweeted, but later deleted it.
A home department official in Lucknow said: "We have seen the video and ordered an inquiry against Yadav. The officers should be careful in dealing with the labourers."
The Opposition Samajwadi Party has posted the video on Twitter and said the action was "shameful for humanity".
"If the government cannot respect these tired and disillusioned labourers, it should at least stop insulting them. Action should be taken against the guilty officer," the tweet said.