PM sets fresh date, details to follow
Relaxation promise for those who pass 'test'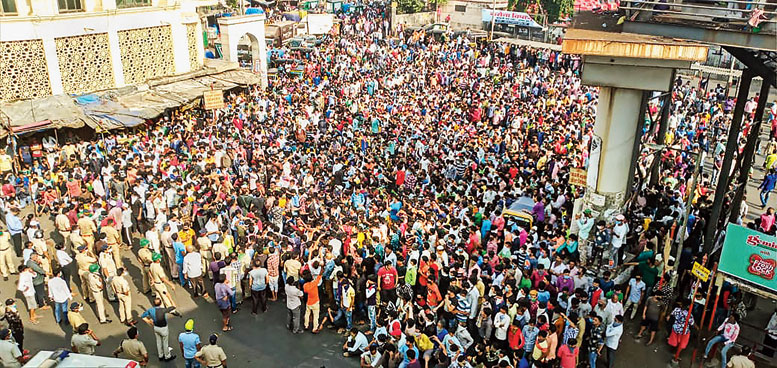 ---
---
Prime Minister Narendra Modi on Tuesday extended the countrywide coronavirus-induced lockdown by another 19 days till May 3 and said conditional relaxations would be considered only after April 20 based on a "litmus test" of adherence.
Seeking to stress the need for a more stringent lockdown to win the battle against the coronavirus, Modi, in a 25-minute address to the nation, said "each and everyone will have to remain in lockdown till May 3".
He said the next one week, till April 20, would witness a very strict lockdown and relaxations would be considered based on performance. Modi said the details of the proposal would be put out by the government on Wednesday.
According to the Prime Minister, the country was on the "right path" and had managed to significantly contain the spread of the virus but could not afford to lower its guard at this critical juncture.
"After taking into account all suggestions, we have decided to extend the lockdown till May 3," Modi said.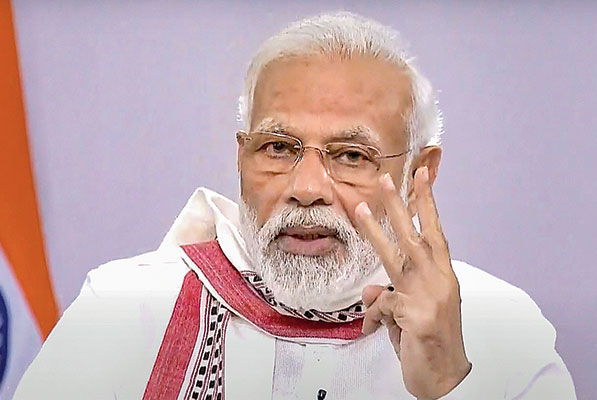 He went on to talk about possible relaxations, pointing out that the decision would be based on a strict review of the situation that unfolds over the next six days and how the lockdown is adhered to.
"Until April 20, every town, every police station, every district, every state will be evaluated on how much the lockdown is being followed," Modi said. "The extent to which the region has protected itself from the coronavirus will be noted," he added.
"Areas that will succeed in this litmus test, which will not be in the hotspot category, and will have less likelihood to turn into a hotspot; maybe (they will be) allowed to resume select necessary activities from April 20," the Prime Minister said.
Modi warned that the relaxations, if any, would be promptly withdrawn if rules were violated.
"However, keep in mind, this permission will be conditional, and the rules for going out will be very strict. Permission will be withdrawn immediately if lockdown rules are broken, and the spread of the coronavirus risked," he added, urging citizens not to become careless.
Modi appealed for strict adherence of the lockdown, saying "we absolutely must ensure the virus does not spread to new areas, and new hotspots do not spring up".
The Prime Minister had during his interaction with chief ministers on Saturday hinted at graded reopening of vital sectors, saying it was important to save "livelihoods" along with "lives". The immediate thrust on Tuesday seemed to be more on protecting lives.
"From an economy-only point of view, it (lockdown) undoubtedly looks costly right now. But measured against the lives of Indian citizens, there is no comparison," Modi said.
Modi said "limited exemptions" in select areas after April 20 would be done keeping in mind the livelihood of the poor. The Prime Minister said the poor who had a hand-to-mouth existence, who make ends meet with daily income, were "my family".
Modi claimed that a month and a half ago, several countries had been in a similar position as India in terms of Covid-19 infections. "But today, corona cases in those countries are 25 to 30 times than that of India's," he said, adding that had his government not adopted a "holistic and integrated" approach and taken "quick and decisive action", the situation would have been completely different.
Unlike in his previous pandemic-related addresses to the nation, the Prime Minister did not hand out tasks for the citizenry but laid down a seven-point charter that included social distancing, taking care of the elderly and the poor, protecting jobs and preventing attacks on doctors and other frontline Covid-19 workers.