Migrant dies at doorstep
Diabetes and hypertension patient climbed 6ft-high wall of quarantine centre to go home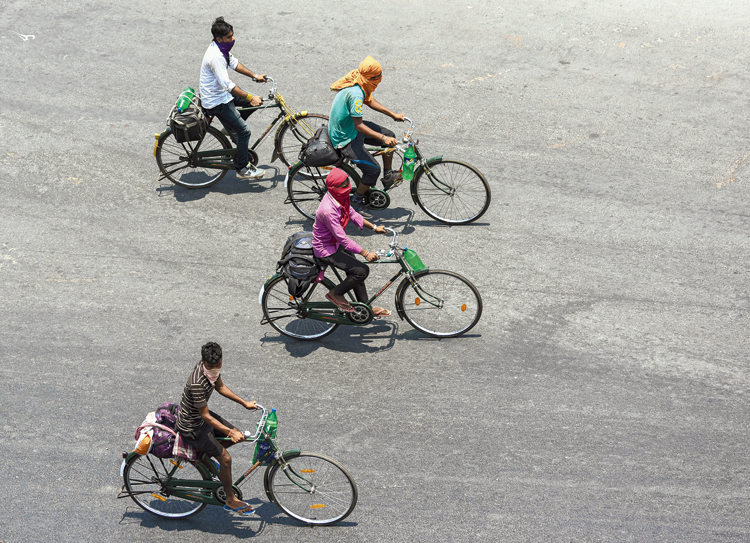 Migrant workers on their way back home to Odisha from Chennai pass through Vijayawada in Andhra Pradesh.
File picture
---
Bhubaneswar
|
Published 01.06.20, 11:30 PM
|
---
Migrant labourer Brajabandhu Rana, 42, had waited over nine weeks and travelled 1,900km to meet his wife and daughters. It was the last half kilometre that killed him.
With just nine days left to complete his 14-day quarantine and go home, the diabetes and hypertension patient — who had had heart surgery recently — ran out of patience.
He seems to have climbed the 6ft-high wall of the quarantine centre at Krushnachandrapur, Cuttack district, and jumped off in the dead of night, apparently to go home. His house was just 500m from the centre, local people said.
Rana would not have known that the drop was far steeper than 6ft — there was a ditch right beside the wall. His body was found on Monday morning.
"Preliminary investigation suggests that when all the inmates went to bed after dinner on Sunday, Rana scaled the wall, which is around six feet high, and jumped," the SP-in-charge, Cuttack rural, Pradymun Kumar Jena, told The Telegraph.
"Unfortunately, he fell into a ditch that was also five to six feet deep. He died on the spot." Jena added: "He was a diabetic with high blood pressure, and had undergone a heart operation recently."
Rana, a day labourer, had been stranded nine weeks in Mumbai before getting the chance to board a train to Odisha. Immediately on arrival, he was bused to his home village and put in quarantine.
Pravat Kumar Mallick, inspector in charge of Badamba police station, said: "He had completed five days at the centre. Perhaps he was too eager to meet his two daughters."
The elder Bhagya Laxmi, 16, studies in Class XII and the younger, Bijay Laxmi, 13, in Class IX.
"Brajabandhu used to transfer around Rs 7,000 into his wife's account every month. He was the family's sole breadwinner," a local social activist, Rabindra Kumar Sahu, said. "We are trying to provide temporary relief to the family."
Last week, another migrant labourer had died at a quarantine centre in Odisha. Sk Jamirul Islam, 48, had collapsed after taking a bath at the facility in Kalapathara, Sonepur district, about 270km from Bhubaneswar.
Jamirul and 14 others had been headed to Howrah, Bengal, from Mumbai on a bus when they were offloaded on a Sonepur highway after a dispute.
"We brought him to the quarantine centre when we saw him walking with 14 other labourers," a police officer in Sonepur said.
He conjectured that Jamirul, who had taken the bath immediately on arrival, had been exhausted and dehydrated after walking in the scorching sun.
Migrant labourers have been returning to Odisha on foot and on bicycles, boats, trucks, buses and trains. Many of them have complained of mismanagement and poor food at the quarantine centres.
Rural Odisha has 16,644 quarantine centres with a capacity of 738,000.
"Over 287,000 migrants have been allowed to go home after completing the quarantine," an official said.