Assault and warning 'not to feed Hindus' in Bangalore
The police have registered a case against unidentified attackers but no arrests have been made so far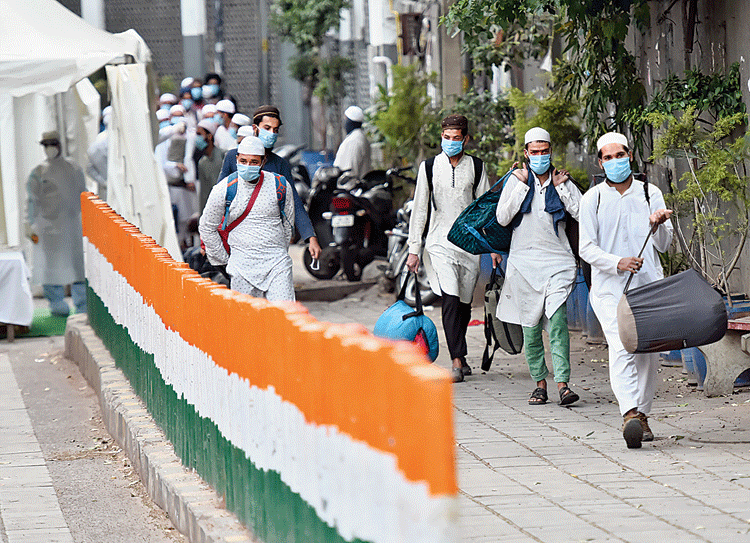 People being taken to various hospitals from Nizamuddin in New Delhi on Monday. The attack comes at a time BJP motor-mouths have been accusing Muslims of deliberately spreading Covid-19 as part of a "corona jihad" and suggesting some Tablighi Jamaat members be shot.
(PTI)
---
Bangalore
|
Published 09.04.20, 10:12 PM
|
---
Alleged BJP workers used cricket bats to beat up a group of Muslim social activists who were distributing free dry rations among slum dwellers in northeast Bangalore, asking them "not to feed Hindus".

The attack comes at a time BJP motor-mouths have been accusing Muslims of deliberately spreading Covid-19 as part of a "corona jihad" and suggesting some Tablighi Jamaat members be shot, ignoring chief minister B.S. Yediyurappa's warning against maligning Muslims over the outbreak.
Zareen Taj, general secretary of the Bangalore arm of Swaraj Abhiyan, said Monday's cricket-bat attackers had two days earlier too accosted the activists and accused them of "spitting in the food" to spread the coronavirus.
The police have registered a case against unidentified attackers but no arrests have been made so far.
Zareen said the attack by "BJP workers" on the activists, who included her friends and family members, had left her son Syed Tabrez, 23, with a cut on the head and several others with bruises. The activists wore visible signs of their religious identity.
"We told them we were only feeding the poor, but they attacked us and warned us not to feed Hindus," Zareen told The Telegraph on Thursday.
Her account suggests the campaign by some BJP leaders and social media users to malign Muslims in general —and last month's Tablighi Jamaat congregation in Delhi in particular — over the spread of Covid-19 had set the stage for the attack.
She said that when the social workers had had their first brush with the same group of about 10 men in the same locality on April 4, "They accused us of attending the Tablighi Jamaat congregation in Delhi and said we were spitting in the food to infect everyone."
By then, the group had distributed free cooked meals among the slum dwellers, who had told them they would prefer dry rations.
"When I told them (the men who accosted the group) we were only trying to feed the poor who would otherwise starve, they asked us to feed people from our own community," Zareen said.
"They called the police, asking them to arrest us. But when we went to the police station and told them what we were doing, they were very appreciative. They thanked us and offered to provide security when we distributed the food."
Zareen and her family members decided to stay at home on April 5 but headed to the slum on April 6 carrying dry rations.
While Swaraj Abhiyan — a socio-political organisation formed by Yogendra Yadav and Prashant Bhushan — had sponsored the cooked meals, Zareen had raised funds for the dry rations from her family members and friends.
"Since the police had offered security, we went to the police station first. But unfortunately a Kannada film actor had passed away the same day and most of the policemen (attached to the station) had gone there to prevent crowding," Zareen said.
At the slum, the activists were attacked "as soon as we started distribution".
A police source said the unidentified attackers had been charged with criminal intimidation, provoking breach of peace, rioting, unlawful assembly armed with a deadly weapon, and causing hurt with a dangerous weapon.
Anti-Yedi campaign
Yediyurappa's warning not to badmouth Muslims has apparently angered many in the BJP, with several politicians openly defying him and party supporters launching a Twitter campaign against him.
Under the hashtag #WeLostHopeBSY, social media users have accused the chief minister of "Muslim appeasement" and called for his removal.
A few days ago, Yediyurappa had issued a warning to those demonising the Muslim community over the Tablighi Jamaat congregation.
"No one should speak a word against Muslims. This is a clear warning. I will take action if anyone blames the whole Muslim community for some isolated cases," he had said.
On Wednesday, Yediyurappa's political secretary M.P. Renukacharya, talking of the Tablighi Jamaat participants who were allegedly refusing to be tested, said: "It is not wrong if they are shot. Else, the virus will spread across the country."
He added: "Those refusing to go to hospital are traitors because spreading Covid-19 is like terrorism."
A day earlier, state BJP general secretary Aravind Limbavalli had thundered: "Anyone who attended the (Tablighi Jamaat) meeting should be jailed if he refuses to go to hospital."
Yediyurappa's confidante and Lok Sabha member Shobha Karandlaje had last week claimed a conspiracy to spread the virus across the country.
"The attempt to spread the coronavirus began at the Tablighi Jamaat event in Delhi. There seems to be a 'corona Jihad' plan as most attendees are untraceable," she had said.
On Tuesday, the state government had said that over 800 people from the congregation had been tested or quarantined in Karnataka and appealed to those left out to come forward on their own.
No figure was mentioned and no suggestion made about a large number concealing their participation in the congregation.
No one in the BJP was willing to comment on the divisions in the party over the chief minister's act of standing up for Muslims.
State Congress spokesperson V.S. Ugrappa told this newspaper the BJP was blaming the Tablighi Jamaat because the party's government at the Centre had failed to act in time to control the spread of Covid-19.