Congress takes jail bull by horns, at last
Sonia's visits mark a drastic change in the Congress's attitude towards anybody who got entangled in a legal case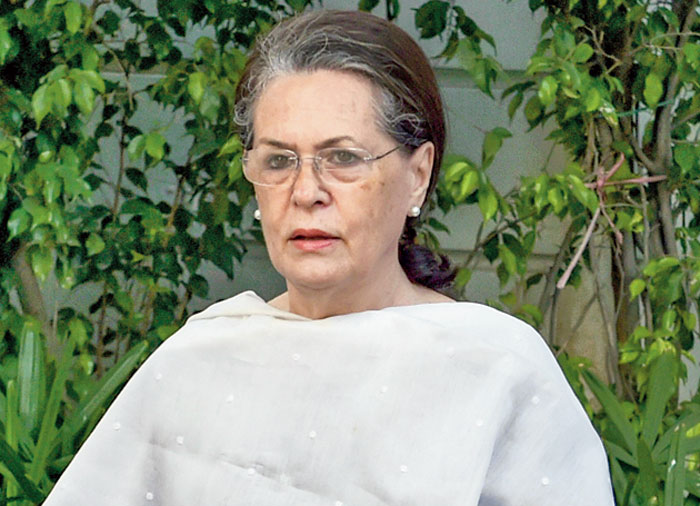 ---
---
Congress president Sonia Gandhi on Wednesday went to Tihar jail to meet senior Karnataka leader D.K. Shivakumar in a rare gesture that signals a shift in the party's attitude towards legal battles in the Narendra Modi regime.
Shivakumar was in jail over corruption charges, including that of money laundering. He was granted bail by Delhi High Court later in the day and released.
The court said Shivakumar could not tamper with the evidence or influence witnesses. The court, which observed that the leader was no longer in power and so was not in a position to tamper with evidence, placed conditions on his release such as furnishing a bond of Rs 25 lakh and two sureties of like amount.
Sonia was accompanied by senior leader Ambika Soni when she met Shivakumar, a key Congress leader from Karnataka. Earlier, Sonia had visited former finance minister P. Chidambaram in Tihar jail. The Congress veteran has been arrested by the CBI and the Enforcement Directorate in a corruption case.
The visits mark a drastic change in the Congress's attitude as the top leadership earlier used to swiftly abandon anybody who got entangled in a legal case. No Congress president in the recent past had visited anybody in jail. Even those who faced trial never received any support from the party, which maintained a distance by mouthing the cliche, "law will take its own course".
The most glaring example is that of two former Congress presidents — P.V. Narasimha Rao and Sitaram Kesri. While former Prime Minister Rao faced trial in the JMM and Lakhubhai Pathak bribery cases, a case was filed against Kesri for maligning the RSS. Both were left to fend for themselves as no political, legal or moral support was extended to them by the Congress.
Leaders who visited Rao during those days were seen with suspicion. While no middle-rung leaders dared to get associated with Rao when he was facing trial, veterans like Manmohan Singh and Pranab Mukherjee, who were his cabinet colleagues, discreetly visited his residence on a few occasions during that period. Rao was convicted by the trial court in the JMM bribery case but got acquitted later by Delhi High Court.
Senior Congress leaders said on Wednesday that there was no change in the party's stance and even now anybody who has committed any wrong would not get support.
A former Union minister said: "We are committed to political morality and anybody facing corruption charges will have to prove his innocence. But we are living in an exceptional time nowadays where Opposition leaders are selectively targeted by the government. India is witness to this kind of political witch-hunt for the first time since Independence."
This leader added: "We have seen how this government went out of its way to frame Sonia Gandhi and Rahul Gandhi in the National Herald case. The two leaders had to take bail. We have seen how leaders from almost every Opposition party are being targeted with vengeance while those who join the BJP are spared.
"The Supreme Court yesterday questioned the wisdom of keeping P. Chidambaram in jail and granted him bail. Even an ordinary student of law can tell how injudicious the decision to deny bail to Chidambaram for two months was."
Strongly defending Sonia for her visit to Tihar to meet Chidambaram and Shivakumar, a key member of the Congress's core group said: "We have made it absolutely clear that we support Chidambaram and Shivakumar because they are being targeted because of political reasons. Don't forget Rahul Gandhi is facing several defamation cases for political criticism and he too can be jailed by this government. If we start distancing ourselves from leaders who face charges, the Modi government will use this ploy to finish political resistance."
Shivakumar's brother D.K. Suresh, who was present during Sonia's visit to Tihar on Wednesday, said: "Mrs Gandhi assured Shivakumar that the party is with him and will stand in his support. She told him this is a case of political vendetta and other Congress leaders are also being targeted by the BJP government at the Centre. We have to fight them and come out of this."