Congress: Supreme Court verdict not clean chit on Gujarat riots
SC simply upheld the (report of the) SIT, which found there was no larger conspiracy and the violence was a spontaneous reaction: Abhishek Singhvi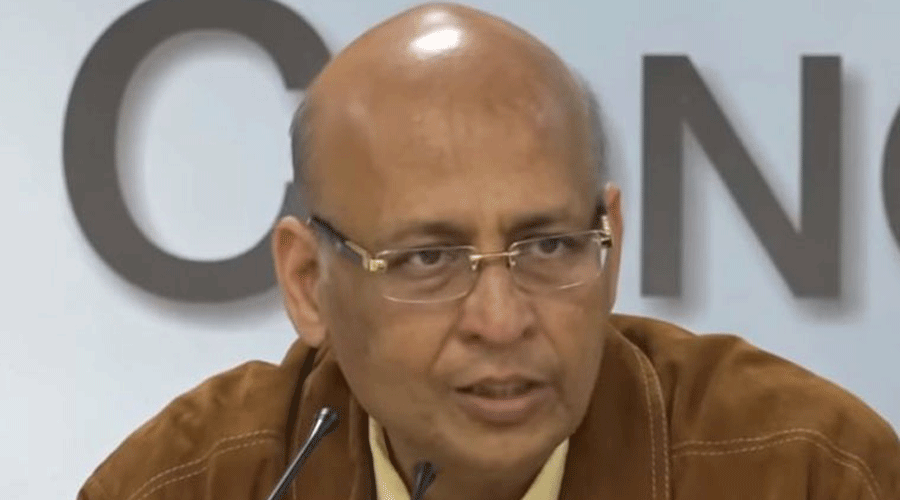 Abhishek Singhvi.
File photo
---
New Delhi
|
Published 26.06.22, 12:13 AM
|
---
The Congress on Saturday said the BJP was misinterpreting the Supreme Court verdict on Zakia Jafri's plea as a clean chit on the Gujarat riots despite the ruling having the limited context of a special investigation team's findings on allegations of a larger conspiracy behind the violence.
"Nobody should politicise Supreme Court judgments. The bhakts are suggesting that the Supreme Court held that 'tussi great ho' (you are great) about the BJP, Modi's Gujarat government," Congress spokesperson Abhishek Singhvi said.
"The Supreme Court simply upheld the (report of the) SIT, which found there was no larger conspiracy and the violence was a spontaneous reaction. Reading political jumlas and unconnected clean chits into SC order is very misleading."
The apex court on Friday rejected a plea from Zakia, wife of Congress leader Ehsan Jafri who was killed during the 2002 riots, that accused then Gujarat chief minister Narendra Modi and 63 others of conspiring to facilitate the violence against Muslims. The court based its judgment on the SIT's finding that the allegation lacked merit.
The Congress is objecting to the BJP's portrayal of the verdict as a clean chit to Modi and his government in relation to the entirety ambit of the Gujarat riots. Union home minister Amit Shah has demanded an apology from journalists and political opponents who he said had defamed the BJP and Modi over the 2002 riots.
Singhvi said: "Para 88 of the Supreme Court judgment is clearly for police officers who gave false evidence including (claims about) their presence (at a purported meeting that were) not established, (for) Zakia Jafri and the family which pursued the case relentlessly, and (for) other disgruntled government officers. It cannot and should not be expanded to the political sphere generally."
He added: "We shouldn't forget that many people were convicted of murder in the Gujarat riots. Individual culpability was established. The Supreme Court only rules out conspiracy or statements by the Prime Minister (then Gujarat chief minister) in presence of certain police officers found to be absent. That aspect of the court order must be respected. No more, no less."
Ehsan had been burnt alive along with 68 others in Ahmedabad's Gulberg Society housing complex on February 28, 2002, after his frantic calls to the authorities for help fell on deaf ears.
Zakia had petitioned the apex court after Gujarat High Court upheld a lower court's verdict that accepted the SIT's finding that there was no larger conspiracy.