Gujarat: Congress rings EVM 'mischief' alarm
The party planned to petition the Election Commission but hadn't done so till late evening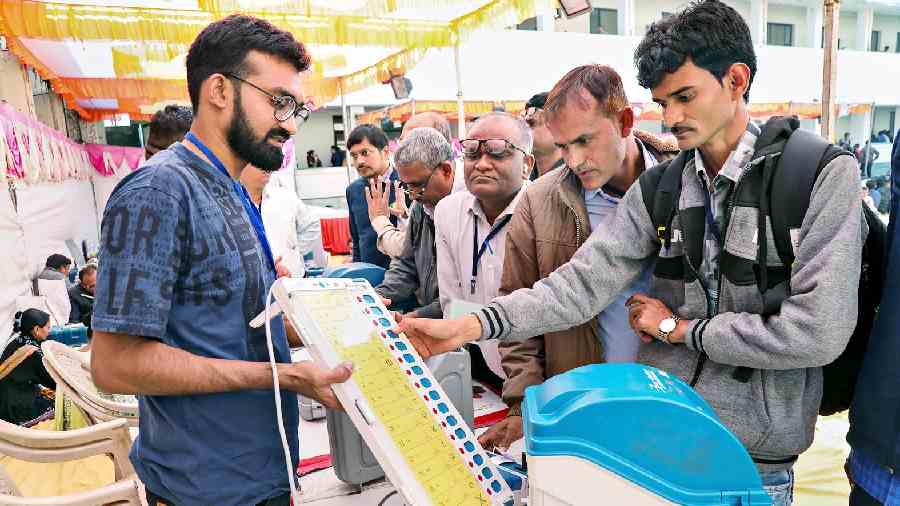 Polling officials collect EVMs and other election equipment in Rajkot before leaving for their respective polling stations on Wednesday, a day before the first phase of polling in Gujarat.
PTI
---
New Delhi
|
Published 01.12.22, 04:06 AM
|
---
The Congress on Wednesday expressed serious concern over the protection of ballot boxes and electronic voting machines (EVMs), alleging that central forces were being asked to stay 1.5km away from polling booths and only Gujarat police would have closer access.
Congress media department head Pawan Khera said at a news conference in Ahmedabad: "We have some suspicion. These are based on information. Central forces have been instructed to stay 1.5km away from booths. Only Gujarat police and home guards will take care of EVMs, which will have to be transported to the counting centres."
Khera added: "We have specific information. If there is a plan to rig the elections, we are warning both — Narendra Modi and Amit Shah — that the Congress will not allow any mischief. Why have central forces been asked to stay away and Gujarat police given charge of EVM transportation?"
The Congress planned to petition the Election Commission but hadn't done so till late evening.
The first phase of polling is on Thursday.
Earlier in the day, addressing a news conference, both Khera and Congress's Gujarat in-charge Raghu Sharma said the Election Commission must take strict steps to ensure a free and fair election.
They said the Congress was keeping a close eye on the election processes and would not allow any violations.
A Congress delegation on Wednesday approached the commission to complain against some TV channels for showing seat projections in Gujarat, which is a violation of the poll panel's directives. Arguing that "the commission must enforce what it commands", the Congress delegation said the officials assured strict action.
Raghu Sharma dismissed the perception that the Congress was not in the reckoning, asking why the Prime Minister, home minister, other Union ministers, chief ministers of different states and BJP workers from across the country were "wandering in the lanes of Gujarat". 
Asked about the prediction of BJP chief J.P. Nadda, who said their tally would be the best ever this time, Sharma said: "Why should I comment on a leader who cannot draw even 50 people to his public meetings? His meetings have been cancelled in Gujarat as there were no people in many places. Show me one photograph of Nadda's crowded meeting. We have the recordings of all our meetings, which have been unusually well-attended."
Sharma added: "Our strategy was different this time; we reached out to 1.5 crore families with our 11- point resolve. We had decided not to focus on big rallies. Our booth management will be excellent. People of Gujarat know what the Congress will do when it comes to power. They know which party was fighting the BJP for the last 27 years. They know which party worked during Covid. Our leaders died helping the distressed people."