Is this essential, asks Congress
Cong slams move to bring Central Vista under essential services
Sonia and Rahul Gandhi have objected to the project under which a new Parliament, offices for ministries and a residence for the Prime Minister will be built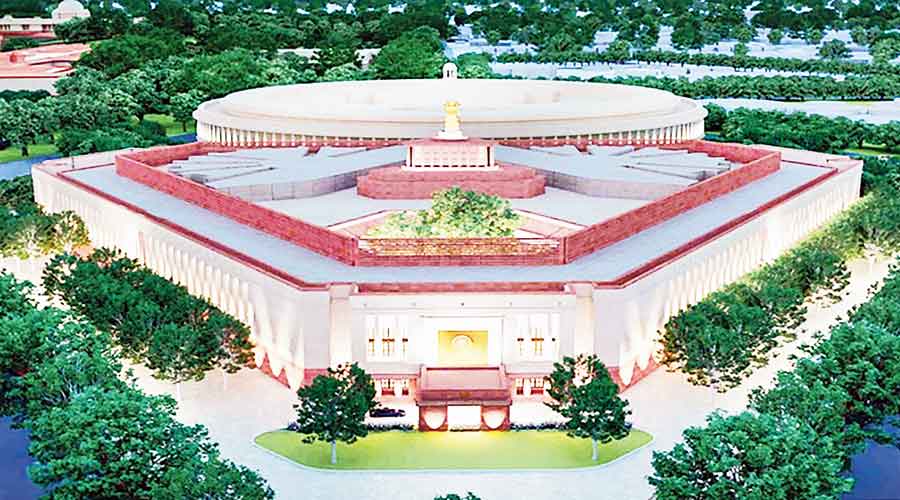 Central Vista redevelopment project
File picture
---
New Delhi
|
Published 29.04.21, 02:21 AM
|
---
The Congress on Wednesday questioned the morality of the Narendra Modi government obsessing with its pet project, Central Vista, when the Centre cannot provide oxygen and hospital beds to countless citizens.
Rahul Gandhi led the attack with a tweet in response to a decision to bring the ongoing construction under essential services: "Central Vista — not essential. Central Government with a vision — essential."
Central Vista- not essential.

Central Govt with a vision- essential.

— Rahul Gandhi (@RahulGandhi) April 28, 2021
Congress president Sonia Gandhi and Rahul have objected to the project under which a new Parliament building, offices for ministries and a residence for the Prime Minister will be built.
Congress spokesperson Supriya Shrinate told a media conference on Wednesday: "Is this project essential? When we are going to seek aid from the world in this distress caused by Covid-19, shouldn't we cut down expenditure on our own vanity projects?"
Shrinate contrasted the government's interest in the project with the state of medical infrastructure in the country.
"How come the Central Vista becomes essential in this time of distress when patients are dying for want of oxygen, not getting admission in hospitals? This government could not build the sanctioned 162 oxygen plants for Rs 200 crore in one year and Rs 20,000 crore is being spent on this," she said.
Shrinate added: "Rulers are remembered for their work, not for the buildings they made. The Prime Minister failed in corona management but his priority to have a new Parliament building remains unchanged. This is not only a question of sensitivity; even morally it cannot be justified."
The lockdown in Delhi allows only construction projects that keep workers on the site itself. But an exception has been made for Central Vista and passes have been issued for 180 vehicles to be used in the project, including those ferrying workers from their homes, under the essential services category. The government had requested this favour from Delhi police because the work has to be completed by November this year. Work is underway in three shifts.
The Congress iterated that the Covid situation had turned grim because of the government's failures.
Shrinate recalled how the Centre ignored repeated warnings on the second wave and referred to insensitive and crass statements by BJP chief ministers, including threats issued by Yogi Adityanath. She pointed out that even BJP workers had begun to publicly express their frustration.
Shrinate alleged that the Prime Minister was addressing election rallies when lakhs of new cases were being reported every day. She said there was no way that health minister Harsh Vardhan could continue in office and insisted that the Prime Minister, too, had lost the moral right to remain in office.
The situation is horrific, absolutely terrible.… Everyone is afraid, every single person. People are afraid that if I am talking to a person, maybe I won't get to talk to them tomorrow or in the near future
- Manoj Garg, Delhi resident
Delhi state is reporting one death from Covid-19 every four minutes, according to Reuters. The last 24 hours brought 360,960 new cases for the world's largest single-day total, taking India's tally of infections to nearly 18 million. It was also the deadliest day so far, with 3,293 fatalities carrying the toll to 201,187.