Bengal Polls 2021: Cossipore, where development vow is pitted against polarisation cry
The area has around 2.3 lakh voters, comprising Bengali and Hindi-speaking communities who have lived peacefully for years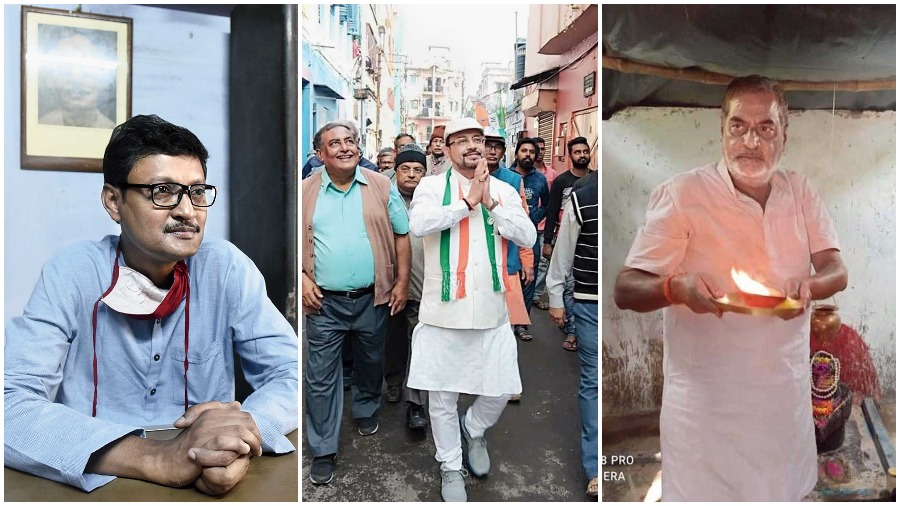 (L-R) CPM candidate Pratip Dasgupta; Trinamul candidate Atin Ghosh; BJP candidate Shibaji Singha Roy
The Telegraph
---
Calcutta
|
Published 29.04.21, 01:35 AM
|
---
An Assembly constituency that marks the northern end of Calcutta is a mirror to the city's diversity.
Ratan Babu Road merges seamlessly into Rustomjee Parsee Road. An affluent Bengali neighbourhood leads to a large slum adjoining a mosque.
Cossipore-Belgachhia has around 2.3 lakh voters, comprising Bengali and Hindi-speaking communities and people from different faiths who have lived peacefully for years.
In the run-up to the elections, the area has been witnessing attempts to create an environment of communal polarisation.
On April 23, a clash had broken out between residents and BJP supporters allegedly led by Barrackpore MP Arjun Singh and Cossipore-Belgachhia's BJP candidate Shibaji Singha Roy.
The BJP IT cell head, Amit Malviya, had tweeted on the incident, saying Singha Roy and Singh "were attacked by members of Mamata Banerjee's vote bank".
The Trinamul candidate from Cossipore-Belgachhia, Atin Ghosh, a former deputy mayor of Calcutta and a veteran leader of the ruling party in north Calcutta, wants to counter the polarisation narrative with an agenda of development. In the second week of April, Ghosh had released an election manifesto for his constituency and said it was a "promise in writing" of the things he would deliver if elected. Individual candidates releasing manifestos ahead of an election is not common.
Some of the deliverables in the manifesto are converting open drains on either side of BT Road, between the Tallah bridge and Sinthee More, into underground ones and building footbridges at Chiria More, Sinthee More and at the intersection of Dum Dum Road and Raja Manindra Road.
"Communal polarisation will not work here. I know because I have visited every single house in the constituency during the campaigning. None of my opponents has done that," Ghosh told this newspaper.
Other than Singha Roy, Ghosh's opponents include the CPM's Pratip Dasgupta.
Trinamul's Mala Saha had won the seat in the 2016 Assembly polls. She had defeated the Left Front's Kaninika Bose by 25,810 votes.
Cossipore-Belgachhia is part of the Calcutta North Lok Sabha seat. In the 2019 parliamentary elections, Trinamul's Sudip Bandyopadhyay, who had won from Calcutta North, was ahead of the BJP's Rahul Sinha in the Cossipore-Belgachhia segment by 13,592 votes.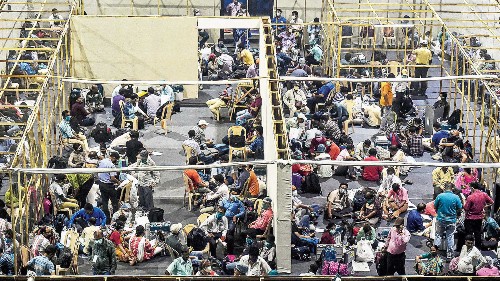 "Atin Ghosh has rich administrative experience. He has been a member of the mayoral council for a decade. He has been a councillor (from Ward 11) since 1985. His opponents don't have a fraction of his credibility," said a north Calcutta councillor and part of Ghosh's election team.
A resident of Ratan Babu Road in Ward 1 of the CMC said Ghosh was a clear favourite to win the seat.
"But he needs to do more work, like focussing on the pathetic condition of North Suburban Hospital," said the senior citizen who used to work as a manager in an automobile servicing unit. "A pipe supplying treated water to our ward had a leak three months ago. It was fixed recently, after multiple appeals to local leaders."
Cossipore and Belgachhia were CPM bastions before Trinamul wrested them. The CPM's Dasgupta, a former Calcutta unit secretary of the DYFI, attributed the rise in the BJP's vote share in 2019 to "an extremely polarised atmosphere".
This time, he said, the battle was far from over. "During the lockdown, we stood by the underprivileged sections 24X7. People have realised who their true well wishers are," he said.
Singha Roy, the BJP candidate, refused to accept Ghosh as a "heavyweight".
"People are fed up with Trinamul's syndicate culture. There are no jobs for youth. They have destroyed the industrial belt along the Hooghly in Cossipore. Modiji's Sabka Saath, Sabka Vikaas is the only way forward," he said.