Congress plans 50 per cent quota at all levels in party
Bhupinder Singh Hooda says a consensus is emerging on most ideas floated by them, including on MSP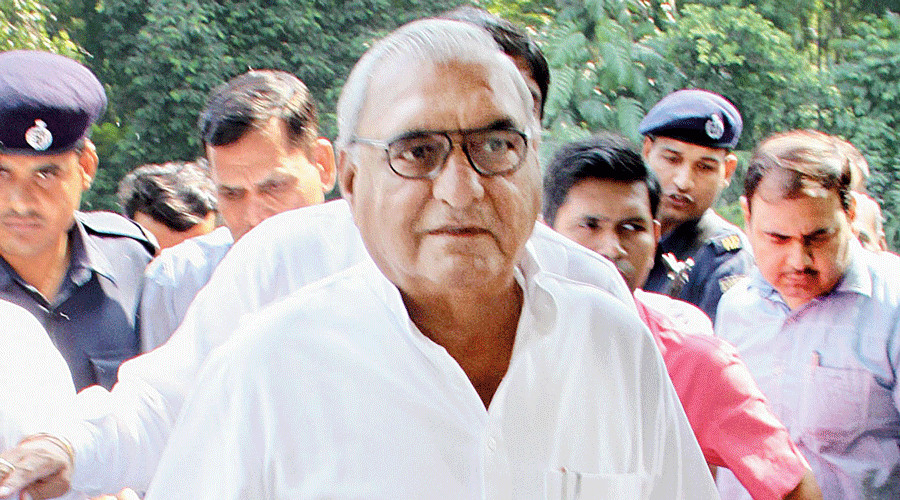 Bhupinder Singh Hooda.
File photo
---
Udaipur
|
Published 15.05.22, 12:32 AM
|
---
The Congress has evolved a broad consensus on several initiatives on social justice, organisational reforms and agriculture, including a cumulative 50 per cent reservation for Scheduled Castes, Scheduled Tribes, other backward classes and minorities at all levels of the party.
While there was a push for offering more, the party decided to take the first step by reserving 50 per cent posts at all levels, from the Congress Working Committee to Pradesh Congress Committees to booth committees, for SCs, STs, OBCs and minorities. This will be adopted if the party president approves it at the Chintan Shivir resolution on Sunday.
Now, the Congress constitution earmarks a cumulative 20 per cent reservation for these categories.  The  committee on social justice and empowerment has suggested setting up a Social Justice Advisory Council in the party structure that will constantly examine issues related to these marginalised sections and advise policy responses to the Congress president.
Another proposal is to hold meetings of the CWC and the PCCs at least once in six months to exclusively discuss issues related to SCs, STs OBCs and minorities. The Congress has also supported the demand for caste-based reservation in the private sector and reservation for women in Parliament and the Assemblies with sub-quotas for SCs, STs, OBCs and minorities. The party is also contemplating affirmative action for the welfare of transgender and disabled persons.
One of the members of the committee on social justice and empowerment, K. Raju, said jobs were drying up with the government selling public sector units and therefore reservations were needed in the private sector as well. The Congress had proposed dialogue with industry and chambers of commerce on this issue in the past but couldn't push ahead with the plan.
The party also proposed a National Farm Debt Relief Commission that will settle loans of farmers without any criminal proceedings on the patterns of industry practices, apart from a legal guarantee on minimum support price for agricultural produce.
Bhupinder Singh Hooda, the head of the committee on agriculture, said on Saturday that a consensus was emerging on most ideas floated by them, including on MSP.
He said: "While discussions are going on within the party, we have also consulted various farmers' unions. We propose to set up a National Farm Debt Relief Commission that will settle the debts of farmers through conciliation and negotiation, as is done in the industry sector. No criminal proceedings should be initiated against defaulters, no auction of land done. Even in Mudra loans, criminal proceedings are not initiated."
Accusing the Narendra Modi government of being anti-farmer as it had doubled debt instead of doubling income as promised, Hooda said: "The MSP regime should be expanded to cover all crops apart from a legal guarantee based on the C2 formula suggested by the Swaminathan Committee. The rising input cost of farmers must be taken care of. The crop insurance scheme should also be redesigned and government agencies should be drafted for insurance and assessment of loss."
Other ideas on the table include Nyay-like fixed income support for farmers, schools for children of farmers modelled on Navodaya Vidyalayas, a separate agriculture budget and restoration of subsidies.
Hooda pointed out that subsides totalling Rs 7 lakh crore in 2021 were reduced by the Modi government to Rs 4.35 lakh crore, which would further be whittled down to Rs 3.18 lakh crore in 2023.