Congress describes demonetisation as one of the worst policy blunders
The Opposition party accused Prime Minister Narendra Modi of wrecking a booming economy with a sinister decision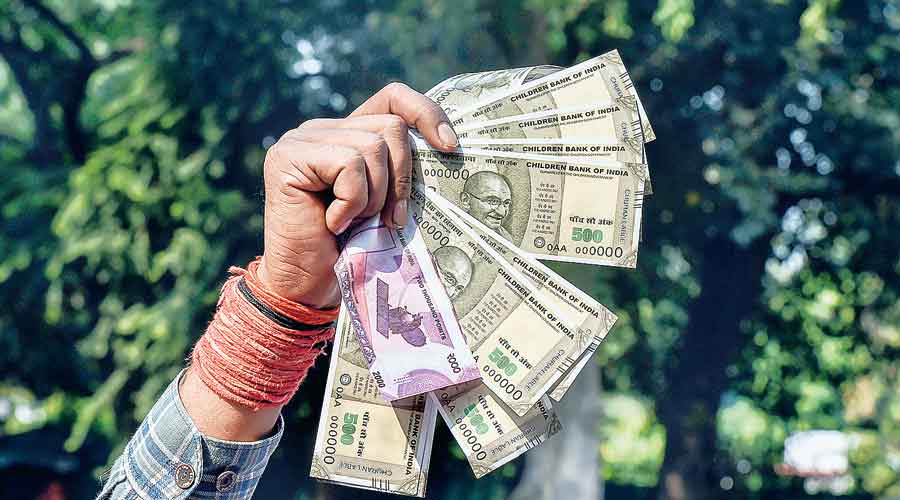 ---
New Delhi
|
Published 09.11.21, 02:09 AM
|
---
The Congress on Monday described the demonetisation as one of the worst policy blunders in the world, accusing Prime Minister Narendra Modi of wrecking a booming economy with a sinister decision.
On the fifth anniversary of Modi's 8pm announcement of November 8, 2016, that turned India's high-value currency into junk overnight, the Congress ran a social media campaign explaining how the demonetisation had derailed the economy and destroyed the informal sector while achieving none of its stated objectives.
"If notebandi was a success, then why hasn't corruption ended? Why hasn't black money been retrieved? Why isn't the economy cashless? Why hasn't terrorism been checked? Why isn't price rise under control?" party leader Priyanka Gandhi Vadra tweeted.
अगर नोटबंदी सफल थी तो

भ्रष्टाचार खत्म क्यों नहीं हुआ?
कालाधन वापस क्यों नहीं आया?
अर्थव्यवस्था कैशलेस क्यों नहीं हुई?
आतंकवाद पर चोट क्यों नहीं हुई?
महंगाई पर अंकुश क्यों नहीं लगा?#DemonetisationDisaster

— Priyanka Gandhi Vadra (@priyankagandhi) November 8, 2021
Former Union minister Jairam Ramesh wrote on Twitter: "With every passing year, it's becoming even more clear that 8.11.2016 will be marked in the world's economic history among the worst policy blunders anywhere. Demonetisation along with the rushed GST destroyed the backbone of the Indian economy — the MSME & informal sectors especially."
Ramesh further said: "First, we were told demonetisation meant cashless economy. Soon the sarvagyani (omniscient, a reference to Modi) changed track and said not cashless but less cash. Now cash in circulation is above pre-demonetisation levels."
Ramesh posted a graph put out by Arvind Subramanian, former chief economic adviser to the Modi government, which showed that more cash was in circulation now than five years ago.
The Congress posted several videos recalling the horrors triggered by the demonetisation, including deaths across the country.
It underlined how none of the stated objectives — fighting black money, ending terrorism and curbing counterfeit currency — was achieved and how the government kept changing the goalposts by introducing newer objectives every week.
The Prime Minister on Monday forgot his "masterstroke" of five years ago, while the BJP remembered it tamely as the "gravest attack on black money" and a move that "strengthened the formal economy".
The Congress and other Opposition parties had fiercely opposed the decision at the time, with former Prime Minister Manmohan Singh famously describing the demonetisation as "organised loot and legalised plunder".
On Monday, the Congress argued: "Demonetisation was never intended to stop fake currency, it was intended to loot common citizens' hard-earned money. Period. Demonetisation was simply a tact to loot money from common citizens and fill the pockets of 2-3 crony-capitalist friends. Everything else Modi says is a farce, time is but a testimony."
Party leader Rahul Gandhi tweeted in Hindi: "Had it been a mistake, people would have forgiven it. But there can be no forgiving a trick played deliberately to help friends. No matter how many years pass, not enough. #Notebandi."
अगर नोटबंदी सफल थी तो

भ्रष्टाचार खत्म क्यों नहीं हुआ?
कालाधन वापस क्यों नहीं आया?
अर्थव्यवस्था कैशलेस क्यों नहीं हुई?
आतंकवाद पर चोट क्यों नहीं हुई?
महंगाई पर अंकुश क्यों नहीं लगा?#DemonetisationDisaster

— Priyanka Gandhi Vadra (@priyankagandhi) November 8, 2021