Editorial: Senseless
History may look at demonetization as an intervention that was devoid of economic logic and implemented arrogantly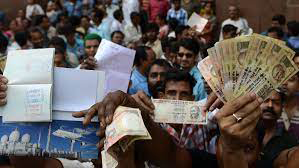 File photo of queue in front of the Reserve Bank of India, Mumbai, due to the non-availability of large currency notes.
File photo
---
Published 09.11.21, 02:31 AM
|
---
It is five years since demonetization was announced by the prime minister. Demonetization was supposed to be a revolutionary policy that would eradicate black money, improve tax collections, and move India on a path towards a cashless economy while preventing further generation of black money. Five years is a good time to take stock of the economic impact of demonetization. The first objective — of flushing out hoarded stocks of unaccounted cash — did not work. According to the Reserve Bank of India, by December 31, 2016, about 99 per cent of the stock of 500 and 1000 rupee notes had been returned to the central bank. Detailed analysis showed that the bulk of cash returned had come in large bundles: they had obviously come from the very rich. The flushing out did not happen. More recent data show that the cash to nominal GDP ratio dipped in 2016-17 but climbed back to the pre-2016 level just before the pandemic struck. After that, the ratio climbed sharply because of a reduction in nominal GDP. As far as tax collection is concerned, there is no evidence that demonetization has prompted higher tax collections or compliance. Regarding the third objective — India's transition to a cashless economy — there is evidence to suggest that digital transactions have grown significantly since 2016. However, this trend has more to do with the rapid spread of smart technology and fewer credit and debit card transactions. Significantly, a government attempting to prevent the hoarding of cash introduced new currency of higher denomination and smaller physical size.
The more enduring effect of demonetization has been the adverse impact on the informal sector. The liquidity crunch, even for a few weeks, killed off numerous micro-businesses. The impact was so deep and pervasive that it had a large impact on aggregate demand, leading to a decline in growth rates. This was aggravated by the pandemic leading to further loss of livelihoods. There were two major consequences of this senseless policy-decision. The first was a growth in digital transactions — not entirely due to the policy but appropriated by the government as its originator. The second is the tragedy of the informal sector that was triggered by demonetization. Yet, the Centre remains in denial. History may look at this policy as an intervention that was devoid of economic logic and implemented arrogantly.