Congress pledges loan waiver for farmers, decries attack
The BJP's year-long Gandhi anniversary celebrations starts with barbaric assault on farmers. Can't farmers come to Delhi to express their pain: Rahul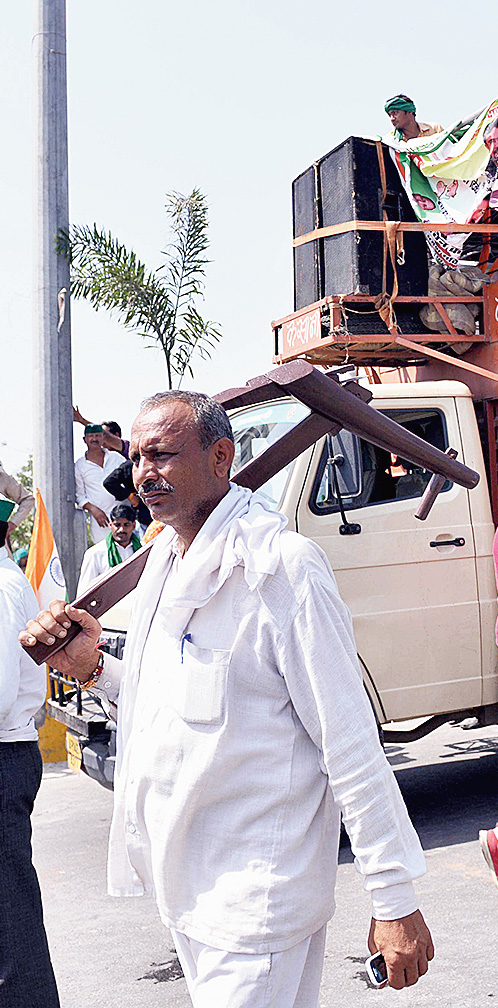 ---
|
Wardha
|
Published 02.10.18, 09:25 PM
---
The Congress on Tuesday blasted the Centre for forcibly stopping farmers from entering the national capital, with Rahul Gandhi pointing out that the BJP's Gandhi Jayanti celebrations started with a "barbaric assault" on peasants and promising a farm loan waiver.
Rahul, who was in Sevagram near Wardha along with other top party leaders to attend a Congress Working Committee meting near a place where the Mahatma had set up an ashram, tweeted: "The BJP's yearlong Gandhi anniversary celebrations starts with the barbaric assault on farmers. Can't farmers come to Delhi to express their pain and suffering before the government and the nation?"
Later in the afternoon, while addressing a public rally at the Circus Ground in Wardha's Ramnagar, Rahul said the Congress was committed to the welfare of farmers. "We had waived (loans worth) Rs 70,000 crore earlier and we will do it again," he said as the crowd cheered loudly.
"The farmers of this country had pleaded with folded hands for a debt waiver. The Prime Minister and Arun Jaitley replied: 'Mitron, this is not our policy….' A few days ago we learnt that Rs 3.20 lakh crore in loans to 15-20 of the richest industrialists in the country were waived…. The total budget for the MGNREGA (Mahatma Gandhi National Rural Employment Guarantee Act) was Rs 35,000 crore," Rahul said.
For the rally, the Congress had ferried supporters from the Vidarbha region, where farmers are grappling with suicides because of increasing agriculture distress caused by erratic rain.
Low prices for the produce have aggravated the situation, a point Rahul highlighted during his 20-minute speech.
"Modi had promised farmers in Haryana, Punjab, Uttar Pradesh and Maharashtra that he would ensure farmers get the right price for their crops if he was made Prime Minister. What happened to that? Was he speaking the truth or lying to you? Soybean earlier fetched Rs 4,500 per quintal and today the rate is Rs 2,500. Cotton earlier fetched Rs 6,000 a bale and now the rate is Rs 3,000. Gram prices have been halved," Rahul said.
Tuesday's clash between farmers and the police was unwanted optics for the government as Gandhi Jayanti programmes had been lined up for the whole day.
Tuesday is also the birth anniversary of former Prime Minister Lal Bahadur Shastri, who coined the famous slogan "Jai Jawan Jai Kisan".
The Congress was quick to point out that the BJP had managed to unleash the jawan on the kisan.
Congress communications chief Randeep Surjewala claimed in New Delhi that the BJP had launched "a police raj".
The Congress Working Committee passed in Wardha a resolution condemning the violence against farmers.
It highlighted the irony of the unpleasant incident as the country was celebrating the birth anniversary of Mahatma Gandhi, the greatest advocate of non-violence.
Rahul stressed on implementing Gandhi's principles instead of chanting "hollow" slogans.