'Professionals at receiving end for failure of others'
CJI Ramana expresses concern at lack of govt priority for healthcare
The Indian Medical Association's data suggest that more than 798 doctors have lost their lives to the deadly Covid-19 second wave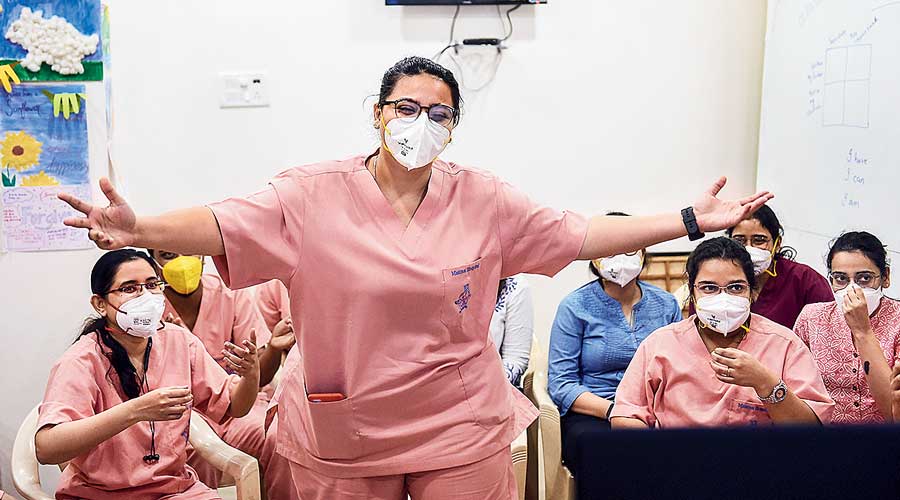 Doctors celebrate National Doctors' Day at Masina Hospital in Mumbai on Thursday. India in 1991 picked July 1 as the National Doctors' Day to honour Dr Bidhan Chandra Roy, a legendary physician and Bengal's second chief minister who was born on this date in 1882 and died on the same day in 1962, aged 80.
PTI photo
---
New Delhi
|
Published 02.07.21, 02:14 AM
|
---
Chief Justice of India N.V. Ramana on Thursday expressed concern at the lack of government priority for health care and at the way doctors were being attacked in the country "for someone else's failure".
"It is saddening that our doctors are being brutally attacked while on duty," Justice Ramana said, addressing the medical fraternity on National Doctors' Day.
He asked: "Why is it that the medical professionals are at the receiving end for someone else's failure?"
Without naming any particular government, the CJI remarked: "Issues such as insufficient number of medical professionals, infrastructure, medicines, outdated technologies, and government not giving priority to the medical sector are issues of immediate concern. It is a fact that the tradition of the family doctor is vanishing."
He asked: "Why is it that the profiteering by corporates and investors is being blamed on doctors?"
The CJI said India's doctors were tirelessly and selflessly fighting the deadly pandemic.
"When thousands of physically and emotionally vulnerable patients stood isolated in their hospital wards, it was the doctors who kept the hope alive even in the times of despair," Justice Ramana said.
"Unless you see them working personally, you cannot visualise the discomfort of being in PPE kits non-stop for 24 hours in a day and sometimes even for days together with no rest or proper food."
Justice Ramana said it was sad to see that good and qualified doctors cannot start decent hospitals of their own and survive, and that even after eight to nine years of rigorous learning, doctors struggle to get decent salaries.
"The medical bodies and concerned agencies in the government have to put their heads together to address these concerns. Only then can we sincerely greet the doctors on the first of July every year," he said.
He added: "I venture to say that no other professional is capable of rendering services as valuable as those offered by doctors. On this occasion, I pay my humble tributes to Dr B.C. Roy in whose honour Doctors' Day came to be celebrated in India."
The Indian Medical Association's data suggest that more than 798 doctors have lost their lives to the deadly second wave, Justice Ramana said, expressing his sympathy for the bereaved families.
He said that because of the nature of the pandemic, thousands of doctors and healthcare workers had been separated from their families during these difficult times. No amount of medical training or experience can ever prepare anyone to go through the psychological ordeals of the pandemic, he added.
Diabetes concern
Justice Ramana expressed concern at the increase in the incidence of diabetes, an "opportunistic killer" that affects people across classes and age groups, and said this required immediate attention.
He said data revealed that India had the highest number of diabetes patients — 65 million — and that this was projected to rise to 101.2 million by 2030.
"Here, one must pause and question the implication... (for) the already strained Indian healthcare system. These issues call for formulating public healthcare policies surrounding the prevention and management of diabetes in India based on intense scientific research," the CJI said.
"However, the path is not easy. Studies have proved that knowledge and awareness about diabetes is very (low) in India. The degree of awareness is negligible in rural areas and among the vulnerable classes. The need of the hour is to bridge this gap in awareness regarding the disease, its prevention and management."
Justice Ramana said it was necessary to evolve methods that suited the Indian context. He said the lack of awareness led to myths being spread such as "those who eat more sugar get sugar disease"; "women are immune to diabetes"; "only obese people get diabetes"; and "diabetes is contagious".
"Where there is room for myths, there is room for quackery; and quackery is the biggest disease that is affecting India. Where the awareness ends, the quackery begins. Due to lack of awareness and resources, people tend to fall for 'easy solutions' offered by the quacks," Justice Ramana said.
"The unscientific solutions offered by the quacks push the people into deeper troubles, ultimately leading to additional burden on the individuals as well as the public healthcare system."